Sleep Machine - Binaural Beats
By SleepSoft LLC
This app is only available on the App Store for iOS devices.
Description
" Sleep Machine - Binaural Beats. The most comprehensively customizable binaural beats and sound atmosphere application available for your iPhone or iPod Touch. "

-------------------------------------------

Sleep Machine - Binaural Beats is a professional binaural beats, ambient music, and sound app designed for creating your own personalized environment for sleep or relaxation. Elegantly designed for ease of use, Sleep Machine - Binaural Beats delivers in looks, feel, functionality, and superb sound quality. Choose between any of the 14 binaural beats sounds to listen to alone or listen to with any of the 61 ambient sounds, up to as many as 3 at a time with full volume control for each sound. The combination possibilities are practically endless. Sleep Machine - Binaural Beats utilizes the beautifully mastered, high quality stereo sound atmosphere recordings of Sleep Machines CDs (available on iTunes) to produce a truly multidimensional, lifelike sound environment.

For binaural beats to be effective, headphones must be used. For use without playing binaural beats, use with external speakers or headphones.
Perfect for concentration, relaxation, meditation, yoga, sleeping, napping, and or noise masking.

FEATURES:
- 14 Binaural Beats
- Separate binaural beats timer
- 61 Exquisitely Mastered Stereo Sounds:
54 Ambient Sound Tracks
7 Ambient Music Tracks
- Multi-Sound Playback Ability
- Lifelike Stereo Audio Sound
- Exquisitely Calming Ambient Music Tracks
- Seamless Loops
- Create Personal and Unique Sound Atmospheres
- Beautifully Designed, Easy to Use Interface
- Easy Sound Selection Ability
- Easily Save your Favorite Sound Combinations
- Timer with Alarm, Fader, and Exit app option
- Individual Sound Volume Control
- Volume Sliders with Sensitive Touch Recognition
- Easy Instructions
- Free Updates

INCLUDES

14 BINAURAL BEATS:
Intense Focus, Problem Solve, Beat Caffeine, Remember, Concentration, Alert, Creative, Meditation, Relaxation, Lucid Dreaming, Nap Time, Sleep and Dream, Stress Relief,Deep Deep Sleep.

61 AMBIENT SOUNDS:
AMBIENT MUSIC: Contemplate, Drift , Moon Harp, Mysterious, Soundtrack 1, Starlight, Wind Dream, AMBIENT SOUNDS: Air Conditioner, Air Purifier, Bathroom Fan, Beach, Beach 2 ( small waves ), Beach / Rain / Thunder, Bird House, Creek, Crickets, Dehumidifier, Dishwasher, Distant Train, Dryer, Factory, Fan ( low ), Fan ( medium ), Fan ( high ), Fan ( small ), Fan / Crickets, Fireplace-Crackle, Fireplace-Hiss, Fireplace-Roar, Fireplace / Wind, Frogs, Frogs 2, Furnace, Hair Dryer, Highway, Inside Car, Inside Car ( raining ), Lawn Mower, Railroad Crossing, Rain-Heavy, Rain-Medium, Rain and Thunder, River, Room Heater, Shower, Sink, Spaceship, Sprinkler, Stream, Vacuum Cleaner, Washer, Waterfall ( large ), Waterfall ( small ), Waterfall ( Hawaii ), White Noise, White Noise 2, White Noise 3, White Noise 4, Wind, Wind Chime, Wine Glass

All binaural beats, ambient music tracks, and ambient sounds are recorded and mastered exclusively for Sleep Machine and Sleep Machine Lite and are not available on any other iPhone / iPod Touch application.

See and hear why Sleep Machine - Binaural Beats is simply the best binaural beats and sound atmosphere application available for your iPhone or iPod Touch. Try Sleep Machine - Binaural Beats TODAY.

Requirements:
Compatible with iPhone and iPod touch

Email us with any questions or comments at: info@sleepsoftllc.com

What's New in Version 1.1
1.1 Update:
--------------------
1. Added ability to set any of the ambient sounds for the timer alarm sound.
2. New and improved ambient sound quality.
3. Fixed binaural beat timer fade-out. The BB now fades with the ambient sound fade out.
4. Remembers previous playing state when app starts up again.
5. Improvement in graphic interface.
iPhone Screenshots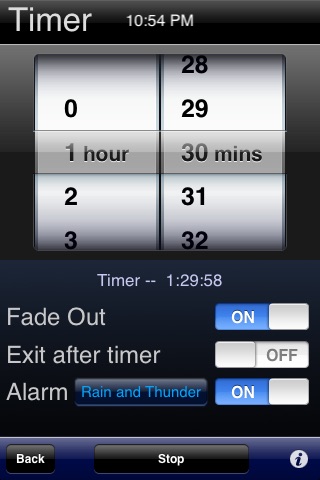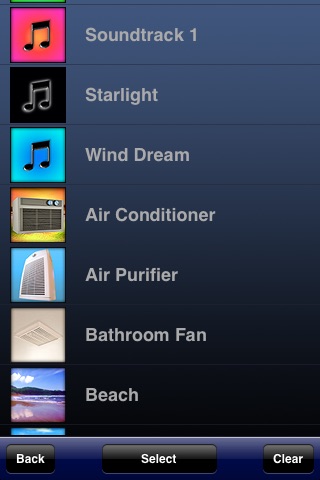 Customer Reviews
Not supported anymore
I used to really like this app, but it's been a year almost since it was updated. I've contacted the developers twice over the past year asking if they were ever going to even give it multitasking but every time my answer was "we're currently working on features for sleep machine and will get to SMBB when we're done, but we do have a massive update in the works for SMBB." Seeing as how it's been a year, my guess is they've moved on. It'd be nice to have the massive update that I was promised, but after being told twice that I would have to wait for them to finish working on a different project, I'm starting to doubt if they really even care about this anymore.

If they do update it, I'll gladly come back because I loved this app, but unitl then, there isn't any point in having it, and I'm using something else.
Badly needs some improvements.
The nature sounds are sped up, super charged, overkill. Not relaxing. For example, the bird sounds are like you are standing in a packed atrium full of too many birds. It sounds stressful, not relaxing. Same with the frog track and the crickets. You expect few frogs, slow and peaceful, but it's frog mayhem. The only nature sound I can use is the beach track they call small waves, but it is sounds like the waves are in fast motion compared to the lazy gentle lapping of my tropical island home.

Also, PLEASE CHANGE TO ALLOW MULTITASKING
Great App - But Abandoned by Developers (4 stars for product 0 stars for support)
Great app and binaural beats work great. (Keep in mind that beat apps affect people differently…so you might take time to find one that works for you.) This, unfortunately, is the only app that really puts me to sleep, etc.

I say unfortunately because the app has been abandoned. Doesn't multitask, etc.

Enquiries to the developers go unanswered. Too bad, I can't imagine it takes that much effort to make an app multitask, and I KNOW it doesn't take much effort to respond to an email.

So while this app is good, I'd say stay away. In fact, run from it, like the developers have.
View in iTunes
$4.99

Category:

Health & Fitness

Updated:

Jul 06, 2010

Version:

1.1

Size:

89.7 MB

Language:

English

Seller:

SleepSoft LLC
Compatibility: Requires iOS 2.2.1 or later. Compatible with iPhone, iPad, and iPod touch.
More iPhone Apps by SleepSoft LLC