Sleep Machine Lite
By SleepSoft LLC
This app is only available on the App Store for iOS devices.
Description
" SLEEP MACHINE IS SIMPLY THE BEST CUSTOMIZABLE, SOUND ATMOSPHERE APPLICATION AVAILABLE TODAY. " RECOMMENDED BY, CNN, BESTAPPS.COM, LIFEHACKER.COM, APPBUDDY.COM, , SMH.COM.AU, APPOLICIOUS.COM, ITUNES REWIND 2010 TOP FREE PRODUCTIVITY APP! MILLIONS OF SLEEPING CUSTOMERS WORLDWIDE !

Sleep Machine is the most advanced white noise ambient sound sleep app available today ! With it's uniquely elegant multi sound player design, it's fun and easy to play, mix, and create a truly lifelike sound. Try mixing sounds like rain, beach, or wind. Upgrade to the full version of Sleep Machine and mix sounds with your favorite iPod music too!

------------------------------------------

FEATURES:

- Mix your favorite sounds together with individual volume control all on one screen!
- Create and Save Favorite ambient sound mixes. 
- Includes a Digital Clock. Swipe up and down to adjust brightness.
- Sleep Timer that can fade audio out so you don't awake suddenly.
- Includes 7 Pre-set favorite mixes.
- Easy to use help and info screens.
- Works with AirPlay when enabled !

Sleep Machine Lite includes 10 popular ambient sounds, 1 ambient music track, 1 ambient sample track, and 3 ambient alarm sounds from the full version of Sleep Machine:

- Beach 2
- Clock
- Crickets
- Fan
- Frogs
- Heavy Rain
- Train Ride
- White Noise
- Wind
- Wind Chime
- Reflection
- Sound Samples (11)
- Bells 1
- Bells 2

UPGRADE:
If you like Sleep Machine Lite, then check out the full version of Sleep Machine:

Includes:
- 91 Professionally Mastered Stereo Ambient Sounds including 9 Ambient Music tracks.
- Multitask with background Audio support. Enjoy Sleep Machine while using other apps!
- Mix your favorite sounds together with individual volume control all on one screen!
- Create and play an iPod Music playlist seamlessly within Sleep Machine track mixer too!
- Create and Save Favorite ambient sound mixes. Up to 531,440 different sound atmospheres!
- Includes 7 Digital Clocks. Swipe up and down to adjust brightness. Swipe left and right to change clock designs.
- Sleep Timer that can fade audio out so you don't awake suddenly.
- Use Sleep Timer to stop iPod Music from your playlist too!
- Full function Alarm with time options to slowly fade sound so you can wake up feeling great!
- Wake to your favorite sounds, sound mixes, and………
- Wake up to your favorite iPod Music too!
- Includes 6 Pre-set favorite mixes.
- Easy to use help and info screens.
- Works with AirPlay when enabled !


➜ CUSTOMER REVIEWS:
• " This app…I can't even begin to explain. It's the greatest thing that has happened to my sleep in years. "
• " To put it mildly this is one of the best apps ever made! The ability to mix 3 different sounds vary the volume of each is fantastic. "
• " Realistic audio. I tested five other apps, this one had the most realistic audio of all the ones I tested. Many other sleep apps have audio that sounds like it was lifted from a bad sound effects CD. The audio in this app sounds like the real deal, very high quality. Easy to use, nice interface."

See and hear for yourself why Sleep Machine is simply the best customizable relaxation, sound atmosphere, and alarm clock application available for your iPhone or iPod Touch. Try Sleep Machine 3.1 TODAY.

Requirements:
Compatible with iPhone, iPod touch, and iPad

For more detail about what Sleep Machine 3.1, check us out at: www.sleepsoftllc.com

Email us with any questions or comments at: info@sleepsoftllc.com
What's New in Version 3.0
3.0 Update
-------------------
- 3 New Sounds Added
- Digital Clock Added
- 5 Pre-Set Sound Mix Favorites
- Improved Info Pages
- Updated Icon
- Bug Fixes

We hope you enjoy this new update! We are currently working on the next update so check for updates regularly.

Positive reviews and feedback help us keep the updates and new features coming. Thanks for your support !

If you have any questions, comments, suggestions, or any problems regarding Sleep Machine Lite, please contact us at: info@sleepsoftllc.com.

Check our website at : www.sleepsoftllc.com
iPhone Screenshots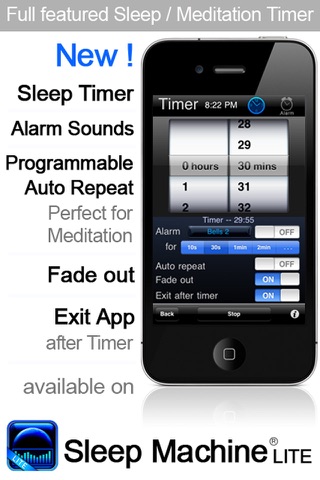 Customer Reviews
Very nice
I have always liked sleeping with some noise in the background (like a fan or humidifier). Lately, this has become more of a necessity, so sleeping without any noise is awkward. Usually I run an air purifier that covers this, but if I'm away from home, I need something else.

This app (the "lite" version) is very nice for a free app. Yes, it tries to promote the paid upgrade, but it does it in a fairly noninvasive way, and there are (currently) no sleazy ads for internet dating services like many free apps have. The only ad is for the paid version of the app, which is quite tasteful compared to so many other annoying apps out there. The free version is good enough for me right now, but if I were going to buy a paid app like this, I would get Sleep Machine, because it seems well designed, and the free version has left a good impression so far.
Amazing
My cousin stayed over the night i got this app and when she stays over we like to stay up an talk all night long. But the second i put this on i was sooooo tired and so was she. Within 10 minutes we were both asleep. I know that cause she was snoring!!
This is for people who are sceptacle. Dont believe the negative comments. One person was upset because they got this one and another one and the other one had over 100 noises for free. But at night before you go to bed do you really want to scan through 100 different noises just to fall asleep. And you dont even know if that app works well or not. if you really want more noises just buy the full version if you can. (and i completely understand if you cant.) it works just fine for me and lots if others. Just try it, its free so if you dont like it just delete it.
Really works!!!!
I have had issues sleeping for years due to being a "light sleeper". This means I'm sensitive to changes in my environment when trying to sleep (e.g. Sounds, lighting, smells, etc). Sometimes my mind won't wind down and I am kept up.
With this app, my sleep is much better! You have to turn it up just loud enough to drown out all ambient noises/sounds around you. Make sure you choose the sound that fits you OR a combination of them. Once you find that very special rythmic sound byte that works for you, you will be off to dreamland! Seriously, it works.
Quick testimony, I live in an apartment w/ my son and I am exposed to several noises from the foyer and can here sounds from my son's bedroom on a regular basis. Once I turned up my personalized sound byte to drown out those sounds, Poof! Something magical happened! I could actually sleep! And sleep straight through the night!
To those that are suffering, you know how liberating a good night's sleep can be. So, give it a try and finally set yourself free from insomnia.
Another tip: make sure you are working out (cardio, walking, running). If you have sleep apnea try sleeping at an angle (e.g. in a recliner). This is, if you can't afford a CPAP.
I hope this helps all my sleep sufferers. Thanks for reading.
View in iTunes
Free

Category:

Productivity

Updated:

Oct 14, 2011

Version:

3.0

Size:

20.3 MB

Language:

English

Seller:

SleepSoft LLC
Compatibility: Requires iOS 4.0 or later. Compatible with iPhone, iPad, and iPod touch.
More iPhone Apps by SleepSoft LLC