Slugline
By Act Focused Media LLC
Open the Mac App Store to buy and download apps.
Description
"Slugline is outrageously, life-changingly excellent."
– Neil Cross, Emmy nominated writer of Mama and Luther

Slugline is a minimal, distraction-free environment for the most important part of screenwriting—the writing part.

Slugline works with plain text. It automatically turns your writing into a properly formatted screenplay, without you ever needing to press the Tab key or touch the mouse.

No buttons. No settings. Just writing.

FEATURES

⋮ Simple, elegant interface
⋮ The first distraction-free screenwriting environment
⋮ Automatic formatting to Hollywood screenplay standards
⋮ Printed on paper or PDF, your screenplay is indistinguishable from one made with apps costing much more
⋮ Helpful structure templates, including the famous beat sheet from Save the Cat!®
⋮ Integrated outlining
⋮ Bold, Italic, and Underlined text
⋮ Notes, Scene Synopses, and Omitted text help keep you organized
⋮ Preview—What you see is what you get
⋮ Full-screen mode
⋮ Fully optimized for Retina displays
⋮ Includes Courier Prime, a beautiful typeface designed for screenplays
⋮ Slugline's plain text files are compatible with any writing app, on any platform

• THE WRITING EXPERIENCE
Slugline is built for the hard part of screenwriting: the writing part. Slugline gives you the tools you need to craft your story, without your hands ever leaving the keys.

• THE POWER OF PLAIN
Slugline uses the free and open Fountain screenplay format, which is nothing more than plain text.​ You can work on your screenplay anywhere, using any writing app, including hundreds of mobile apps. When you open it in Slugline again, everything will be there, properly formatted.​

• INTEGRATED OUTLINING​
Start with an outline, then seamlessly transition to writing scenes. Or jot down a placeholder for your third-act twist while you're still crafting your opening pages. Slugline allows you to be as structured as you like, even if that means not at all.​

• BY FILMMAKERS, FOR FILMMAKERS
Slugline is the creation of filmmaker Stu Maschwitz and software designer Clinton Torres. Fountain is a collaboration between screenwriter John August and Stu Maschwitz.​ Together, we believe that screenwriting should be simple, smart, and open.

• WE WANT TO HEAR FROM YOU
Slugline keeps getting better, and that's thanks to you! Slug us a line at http://slugline.co/contact with any questions or feedback you have, and follow us on Twitter at @SluglineApp.
What's New in Version 1.3.1
Slugline 1.3.1 is all about performance, Undo, and performance. And performance.

Here's what's new:

⋮ Performance! Slugline scrolls smoother and keeps up with your typing better, even on very large, complex documents.
⋮ Performance! Slugline should be less greedy with your laptop's battery.
⋮ Undo now un-does blocks of typing, rather than one letter at a time.

Plus some little tweaks:

⋮ Typing the @ symbol, the trick for forcing a Character element, now brings up an auto-complete menu of any forced Characters already in your screenplay.
⋮ After pressing Return to choose a Scene Heading prefix (INT, EXT, etc.) from the auto-complete menu, the cursor now remains on the line, so you can keep typing your Scene Heading.

And some bug fixes:

⋮ Undo-ing the creation of a Character/Dialogue pair no longer inserts random garbage into your screenplay. "That's my job," you joked, but, hey, take it easy on yourself. That kind of self-doubt adds up.
⋮ We fixed a potential memory leak.
⋮ When reverting to a saved document, the "Loading" spinner should go away now, rather than stay there for four to eight years.
⋮ And (most recently), fixed some compatibility issues with High Sierra that were causing crashes around parentheticals.

Each new update provides a blank canvas for your generous reviews. We are always grateful when you share your feedback with us, either here or at slugline.co/contact. Happy writing!
Screenshots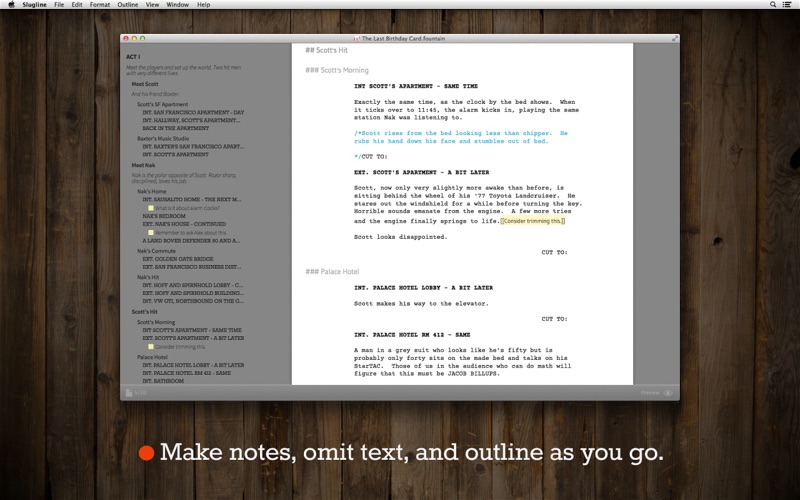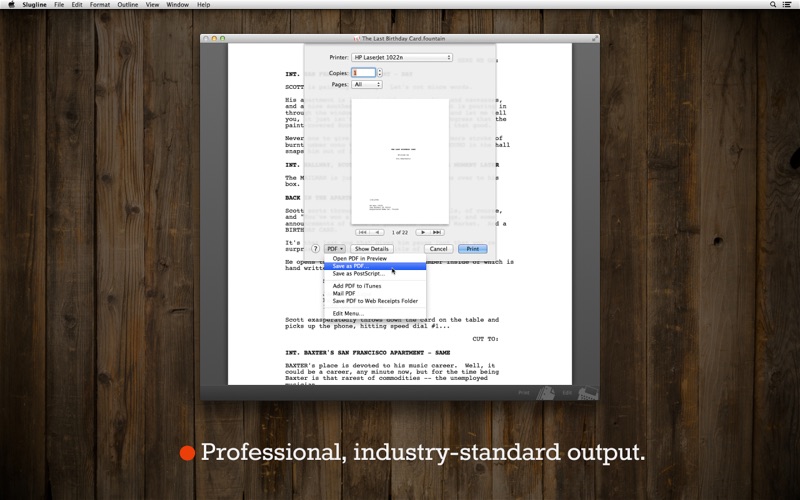 Customer Reviews
This is the best screenwriting software for the money!
I've been waiting for a program like this. This has everything I need. It's easy and simple to use. It's not cluttered visually which is what I need as a writer (to be free of distractions.) I love the interface. The only thing that I'd like to suggest is that they make a "Save to PDF" option more clear. Unless, I'm missing something, you have to click Print… and then in there click save to pdf. Beyond that, though, this is amazing. Well worth the $30 is spent.
Exactly What I Was Looking For
I needed a screenply editor that just let me type my story as quickly as possible without thinking about the formatting. This is the app that finally did that. It works so well that I pretty quickly forgot about formatting at all and just let Slugline do its thing. Well done. Well done indeed!
Producer / Director
Wonderful Software. Practical, handy, smart. All you need to open your full creative potential. Higlhy recommend.
View in Mac App Store
$39.99

Category:

Productivity

Updated:

Oct 28, 2017

Version:

1.3.1

Size:

7.6 MB

Language:

English

Seller:

Act Focused Media LLC
Compatibility: OS X 10.11 or later, 64-bit processor