Slugline
By Act Focused Media LLC
Open the Mac App Store to buy and download apps.
Description
"Slugline is outrageously, life-changingly excellent."
– Neil Cross, Emmy nominated writer of Mama and Luther

Slugline is a minimal, distraction-free environment for the most important part of screenwriting—the writing part.

Slugline works with plain text. It automatically turns your writing into a properly formatted screenplay, without you ever needing to press the Tab key or touch the mouse.

No buttons. No settings. Just writing.

FEATURES

⋮ Simple, elegant interface
⋮ The first distraction-free screenwriting environment
⋮ Automatic formatting to Hollywood screenplay standards
⋮ Printed on paper or PDF, your screenplay is indistinguishable from one made with apps costing much more
⋮ Helpful structure templates, including the famous beat sheet from Save the Cat!®
⋮ Integrated outlining
⋮ Bold, Italic, and Underlined text
⋮ Notes, Scene Synopses, and Omitted text help keep you organized
⋮ Preview—What you see is what you get
⋮ Full-screen mode
⋮ Fully optimized for Retina displays
⋮ Includes Courier Prime, a beautiful typeface designed for screenplays
⋮ Slugline's plain text files are compatible with any writing app, on any platform

• THE WRITING EXPERIENCE
Slugline is built for the hard part of screenwriting: the writing part. Slugline gives you the tools you need to craft your story, without your hands ever leaving the keys.

• THE POWER OF PLAIN
Slugline uses the free and open Fountain screenplay format, which is nothing more than plain text.​ You can work on your screenplay anywhere, using any writing app, including hundreds of mobile apps. When you open it in Slugline again, everything will be there, properly formatted.​

• INTEGRATED OUTLINING​
Start with an outline, then seamlessly transition to writing scenes. Or jot down a placeholder for your third-act twist while you're still crafting your opening pages. Slugline allows you to be as structured as you like, even if that means not at all.​

• BY FILMMAKERS, FOR FILMMAKERS
Slugline is the creation of filmmaker Stu Maschwitz and software designer Clinton Torres. Fountain is a collaboration between screenwriter John August and Stu Maschwitz.​ Together, we believe that screenwriting should be simple, smart, and open.

• WE WANT TO HEAR FROM YOU
Slugline keeps getting better, and that's thanks to you! Slug us a line at http://slugline.co/contact with any questions or feedback you have, and follow us on Twitter at @SluglineApp.
What's New in Version 1.3.0
Slugline 1.3 is all about performance, Undo, and performance. And performance.

Here's what's new:

⋮ Performance! Slugline scrolls smoother and keeps up with your typing better, even on very large, complex documents.
⋮ Performance! Slugline should be less greedy with your laptop's battery.
⋮ Undo now un-does blocks of typing, rather than one letter at a time.

Plus some little tweaks:

⋮ Typing the @ symbol, the trick for forcing a Character element, now brings up an auto-complete menu of any forced Characters already in your screenplay.
⋮ After pressing Return to choose a Scene Heading prefix (INT, EXT, etc.) from the auto-complete menu, the cursor now remains on the line, so you can keep typing your Scene Heading.

And some bug fixes:

⋮ Undo-ing the creation of a Character/Dialogue pair no longer inserts random garbage into your screenplay. "That's my job," you joked, but, hey, take it easy on yourself. That kind of self-doubt adds up.
⋮ We fixed a potential memory leak.
⋮ When reverting to a saved document, the "Loading" spinner should go away now, rather than stay there for four to eight years.

Each new update provides a blank canvas for your generous reviews. We are always grateful when you share your feedback with us, either here or at slugline.co/contact. Happy writing!
Screenshots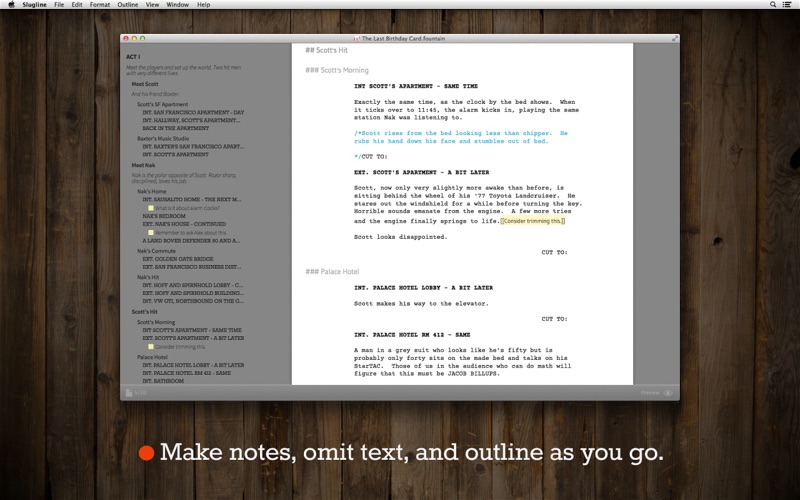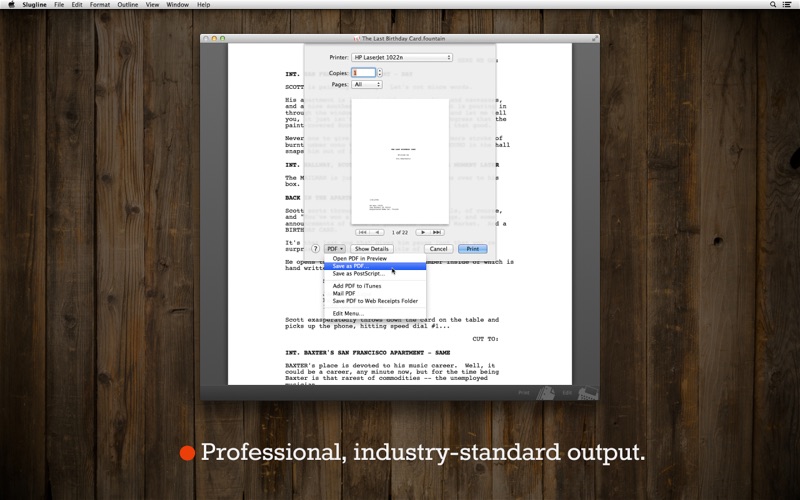 Customer Reviews
Love It, Would Recommend; Couple Requests
I've been using Slugline for maybe three years now, and in those years I've had no major qualms with this software.
- I love Slugline's simplicity as well as the formatting and outlining capabilities.
- Adding notes to the script is really easy, and that's one thing I really appreciate.

Although it's not necessary, I would love a mobile version of the software. Just for easy, on-the-go access in case I don't have my laptop (which is rare, but it has happened before).
Doing this would require Cloud support, which is another thing I would like to request. Not a huge issue since any script you write you can just drop it in to the Cloud.
One last thing: as others have mentioned, an option to number your scenes would be cool.

Overall, I love Slugline and would recommend it to any screenwriter.
I recently moved to Final Draft just to be acquainted with other screenwriting software; so far it's nice, but Slugline is definitely an app worth using if you don't want to spend as much.
Great Update. Great Product
The latest slugline update fixed my only real issue with the program: Slow type recognition on full length documents.

Now that it's so snappy, the only thing I'm left wanting is page numbers in the outline.

But really, this has become a great word processor for screenplays.
Great. It could be better, though.
(I am a spanish speaker)

The software is great. But a few recommendation:

I know you want to keep the software simple and clean, but a few great but basic options are missing:

— Page number in the Outline panel (so we can have a sense of the amount of pages between sections).

— Font choices. Writing hours in Courier is a nightmare, and I don't want to open my Screenplay.fountain in another editor just because the fonts, for I lose the screenplay formatting. Slugline should allow for a few more fonts choice (not only monospace), at least in the editor (Helvetica, Charter, Menlo, etc., for example)

— Night mode. Just invert some of the colors so the eyes can go easer during night writing.

— Default window size. Every time I open Slugline I get a not-so-good window size that I need to manually change every time to fit my style and preference. Either save our last setting as a preset or allow us to specify the exact windows size for all the projects, including new ones.

— Cleaner editor. Just as you got rid of the top and bottom margins in the editor, you can also get rig of the left and right as well. It's nice to have a sense of the screenplay formatting while I am writing it (that's why I use Slugline instead of TextEdit or Highland) but I don't need that sense to be *exactly* as the final screenplay, that's why I have a Preview option. Also you don't need to resize the page if I want to resize only the font. As long as the page number remains the same, I should have the option to change the font size independently of the pages size, making a text-wrapping around *my chosen* text editor size. I eyes are bad, so I have to use a big font, and that mess with the Outline panel and the page size, which I don't want to happen.

— For those of us who don't use keyboard shortcut as often, a simple and clean Toolbar will be a great. Some option for text formation (bold, italics, etc.), some for screenplay formation (Scene, Character, Action, etc) and so on.

— And iOS version. *ALL* screenplay apps for iOS are just completely bad (including iOS Scrivener using the screenplay format, and other like Storyist) . Having this app as an iOS alternative will allows for more work done on the run, including editing.

In essence: Don't do as iA Writer, who keep saying they want a "simple" and "clean" apps, but just as an excuse to forget about improving the app. Simple and clean does not necessarily mean fewer options. Minimal design is the harder, I know, but I trust you will keep up with it.

Thank you. Great app.
View in Mac App Store
$39.99

Category:

Productivity

Updated:

Mar 17, 2017

Version:

1.3.0

Size:

7.6 MB

Language:

English

Seller:

Act Focused Media LLC
Compatibility: OS X 10.11 or later, 64-bit processor