Snapchat
By Snapchat, Inc.
Essentials
Open iTunes to buy and download apps.
Description
Enjoy fast and fun mobile conversation! Snap a photo or a video, add a caption, and send it to a friend. They'll view it, laugh, and then the Snap disappears from the screen – unless they take a screenshot!

You can also add a Snap to your Story with one tap to share your day with all of your friends.

The best conversations happen when both friends are present, so we'll let you know if your friend is Here in your Chat so that you can give each other your full attention. And if you're both Here, simply press and hold to share live video - and Chat face-to-face! Happy Snapping!

***

Please note: even though Snaps, Chats, and Stories are deleted from our servers after they expire, we cannot prevent recipient(s) from capturing and saving the message by taking a screenshot or using an image capture device.
What's New in Version 9.6.0
Bug fixes and improvements!
iPhone Screenshot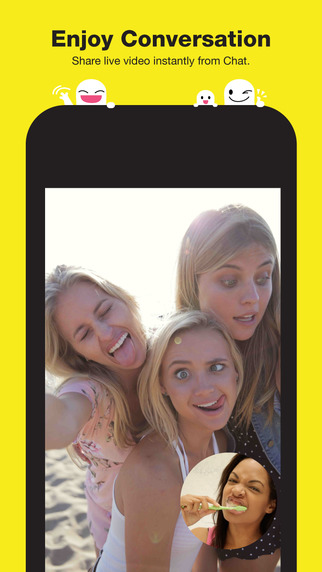 Customer Reviews
Night pals
For three months I've sent all my friends a good night snap every night with the title "night pal". At first the snaps were pretty bad and often people found them annoying. I knew I had to change something. I had to make my snaps better. I did everything I could to improve my snapchat game. I worked on lighting, angles, shot choice, but most importantly I thought. I thought about what snaps to do. I thought all day, waiting urgently to make the perfect snap. I began to get good. Real good. People started to appreciate the snaps. "Great snap last night" they would say, "how do you think of these?". As time went on more and more people wanted my snap. They wanted to receive the talked about "night pal". This is my life. I spend all day thinking and all night creating. I loved the snap. My snap friends loved me. But maybe most important, I loved myself. I loved what I had become. Snapchat was great. But that all changed April 30th, 2015. I clicked each name, going through with a smile on my face, ready to send the perfect snap. But that all changed as a reached the Z's. A red bar came across the top of my screen l. It said I had maxed out. I couldn't send my snap to over 200 people. Nothing, to this day, has Destroyed me more, than looking the camera in the eye, and telling 7 people they were not receiving a night pal. So I beg you. Please. Take of the send limit on snaps. For the night pal.
Worst update to date
The format where you can't see best friends is ridiculous, it was a major part of snapchat and was one way of meeting friends of friends and keeping up with the social lives of your friends in general. The new discover thing is pointless too, it gives you a small glimpse of something which has no relation to snapchat or to anything you would do with snapchat and then forces you to leave the app to find out anymore info. The way that only your friends' stories show up is also ridiculous, it makes me feel as if all of my friends on there have disappeared and makes the app feel empty, and if I press contacts on the upscroll option then everyone in my phones contacts (many of which don't even have snapchat) show up as well and force me to search through them to find the desired friend. The one good thing that came out of this update was the option to take a picture of your friends' ghost to add them as a friend but other than that this update is extremely aggravating and only makes me no longer want to use the app. Return the old format to which we had all become accustomed to and listen to all of the people who are irritated by this update instead of making decisions which only worsen the reputation of the app. Also as a side note the app now crashes often at the startup sometimes making it impossible to even use it.
Snapchat😀😤
Is snapchat good or bad nobody will know because there are snapchat haters and snapchat lovers honestly if the makers of snapchat are reading this keep reading there are haters everywhere it's true but from my point of view snapchat is great so don't take it off the App Store almost every teenager I know use snapchat all the time and the people that don't have a snapchat don't like Instagram Facebook vine or any other social media I like how snapchat lets you send videos to your friends write on the video you can take photos send them to your friends add a huge font on it and more and I like how long the videos are just like vine... Well sorta I like how you can put your photos or videos on your story take them off or see what people saw your photos or videos on your story. I honestly like snapchat I don't think they should change it at all🙅🏼 This is my opinion what's yours?
View In iTunes
Free

Category:

Photo & Video

Updated:

Apr 20, 2015

Version:

9.6.0

Size:

26.6 MB

Languages:

English, Arabic, Bokmål, Norwegian, Danish, Dutch, French, German, Hindi, Indonesian, Italian, Japanese, Korean, Polish, Portuguese, Romanian, Russian, Simplified Chinese, Spanish, Swedish, Traditional Chinese, Turkish, Urdu

Seller:

Snapchat, Inc.
Compatibility: Requires iOS 7.0 or later. Compatible with iPhone, iPad, and iPod touch. This app is optimized for iPhone 5, iPhone 6, and iPhone 6 Plus.