Snappr
By Andy Jacobs
This app is only available on the App Store for iOS devices.
Description
"Is that a bulge in your pants or have you installed Snappr on your iPhone?"

The Snappr Fisheye app instantly shoots strikingly original, dynamic fisheye photos. No ponderous swapping between the front and back of your camera – simply select your lens and snapp away immediately. You won't be wasting your money on hardly distinguishable add-on filter effects you end up never using anyway either. Snappr comes equipped with five quirky, unique fish eye lenses you won't find in any other app. These lenses feature some of the most dynamic lens effects you'll come across in the App Store; so two Snappr shots are hardly the same!

In short: Snappr puts the phun back into your iPhune. Well of course we mean iPhone but we had to put the phun in that pun to get our point across.

FEATURES
• Swap between five unique fish eye lenses you won't find in any other app (more to come)
• Dynamic lens effects, no two Snappr shots are the same!
• Viewfinder trigger so you don't waste time looking for the shutter button
• Don't wait until your photo is processed, all images render in the background
• Instantly share Snappr shots on your networks
• Store photos in your Snappr library and only publish them to your Camera Roll when you want to
• Compatible with iPhone 4S, iPhone 4, iPhone 3GS & iPod Touch

LENSES
• SUNKit - Ever wondered what you would see looking out of a porthole of the Yellow Submarine after you took it for a joyride - and sunk it? The SUNKit lens drowns your picture in the sunny, honey-like hue of homemade lemonade and makes it look all goldfish bubbly!
• ORCALiber - Commonly referred to as the "Orca" this lens shoots razor-sharp black & white images that bang & bite.
• 4SKIN - Looking for "La view en rose"? The 4SKIN's well-rounded lens makes curves look more curvaceous and skin-tones come alive with titillating pinkish hues. Perfect for taking snappy close-ups in the heat of the action.
• BVLGERIA '75 - Put the bulge in Bulgaria with that dusty, de-saturated and drab look you only get from crappy vintage discontinued Eastern European cameras.
• NEMO - With colors bright as tropical fish, contrast buzzing like an electric eel and lens disfiguration not unlike cheap underwater goggles you'll never have trouble finding Nemo among your favorite lenses.

REVIEWS

"WAY BETTER THAN ALL THE OTHER FISH TANK APPS OUT THERE!!!" – Steve Gilligan, Chief Editor - Aquarium Weekly

"… truly a 'well-rounded' product… " – Lolo F.

"… thanks to the 4SKIN lens I was famous on the internet for one day at least…" – Undisclosed up and coming Hollywood "actress"
What's New in Version 1.1
• Share-aholics can now export their Snappr shots to Instagram and Camera+
• Resolution update for iPod Touch, iPhone 3GS and iPhone 4
• Bug fixed where Snappr shots taken on the iPad2 were ridiculously large
• Introduced small startup hint for people who don't have the time to figure out the app
• Several other tiny bug fixes

WHAT'S NEXT?
More lenses, huge image quality improvement, faster rendering and more…
iPhone Screenshots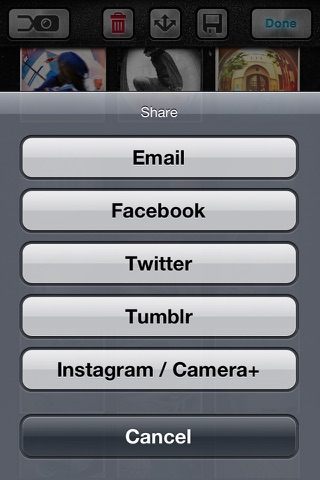 Customer Reviews
Really cool.
All in all, I really enjoy this app. It's hip, clean, and the effects are spot on. I agree with the reviewer before me that a regular fisheye lens is needed. Plain, no effects. It's easy to see that in app purchased will be coming to this app. I would be on board with that, but please make the plain one free. :) the only recommendation I would have for this app would be to make the lens choice at the bottom drop down or move it entirely. I've found myself, more often than not, instinctively pressing the lens choice button thinking it is the shoot button. This could lead to a shot being missed.. which stinks, especially since the fisheye effect can't be applied to your library pics.
tl;dr - awesome app, looking forward to updates. :)
Really great pictures
This app is missing a few things such as live preview, import, flip cam, video, and needs more lenses
But without these things the app is still pretty solid, the lenses are absolutely incredible. They are all very different and very dynamic. Id really like to see live preview and video added to this app. The photos usually turn out gorgeous, you just can never be sure what lense to use. Video would make this app ten times as useful.
I've never seen fisheye pictures this good, and the bottom line is that this is the best fisheye app there is, and give it a few upgrades and itll be a staple.
Best fisheye but needs more filters!
Good app to have! There are four lenses, all fisheye, but it needs a normal filtered plain ole fisheye. I love that the photo is taken in a full square fisheye photo compared to other fisheye apps where the photo only fills a circle and not the full square. & you can post to instaIgeam. I gave it 4 Stars bc they need more filters and it takes a little while for the picture to load. A future upgrade with more filters, faster load, and the ability to use photos from the camera roll would make it 5 stars!
View in iTunes
$1.99

Category:

Photo & Video

Updated:

Dec 17, 2011

Version:

1.1

Size:

25.3 MB

Language:

English

Seller:

Andy Jacobs
Compatibility: Requires iOS 4.0 or later. Compatible with iPhone 3GS, iPhone 4, iPhone 4s, iPhone 5, iPhone 5c, iPhone 5s, iPhone 6, iPhone 6 Plus, iPhone 6s, iPhone 6s Plus, iPhone SE, iPhone 7, iPhone 7 Plus, iPhone 8, iPhone 8 Plus, iPhone X, iPad, iPod touch (3rd generation), iPod touch (4th generation), iPod touch (5th generation), and iPod touch (6th generation).