Solebon Solitaire
By Solebon LLC
Open the Mac App Store to buy and download apps.
Description
50 GAMES FOR SOLITAIRE GURUS
Our premium solitaire suite for refined solitaire players: clear cards, clean interface, lots of variety, no distractions.

50 GAMES : Accordion, Aces Up, Agnes Sorel, Ambrose*, American Toad, Askew*, Baker's Game, Baker's Game Easy, Beleaguered Castle, Blind Alleys, Bouquet, Bristol, Carlton, Colorado, Creepy Crawly*, Demon, Doublets, Eight Off, Eight Off Easy, Fanny, Fanny Easy, Fortune's Favor, Forty Thieves, Forty Thieves Easy, Four Seasons, Fourteen Out, Free Cell, Free Cell Easy, Golf, Honeybees*, Klondike Deal 1, Klondike Deal 3, La Belle Lucie, Lady of the Manor, Miss Milligan, Monte Carlo, Penguin, Provisional*, Pyramid, Pyramid Easy, Russian Revolver*, Scorpion, Simple Simon, Spider, Spider 1 Suit, Spider 2 Suits, Spiderette, Triple Mulligan*, Will o' Wisp, Yukon. (* indicates our own original game creations)

CLEAN INTERFACE
Solebon has a clean, professional look. You won't find photographic backgrounds, wild card designs, or sparkly effects. The interface has what you need to play comfortably with no distractions.

REAL CARD PLAY
Solebon is modeled on how you'd play with an actual card deck. Click to drag cards around or deal them from the stock. If card dragging is difficult for you, you can click to highlight a card then click where you want it to move. Either method will smoothly move the cards. In games where there is only one possible place to move a card, a single click does the job for faster play. Also, the Auto feature speeds up otherwise tedious play by moving cards into foundations for you.

NO HINTS OR CHEATS
Solebon randomly shuffles the cards before each game; it does not stack the deck for you or against you. Just like real cards, you're playing against the shuffle. Harder games are difficult to win because the rules are against you - even with perfect play! This is the true nature of solitaire. And Solebon will not help.

QUICK FEATURE LIST
• Large, easy-to-read cards
• Drag cards or click cards to move
• Rules sidebar
• Stats sidebar
• Unlimited undo
• Foundation autoplay
• Timer
• Scoring
• Moves tracking
What's New in Version 1.3.0
CHANGED: Color preference changes are now shown immediately on the game screen.

FIXED: American Toad, Bristol, Carlton, Demon, Fortune's Favor, Four Seasons, La Belle Lucie, Miss Milligan, Russian Revolver, and Yukon now score correctly if a foundation card is dragged rather than auto played.

FIXED: Ambrose and Golf now have the auto play button disabled.
Screenshots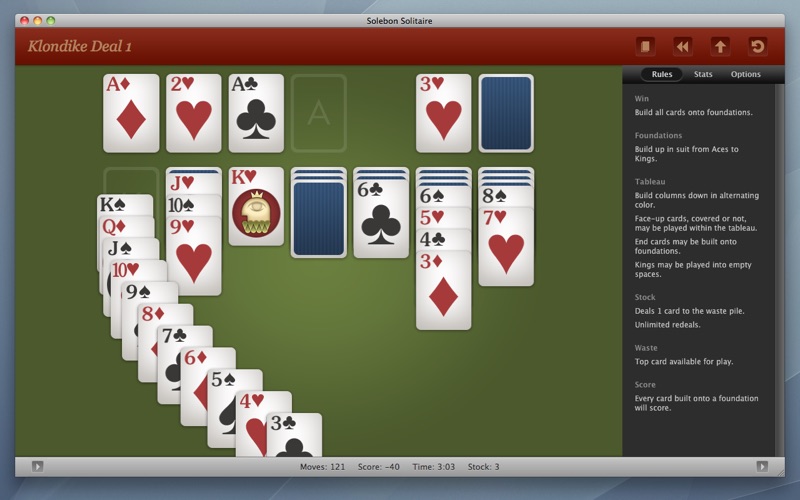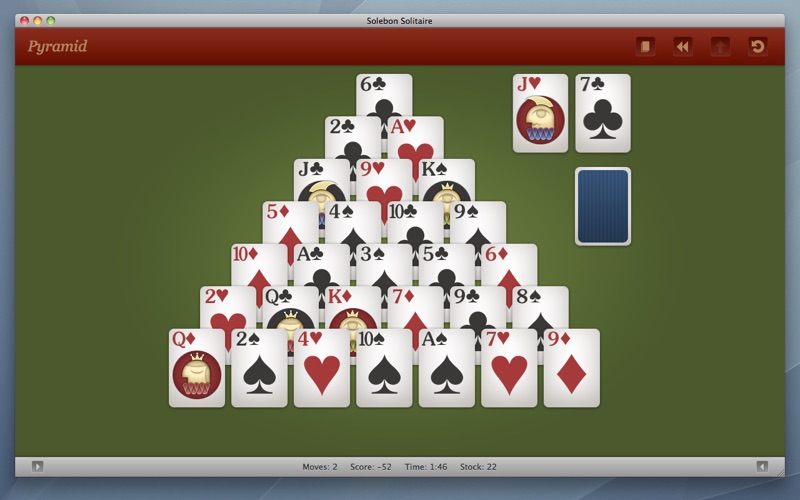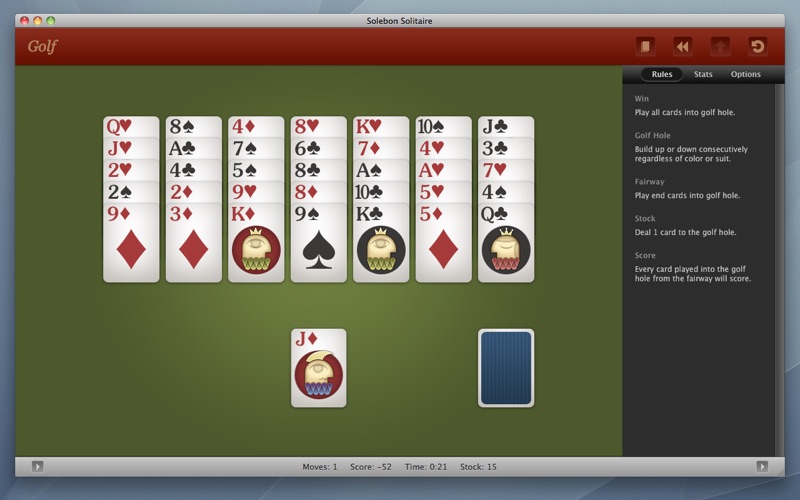 Customer Reviews
A great game collection with one major flaw
This is truly a great collection of card games, so many games that it's hard to imagine playing them all. I only wanted a regular (Klondike) solitaire game and a Spider Solitare game which were as close to the Windows versions as possible. I read through the history of the company and reviews of this game package, and thought I'd found exactly what I was after. And, in general, I did. But there is one difference in the Spider game from the Windows version which I consider a flaw, and which has made me get a refund for this collection. That is this: when you want to move cards from one pile (tableau) to another, you can only move the bottom card on the sequence, not the entire sequence. So, if you have red 8 - black 7 on one pile, and red 6 - black 5 - red 4 on another, you can't move the entire sequence (red 6 - black 5 - red 4) to the black 7 on the other pile. You can only move the red 4 to another pile (onto a black 5). To me, that is a limitation and design flaw. There are differences in rules between different implementations of the Spider game, but this one is pretty basic, and should be the same as the Windows version. At least, there should be an option to allow this. Unfortunately, this makes the game unplayable to me, and as a result, the entire package is not worthwhile, especially when you have to pay 5 bucks for it. If this is changed in the next version, I'll buy it again. But not until then.
Best Solitaire on both iOS and MacOS
Like golf, solitaire is a game you play against yourself. (Remember the handicap in golf, which results in your playing against your past scores.) In our hyper-competitive world, many developers have tried to turn solitaire into still another form of competitition with others. They compare your results on a game against everyone else's world-wide. As a result, they won't let you replay a game. For some, that may be great, but for many of us it loses its real essence that way.

Both on iOS and OSX, Solebon gets back to the roots of solitare. You can restart games to try different approaches, something you have great difficulty doing with "real" cards, for examples. It improves your problem solving skills in the process. I have stopped playing all the other solitaire apps on both platforms.

And there are a lot of games ranging in difficulty so you can match both your skill level and your mood.
Needs update
While the iOS version has received needed updates, this Mac version has been ignored. Since I play it on my iPhone, I am accustomed to some of the shortcuts included there. Wouldn't it be nice to use the same or similar shortcuts here?
Four years without an update is too long.
View in Mac App Store
$4.99

Category:

Games

Updated:

May 30, 2012

Version:

1.3.0

Size:

3.7 MB

Language:

English

Seller:

Solebon LLC
Compatibility: OS X 10.6.6 or later