Soundcraft ViSi Remote
By Soundcraft
Open iTunes to buy and download apps.
Description
Soundcraft ViSi Remote 3.0 is an iOS application that allows remote control of Soundcraft Vi*, Si Compact, Si Performer, Si Expression and Si Impact mixing consoles wirelessly from your iPad device using no additional hardware other than a wireless access router connected to the Harman HiQnet® Ethernet port of the console.

With ViSi Remote you are free to roam your venue and adjust mixes and other audio parameters directly from the iPad!

With 3.0 comes the addition of the latest Vi console models, Vi5000 & 7000, to ViSi Remote, including for the first time on Vi, access to channel and bus EQ, Dynamics, Gain, Pan, Delay and Filter parameters.

Applications:
• Optimise the front of house mix from anywhere in the room
• Set mic gains and 48V from the stage
• Adjust monitor levels while standing next to the artist
• Adjust channel strip settings remote from the console
• Use to extend the fader count of an existing control surface
• Use in standalone mode for familiarisation with console functions
• Control a network of consoles (e.g. FOH and Monitor)
• Provide a separate surface for DMX functionality (Si Performer only)
• Allow multiple users on the same console to control their own mixes
• Have a global metering overview or "meter bridge" as an extension of the console
(Si consoles only)

ViSi Remote 3.0 Console Software Requirements:
(Latest software available on the Soundcraft website)

Si Performer: 1.6 build
Si Expression: 1.6 build
Si Compact: 3.0 build
Vi1/2/4/6*: 4.6 or higher
Vi3000*: 5.0 or higher
Vi5000/7000: 6.0 or higher

Note: For Si consoles, the latest software listed above is needed in order to access the ACS settings of the console. Older software versions would result in basic fader, mute, mix and GEQ settings only.

*Vi1/2/4/6 and 3000 series consoles will work with ViSi V3.0 but have the same functionality as V2.1. A future update will add channel processing to these consoles.

ViSi Remote 3.0 iOS Compatibility:
iOS 6 or higher.

Note: iPad 1 devices are not compatible with iOS 6 and cannot use the ViSi 3.0 Remote App.
ViSi 1.2.4 is still available for iPad 1 users wishing to use the ViSi Remote App.

Functions controlled:
• Channel naming
• Input faders and mutes
• Bus, master LR and VCA master faders and mutes
• Channel strip settings, including:
- Mic Gain and 48V
- Phase Invert
- HPF & LPF (LPF on Vi5000/7000 only)
- Delay
- Channel EQ with grabable parametric EQ curve
- Gate and Compression settings
- Pan
- LR and Mono (C) bus routing
• Graphic EQs on all bus outs
• Channel contributions to each Aux Mix
• Channel contributions to each FX bus (Si consoles only)
• Mix contributions to each matrix bus
• DMX Masters (Si Performer Only)
What's New in Version 3.0.9
- Support for Vi5000 & 7000 including channel processing
iPad Screenshots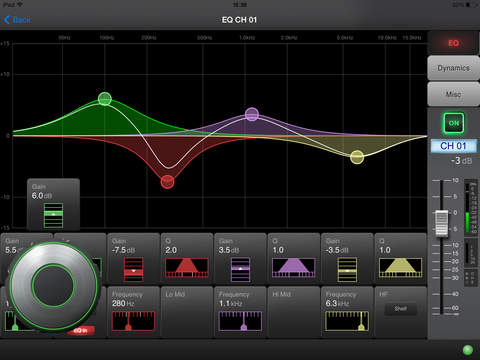 Customer Reviews
Soundcraft owners deserve better
If you read the older reviews much of the implementation has been stabilized, but fundamental problems remain.
If no other issue gets fixed, where are the mute buttons? Seriously where are they? Ok, so I may be asking a bit to much to have the functionality of the console reflected on the remote, so throw me a bone Soundcraft,and at least display the mute (or just on/off lights) status of the channels???
This situation is so ridiculous that I cannot get it to sink into my memory that I have a master mute engaged when I walk out on stage to set monitors with the band and there is NO SOUND!
Every other status or condition that the physical console is in IS reflected in the software, but there are no mute buttons or any display that the channels are OFF/MUTED!!!!
Just for fun Soundcraft, download the Midas/behringer and the PreSonus remotes. It's free. You can learn for free.
Freezes, mute groups, cue list
There are numerous problems I want to see improved on this app. The main problem is the freezing. When I'm mixing FOH and monitors the app often freezes for several seconds or has a delayed response. Sometimes the app will not unfreeze and I'll have restart the app.

The app does not have mute groups like on the board. I work around it by using the VCA's to mute groups and as a bus.

I wish I could use cues from the app.

I suggested the Performer 3 for my church because of the iPad app control and because Souncraft is a reliable product but my bad experience with the app and board has changed my opinion of the company and products.

I have the latest update and a new iPad Air2. I don't run any other apps on the iPad when mixing and I use a Apple Airport Express router only dedicated for the one iPad Air2.

Please fix the App!!!
Functionality? Save show, profiles
Hey,
I'm admittedly new to the digital audio realm. I've been mixing old school for years, and we just upgraded to the Si Performer 3. Cool board!
Can you please update the app to allow us to save profiles and shows? Other apps for digital boards allow you to save a show....so all of your settings are already set. Log in, load your show, ready to go. Save your eq, gain, etc. labels, routing, monitor mix, house mix, etc.
This would be hugely helpful, and seems to me like an obvious next step. Other major brands are already offering these options.
It's a nice start, but we need more functionality for this to be really useful.
Thanks!

I'll update and improve my rating when functionality is added.
View In iTunes
Free

Category:

Music

Updated:

Sep 15, 2015

Version:

3.0.9

Size:

14.2 MB

Language:

English

Seller:

Soundcraft
Compatibility: Requires iOS 6.0 or later. Compatible with iPad.