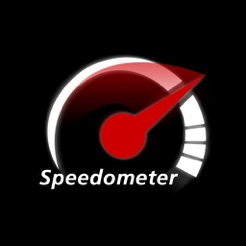 Speedometer
Not yet rated
Description
Want to know how fast you're going? Speedometer is a full-featured, simple to use speedometer for the iPhone!

Features:

- Shows current speed, average speed, and top speed
- Built-in 8-direction compass
- Customize the display to show miles or kilometers per hour

Speedometer is for entertainment only, so have fun! It's pretty accurate, and we think you'll like it!

Speedometer makes use of GPS. The iPhone 3G is required.
This version has been complete rewritten from the ground up to bring you the best speedometer for the iPhone! Check out the updates:

- Added compass direction!
- Added indicator for GPS signal accuracy!
- Greatly increased accuracy. More useful at slower speeds.
- Greatly improved look and feel.
- Screen no longer dims or locks during use.

Ratings and Reviews
Works well, but needs landscape mode.
This is a simple app that does only one thing, and it does it very well with only one complaint. And that is its lack of a landscape function. I use this mounted to the handle bars of my speedometer-less chopper for long trips, and the phone just gets in the way when mounted in portrait mode, so I have to look at the speed indicator sideways. Very annoying, and it adds a split second to the time it takes to glance at your speed.... which on a motorcycle can be dangerous.
It doesn't seem like adding the ability to rotate would be such a big hurdle, but then again, I'm no coder. Even a non-gyro, two finger, "manual" rotation feature would be great.
Great for a free app
First, I have to say from a programmer's standpoint, this sort of app is limited by alot of factors that the developers can't help. Like the speed, accuracy, and update rate of the GPS, and the phone's processor speed.

I drove about 35 miles yesterday and used this app. In straight lines on the highway it was very accurate. Every time I hit a curve in the road it would lose accuracy until the road straightened out. Why? Because you go from basic math to figure straight line speed to needing to do trig and calc for a curved path, which is only as accurate as the number of updates it gets of position, which like I said is limited by the phone's gps unit.

So, I'm guessing this app isn't worth it for any non iPhone 4's. For the iPhone 4, at least for me, it worked great. Wait till you hit a straight patch of road before you trust the reading on the screen.

For a free app, you really can't complain lol
Great app!
This app is free, and it works. About the only drawback to this app is that it does require a good data connection. It'll work on edge, but will take some time and some luck to acquire a GPS signal. On 3G, this app orientates itself in about 5-15 seconds. Very accurate to my Garmin Nüvi and speedometer in my 4Runner (within 1-2 mph). More importantly, this app actually has come in handy. Used it clock a speed on a boat with no speedometer that a friend was looking at. Wonderful app, only complaint is to GPS acquisition time in Edge areas.
Information
Seller

DistinctDev, Inc.

Size

86.3 KB

Category

Compatibility

Requires iOS 2.2 or later. Compatible with iPhone.

Age Rating

Not yet rated

Copyright

© 2008 DistinctDev, Inc.

Price

Free
Supports
Family Sharing

With Family Sharing set up, up to six family members can use this app.