Spitfire Athlete Weight Lifting App & Workout Plan
By Spitfire Athlete Inc.
This app is only available on the App Store for iOS devices.
Description
What is strength? Strength is grit. Resilience. Persistence in the face of adversity. Strength is something we all need a little bit more of in our lives. But unfortunately, as women, strength is something we are often discouraged from developing.

That is why we built Spitfire Athlete.

We built Spitfire Athlete because most fitness products "for women" are all about how you look and not about what you can do.

Spitfire used to describe a woman with a fiery temper (and a fighter aircraft). Today, the word spitfire embodies the strength, intelligence, and ambition of the modern day woman. We are intelligent, dauntless, driven. We are spitfires.

We have helped women lift more than their bodyweight, learn how to do their first pull-up, train for their first triathlon, compete in their first powerlifting competition, train to overcome anorexia, and fight through cancer.

The app features finely crafted structured training plans designed to help you intelligently train towards your goals.

OUR TRAINING PLANS:

STRENGTH TRAINING PLANS: These plans are great for full body strength development for health and for any sport. Both are beginner friendly plans.

- The Warrior: Barbell Strength Cycle with Squats, Deadlifts, Pressing – Beginner
- The Powerlifter: Barbell Strength Cycle with Squats, Deadlifts, Pressing – Intermediate
- The Finisher: Bodyweight Strength Training for Beginners

BODYWEIGHT PLANS: These training plans consist of 100% bodyweight exercises. You can do them in your hotel room, your living room, at the park, or even at the beach.

- The Finisher: Bodyweight Strength Training for Beginners
- The Heroine: High Intensity Interval Training
- The Fighter Bodyweight: Bodyweight Strength & Conditioning
- The Pull-Up: How to Do Your First Pull-Up

SPORT SPECIFIC PLANS: Strength train for performance in your sport. Build your strength, speed, and power with our sport specific training plans.

- The Runner: Beginner Strength Training Plan for Runners
- The Triathlete: 14-Week Sprint Endurance-Only Triathlon Training Plan
- The Rock Climber: Strength Cycle with Hangboard Drills for Climbers
- The Fighter Weight Training: Weight Training Strength and Conditioning
- The Fighter Bodyweight: Bodyweight Strength & Conditioning
- The Powerlifter: Barbell Strength Cycle with Squats, Deadlifts, Pressing
- The Rugby Player I: Strength and Conditioning Foundation
- The Rugby Player II: Speed & Power Development

AESTHETIC, FAT LOSS, BODYBUILDING TRAINING:
Our suit of bikini pro bodybuilding plans are ideal for spitfires with an aesthetic or weight loss goal.
- The Dauntless: 12-Week Bikini Pro Bodybuilding Plan
- The Fearless: 12-Week Bikini Pro Bodybuilding Plan
- The Daredevil: 12-Week Bikini Pro with Strength & Conditioning
- The Champion: 4-Week Bikini Pro Bodybuilding Plan

UPPER BODY STRENGTH: We get asked for an upper body only training plan a lot. One of the best exercises for developing upper body strength is actually the pull-up. It's a functional, compound exercise that builds full upper body strength and a back and arms to be proud of.

- The Pull-Up: How to Do Your First Pull-Up

"Spitfire is the first plan that tells me everything I need to know and how to do it."

"It feels so good to know what I'm doing and what is best for my workout goals."

"Fantastic for keeping a consistent strength training schedule."

What are you waiting for? Download Spitfire Athlete and unleash your inner heroine.

Did you know this app is built by two female engineers who are also athletes from Stanford/MIT? We are passionate about helping you build your physical and mental strength and power. We read every email, so if you reach out to us, we'll respond.

Thank you all for your feedback and suggestions, keep them coming!

Website: spitfireathlete.com
Email: founders@spitfireathlete.com
What's New in Version 2.7.6
Hey spitfires!

We fixed an annoying crash that some people experienced when opening certain workouts.

Hope your training is going well and that you are getting stronger every day!

- Team Spitfire
iPhone Screenshots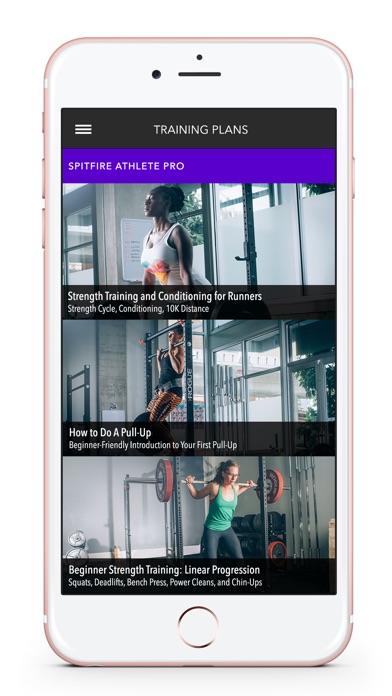 Customer Reviews
Great app, great community!
Finally a workout app for women that's about building strength, not sex appeal. Spitfire offers structured workout plans at multiple levels of skill and training frequency. There are women demonstrating each exercise within the app, and those women are real athletes, not fitness models. You can record the weight used, and easily go back and review past workouts to see if you're increasing your weights.
I've completed 3 workout plans: the Fighter, the Heroine, and the Climber. Whereas the fighter is a more traditional weights session, the Heroine is a short body weight only circuit that I used to complement running. Most advanced was the Climber, which had pull up variations for days, and where I saw my most rewarding strength gains!!! All 3 programs were high quality.
If I had a suggestion for improvement, it's to list the approximate amount of time the workouts take in the program description. Some take longer than my available time: one hour. Although sometimes I could just shrink one or two sets, other times I just switched to a shorter duration program the next gym session.
Needed a new challenge - found it!
I started with the Warrior. It was a great way to introduce myself to weightlifting. I've always been "fit" - I'm a runner and do a bit of circuit training - but at age 41 as the motivation and metabolism have taken a dip, I found myself needing a new challenge. This has been rewarding and Spitfire is to thank! Great app. Without a doubt, my larger muscle groups are stronger than ever and now I have the bug to make EVERYTHING stronger. I've started The Daredevil with The Pull-Up on the side. I can really see endurance improvements in my running and I see more muscle toning happening everywhere.
I've never looked better! Great app!!
I love this app and use it exclusively for my workouts. My body has completely transformed and I'm way more toned and firm than I've ever been. And super strong. My husband has asked me if I could teach him what I've been doing because he wants to get the same great results. The price seems scary but all the plans are super detailed and allow you to keep track of your progress in the app. Their customer service is great and the creators of the programs are always eager to connect and answer any questions you have! I recommend this app to everyone I know.
View in iTunes
Free

Category:

Health & Fitness

Updated:

Mar 10, 2017

Version:

2.7.6

Size:

20.6 MB

Language:

English

Seller:

Spitfire Athlete Inc.
Compatibility: Requires iOS 8.0 or later. Compatible with iPhone, iPad, and iPod touch.
Top In-App Purchases
Spitfire Athlete Pro$109.99
Spitfire Athlete Pro - 1 Month$35.99
Spitfire Athlete Pro - 6 Months$209.99
1-Year subscription to Spitfire Athlete Pro$399.99