SplashShopper - list organizer for groceries, to dos, checklists, bucket lists, anylist will do
By SplashData
This app is only available on the App Store for iOS devices.
Description
Manage your lists of groceries, gifts, to do's, wines, music, movies, and more. Track prices and locations. Easily manage, backup, and sync lists to your PC or Mac.

Are you highly organized? Or maybe you're looking for a way to get there? You need SplashShopper's completely updated version 3.0, the ultimate smart list manager that The NY Times calls iPhone's "Best in Productivity."

SplashShopper's Key Features:

- Extensive built-in grocery list eliminates the tedious task of typing in items
- 10 additional prepopulated list types, including emergency items, travel checklist, wine recommendations, movie watch list, book read list, to do list, office supplies, household, gifts, music, and more
- Create an unlimited number of additional customizable lists
- Assign items to multiple stores & track per-store prices
- Share your SplashShopper lists with other usersi
- Backup and wireless sync with your PC or Mac (see details below)
- Home screen badge
- Landscape support

SplashShopper is a leader in mobile list managers with over 200,000 active users worldwide.

Note: Wireless sync option requires SplashShopper Desktop software (sold separately, 30 day free trial).
iPhone Screenshots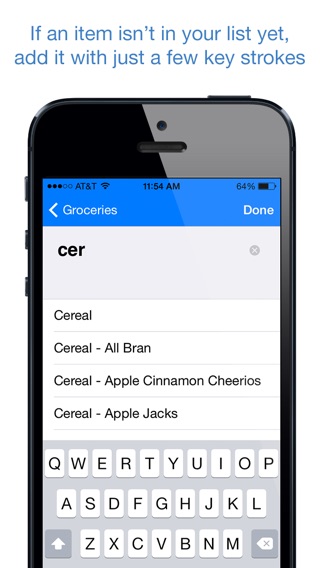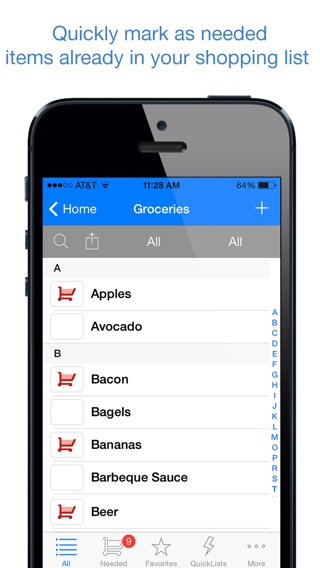 Customer Reviews
There Was Once Great Support
The words below were what I felt for so many years. I had given the app 5 stars. Now I am disappointed like so many others who need an upgrade. What will I do with all my lists after the next system upgrade? I have already lost the ability to sync with my Mac Book a long time ago, so there's only one copy of my data. PLEASE UPGRADE SO US iPhone USERS CAN CONTINUE TO USE THE SPLASH SOFTWARE.

I have used this app as well as SplashMoney for over ten years, since the Palm Pilot days. I have come to rely on them on a daily basis. The iPhone apps started to freeze when I entered new data and failed to sync. I contacted Splash support and the representative responded to each question over a two day period. This may sound like a lot of trouble to upgrade an app, but when someone has 10 years worth of lists to help stay organized, it's worth it. I read some of the reviews which stated that the support was nonexistent. I found the opposite to be true. I am a loyal customer both for the product and for the customer service.
*Terrible* support
I have been a SplashShopper user for *years*, since I used it on a Palm Pilot. Frankly, it was better before they ported it to iOS, but since years of carefully built lists were stored in it, I kept using it.

I am one of hundreds (thousands?) of paid users who have not been able to use SplashShopper for months because the previous version would not open on my phone. And I had *never* been able to get SplashShopper Desktop to work, so I could not access my shopping lists.

Like a dutiful customer, I went to their support site and asked for help getting my data out of the app so I could at least have my information.

I never got a response. Not even a "thank you for submitting your question".

Now, months later I get notice, by eBlast, that I can pay for a new version. Not a response to my request for help saying that there's a version that could fix my problems. And they want me to *pay* for it... to *buy* a fix to the probelm *SplashData* created.

I'm livid. Sure, I'll pay for the app and the desktop version so I can get my data *out* of SplashShopper, and *never look back*. Being withut my data for 4 months is ridiculous. Being aksed to *pay* to get it back is inexcusable.

Unless you want to be stuck in the same position I am the next time they introduce a buggy version of their app that *will not* open and you *can't get your data out of*, BUY A DIFFERENT APP.
No substitute available for iOS 11
I've used this since my Palm Pilot days - more than 10 years??? It's beyond me why the Splash folks chose to discontinue upgrades several years ago. There simply is no other iOS app as thorough and versatile as this app for not only shopping, but also for inventorying and just about any other type of list making you can imagine. I've tried many other apps in my search for a replacement app, but they all fall far, frustratingly short. As a result I've chosen not to update to iOS 11!!!!! It's that important to maintain the functionality and data I have with Splash Shoppper. I do wish the developers would realize what a potential gold mine they have in this app and do the work to update it and give it the publicity it deserves. No doubt they would be rewarded many fold financially!
View in iTunes
$1.99

Category:

Productivity

Released:

Oct 22, 2014

Version:

4.0

Size:

4.5 MB

Language:

English

Seller:

SplashData
Compatibility: Requires iOS 7.0 or later. Compatible with iPhone, iPad, and iPod touch.