Star Walk™ - 5 Stars Astronomy Guide to the Night Sky Map & Planets
By Vito Technology Inc.
Open iTunes to buy and download apps.
Description
Star Walk is the most beautiful stargazing app you've ever seen on a mobile device. It will become your go-to interactive astro guide to the night sky, following your every movement in real-time and allowing you to explore over 200, 000 celestial bodies with extensive information about stars and constellations that you find.

***Over 10 million users! Winner of Apple Design Award 2010***

Star Walk now works with Apple Watch to alert you of upcoming astronomical events.

Get started quickly

• Launch the app and point your iPhone at the night sky, you'll see the stars, planets, satellites, and constellations in their proper place from your location. As you move your device, the star map updates in real time. The Moon is the easiest first target.

• Tap Augmented Reality icon in the upper right corner to add the image from your camera to your sky view.

• Use Night Mode to go easy on your eyes and preserve night vision when exploring the Universe.


Go deeper and beyond

• Every object you tap has an (i) next to its name, tap it to access information.

• A scale on right is the Time Machine, slide it to explore the map of the night sky of tomorrow or years ago.

• A calendar of celestial events will make sure you never miss anything interesting.

• TelRad will help you find the exact position of an object when stargazing with a telescope.


Share your experience

• Project to a big screen with no picture quality loss. Star Walk is your personal planetarium.

• Explore stunning space pictures in Picture of the Day.

• There is an entire stargazing twitter community within Star Walk - don't miss out!


Duran Duran's keyboard Nick Rhodes mentions Star Walk as his favorite app:

"With the Star Walk app, if you hold your iPod up towards the sky, you can see all the stars and constellations. It even tells you the names of all the planets. Then, if you point it towards the ground, it shows you what all the stars are in the other hemisphere. It's brilliant, and if you're ever somewhere with a clear sky and no light pollution, it's a revelation. It's beautifully designed and makes clever use of the available technology. I'm fascinated by astronomy, but even if you're not, give this a go."

Links:
http://vitotechnology.com/star-walk.html
http://www.facebook.com/StarWalkApp
http://twitter.com/starwalk
What's New in Version 7.1.0
Star Walk now works with Apple Watch to alert you of upcoming astronomical events and anything interesting going on in the sky. Schedule a reminder for the next spectacular meteor shower, the International Space Station flying over your location, or catch the perfect night for astrophotography.

— Calendar of upcoming astronomical events
— Current phase of the moon
— Time of sunset and sunrise
— Alerts

Star Walk on Apple Watch works together with your iPhone — you can schedule an alert on any device and it will appear on your Apple Watch just in the right time.
iPhone Screenshot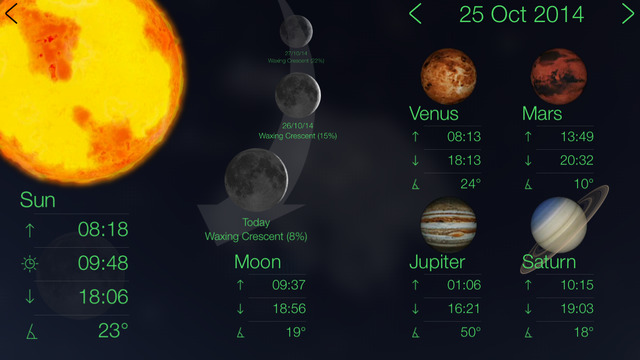 Apple Watch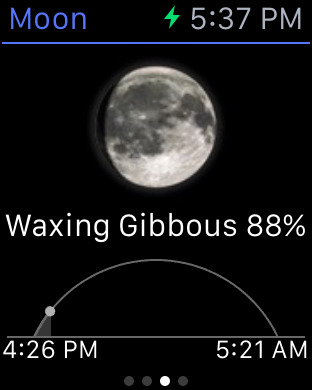 Customer Reviews
Essential Night App
My husband and I have derived many hours is a pleasure from this wonderful little application. He studied astronomy on and off as a young man, but I never had the chance. Together, we can scan the heavens zoom in object find out about it, and feel a part of the creation itself in a way that we could never do ignorant of the wonders that lay above.

The interface is a little easier to work on an iPad that it is an iPhone, naturally. However, the fact that it works and iPhone is great, because you often have an iPhone in your pocket at a moment when I have is a particular beautiful, just want to know little more about what's above you. We like the interface, the addition of classical celestial characters, and the ease at which we can move forward and backwards to time. The graphics are absolutely wonderful. One of the reasons that we bought into The universe of Apple computers and I machines since 1986. It's just a pleasure to use this application, we find it very "Mac like."

We cannot recommend it enough. If you love to learn, and your visually and climbed in your learning, this app is a godsend.
Absolutely Phenomenal
Update: Why does this version have a Watch function but not Star Walk 2?

I have Star Walk and Solar Walk for the iPad and knew them to be absolutely stunning applications, but on my phone I had Pocket Universe for quite a while and didn't see a need to replace it because I figured they did about the same thing. Last night I finally broke down and bought this application for my phone and I absolutely cannot believe how much better this one is. The graphics are more beautiful, the information is deeper and more interesting, the experience is made a million times richer by the music. I can just stand outside looking around the sky, even without a telescope, and feel like I'm being introduced to friends. Perhaps most importantly, the 3GS-based Star Spotter function is waaay more accurate that the similar implementation on Pocket Universe. On the other app, it was just frustrating because I could see easily that the direction would be off by as much as 45-90 degrees. With Star Walk, I hold up my phone and it matches the sky perfectly.
Almost perfect outside at night
If you've ever wondered what you are seeing in the night sky, this App gives you "point and shoot" answers.

A night mode shifts everything to red on the screen to avoid blowing out your night vision. One warning, don't click on the info button for an object, especially a star. You get a bright white image of star that will blast your eyes, and teach you nothing except not to do that again. On the iPad the text is to the left of the star, on an iPhone the red text is over the bright star so it is impossible to read. There needs to be setting to turn off the star images as part of night mode.

Otherwise, great!
View In iTunes
Offers Apple Watch App for iPhone
$2.99

Category:

Education

Updated:

Apr 20, 2015

Version:

7.1.0

Size:

72.8 MB

Apple Watch:

Yes

Languages:

English, Arabic, Dutch, French, German, Italian, Japanese, Korean, Russian, Simplified Chinese, Spanish, Traditional Chinese

Seller:

Vito Technology Inc.
Compatibility: Requires iOS 7.0 or later. Compatible with iPhone, iPad, and iPod touch.