Star Wars®: Empire At War
By Aspyr Media, Inc.
Open the Mac App Store to buy and download apps.
Description
YOU ARE THE SUPREME GALACTIC COMMANDER

From the lives of soldiers to the deaths of planets, you are the supreme galactic commander. It is a time of galactic civil war. Take up the reins of the Rebellion or assume control for the Empire. Whichever you choose, it will be up to YOU to steer your side to ultimate victory. Command everything from individual troops to starships and even the mighty Death Star as you execute campaigns on the ground, in space and across the galaxy. Forget tedious resource gathering – just jump straight into the heart of the action. You can even change Star Wars history! Every decision affects your next battle and every battle helps shape the fate of the galaxy.

* Conquer or liberate over 80 ground and space locations including Kashyyyk, Tatooine and Dagobah – each with its own strategic advantage.
* Command iconic Star Wars characters such as Obi-Wan Kenobi, Luke Skywalker, Darth Vader and Boba Fett.
* Pit X-wings against TIE fighters or command an entire fleet of Star Destroyers in space. Then send down land forces to secure the planet below.

* Star Wars®: Empire at War™ for Mac App is LAN only multiplayer.

*** Please Check System Requirements Prior to Purchasing. ***

***SYSTEM REQUIREMENTS***
If you encounter problems playing the game, please visit support.aspyr.com. Our team of Customer Support Wonderkids are happy and eager to help.

In order to run the game with satisfactory performance, your Mac must meet these minimum system requirements: CPU Processor: Intel chipset / 1.8 GHz / Memory: 512 MB / Hard Disk Space: 4.0 GB free disk space / (ATI): Radeon X1600 or better; (NVidia): GeForce 7300 / 128 MB VRam or higher / Multiplayer: LAN (TCP/IP) play supported.

Notice: The following Integrated video chipsets are not supported: GMA 950 / GMA X3100
_____________________________________________________________________
BE THE FIRST TO KNOW!
Get the latest Aspyr news, get insider information, deals and more…
SURF US: http://aspyr.com
LIKE US: http://facebook.com/aspyrmedia
FOLLOW US: http://twitter.com/aspyrmedia

Thank you for playing Star Wars®: Empire at War™ from Aspyr!

LucasArts and the LucasArts logo are registered trademarks of Lucasfilm Ltd. © 1990-2017 Lucasfilm Entertainment Company Ltd. & ® or TM as indicated. © 2017 Aspyr Media, Inc. All rights reserved.
What's New in Version 1.0.8
- Lion (10.7) Issue: Fix a crash on launch if particular system fonts were unavailable
- Lion (10.7) Issue: Fix a crash when loading save games
Screenshots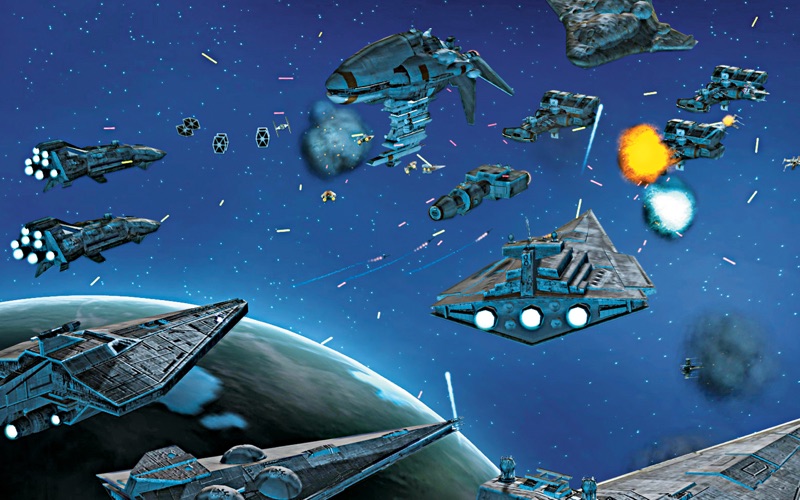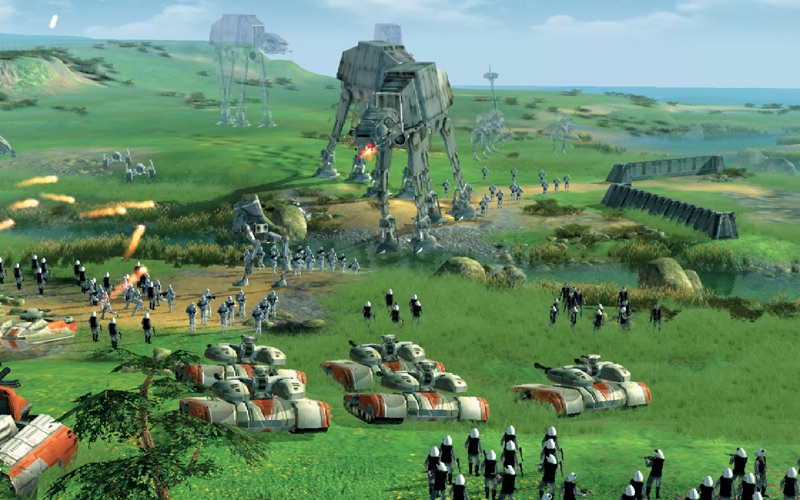 Customer Reviews
Great Game, but it needs it's expansions and one bug fix.
I've been playing this game for years and I LOVE IT, but it would be great if the "Forces of Corruption", "Republic at War", and "Thrawn's Revenge" expansion packs were added to the Mac version on the App Store. The App Store version has only one major bug and that is the internet connection on local multiplayer between devices. The game will quit unexpectedly in the middle of a local multiplayer online Skirmish or Galactic Conquest more than half the time and sometimes in the chat local chat room we can't even join each others' devices to a game no matter what Mac we use. Other than that, THIS IS STILL MY FAVORITE GAME AND I REALLY HOPE FOR AT LEAST A BUG FIXING UPDATE!

P.S. I recommend this game for ALL strategy game fans and Star Wars fans! I DEFINITLY THINK IT AND ANY FUTURE EXPANSIONS/EXPANSION PACKS ARE WORTH PURCHASING!!!
Legendary star wars game!
Do you like star wars? Do you like strategy? Do you enjoy blowing everything up in space, then going down to the planet and blowing everything up there?
Boy do we have a game for you then! Think of any vehicle, hero, or spaceship in star wars. Then imagine them shooting, slicing, and fighting each other (don't get me wrong though it isn't a violent game)! It run's beautifully, even for it's age, the campaign fits in with the story of the movies. If you like star wars, strategey, rts, or all three, get this game. it should be worth more than it is. If Lucasarts comes back to games like this and KOTOR, I would be so happy.

Oh, and by the way, don't try on a Retina MacBook Pro: Mouse clicks do not land where the mouse pointer is but somewhere else sometimes.
Would be better with DLC
Pretty good, but would be better with DLC. One thing to keep in mind is that you can't really sandbox as the rebels on the largest map. The game ends after the death star is built (and possibly destroyed), so the clock is ticking. Thus, in the largest campaign, you can't ever get more than a few of the highest end units, the game ends too soon. This is a little rough for those of us who like to take our time in a long campaign.

One minor annoyance, saving the game takes ages (even with an SSD and a fast computer), and the thing auto-saves before every battle. Expect a lot of 10 second pauses because of this, they add up to mild annoyance. Also, some of the loading is pretty slow. Again, this is true even with a fast SSD, so it basically just a bug, no reason it should take so long.

Solid game, with some rough edges.
View in Mac App Store
$19.99

Category:

Games

Updated:

Aug 23, 2011

Version:

1.0.8

Size:

2.29 GB

Languages:

English, French, German

Seller:

Aspyr Media (iDP)
Compatibility: OS X 10.6.6 or later