Star Wars®: Knights of the Old Republic®
By Aspyr Media, Inc.
Essentials
Open the Mac App Store to buy and download apps.
Description
It is four thousand years before the Galactic Empire and hundreds of Jedi Knights have fallen in battle against the ruthless Sith. As the last hope of the Jedi, you must lead a band of freedom fighters in an epic struggle to save the galaxy.

Can you master the awesome power of the Force on your quest to save the Republic? Or will you fall to the lure of the dark side? Hero or villain, savior or conqueror…you must choose wisely as you alone will determine the destiny of the entire galaxy!
Features:

• Immersive, action-packed Star Wars role-playing experience with customizable and evolving playable characters.
• Choose from nine customizable characters to build your party of three adventurers, including humans, droids, Twi'leks, Wookiees and more.
• Journey spans seven different worlds including Tatooine, Sith world of Korriban, Jedi Academy on Dantooine and Wookiee homeworld of Kashyyyk.

*** Please Check System Requirements Prior to Purchasing. ***

** System Requirements **
Operating System: Mac OS X 10.6.8 Processor: Intel chipset | CPU Speed: 1.8 GHz or faster | Memory: 512 MB or higher Hard Disk Space: 5.0 GB free disk space | Video Card (ATI): Radeon X1600 | Video Card (NVidia): GeForce 7300 | Video Memory (VRam): 128 MB

Recommended System Requirements:

Operating System: Mac OS X 10.6.8 | CPU Speed: 2.4 GHz | Video RAM: 256 MB

NOTICE: Integrated video chipsets are not supported (THIS INCLUDES 2010 MACBOOK PRO(low end models); 2010 MACBOOK AIRS AND 2010 MAC MINIS.)

NOTICE: This game is not supported on volumes formatted as Mac OS Extended (Case Sensitive)

LucasArts, and the LucasArts logo are trademarks of Lucasfilm Ltd. BioWare and the BioWare logo are trademarks or registered trademarks of EA International (Studio and Publishing) Ltd.. © 2003-2017 Lucasfilm Entertainment Company Ltd. or Lucasfilm Ltd. & ® or ™ as indicated. All rights reserved. Aspyr is a registered trademark of Aspyr Media, Inc., and the Aspyr star logo is a trademark of Aspyr Media. Mac and the Mac logo are trademarks of Apple Computer, Inc., registered in the U.S. and other countries. All other trademarks and trade names are the properties of their respective owners.
What's New in Version 1.3.8
* Greatly improve performance for certain graphic cards
* Fixed dropping audio sounds effects
Screenshots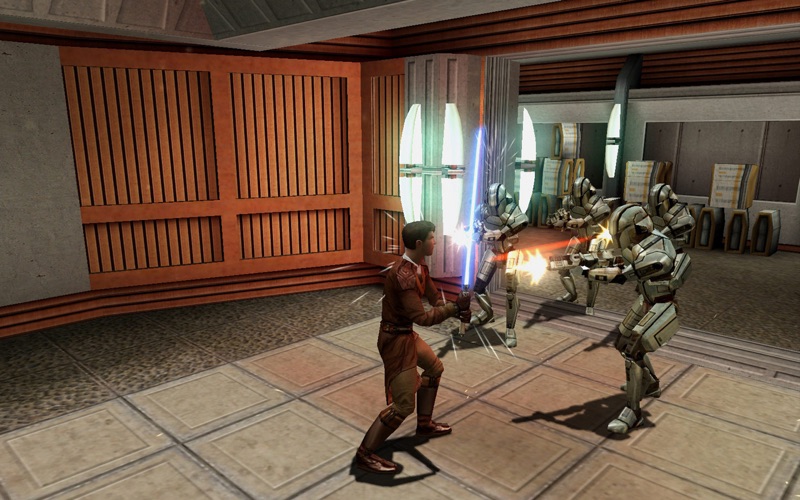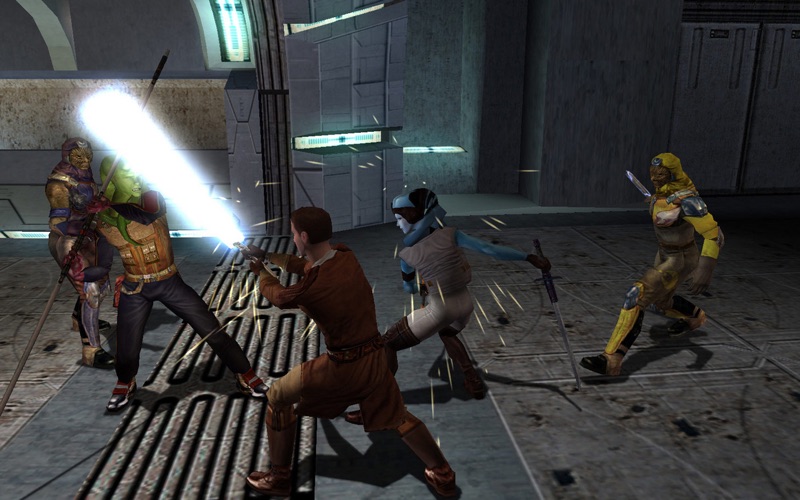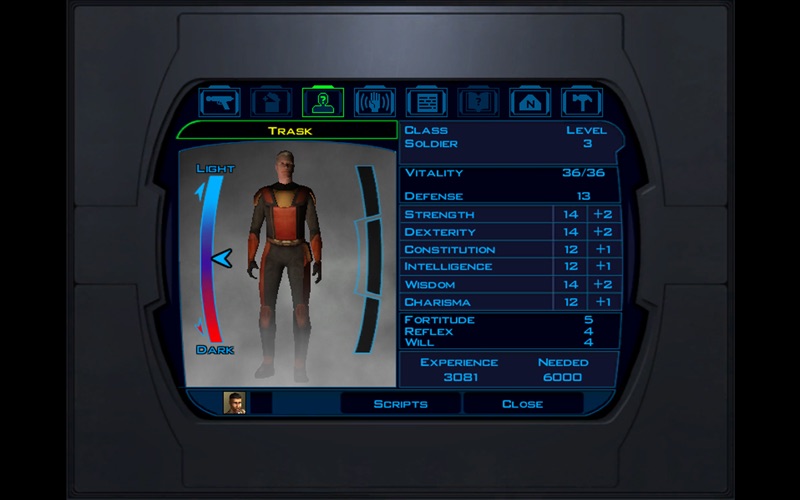 Customer Reviews
GOAT
This game, along with its sequel, make KoTOR the greatest video game series of all time. This is not a port, it has always been available to play on OS X. First off, if you are bored by the combat it is because you have no knowledge of the D20 system that originated with Dungeons & Dragons. All actions in the game are based on a chance of success with a 20-sided die. These chances can be improved by modifications via either a character's abilities or the gear they are wearing. Secondly, apparently some consumers lack enough brain power to comprehend that this game features turn-based combat, like Pokemon, with some real-time elements, and therefore are disappointed with the medium of combat. When I first played this game as a child over a decade ago, I didn't understand the D20 system too well but it was still pretty obvious that the game was about chance and roleplay. This meant that I was still able to beat the game and have lots of fun with it, however I was unaware of the subtleties and the true potential of the character's power. The more thought and research you put into the game, the more you will get out of it, and the deadlier your characters will become. I would not recommend this for anyone who is looking for mindless entertainment. Definitely the best role-playing experience you will ever get.
KOTOR II now please! (And reboot KOTOR III while you're at it)
Game is outstanding. It starts out slow when you don't have access to a lightsaber but once you do it's great. Took me 26 hours to beat, though I tried to be thorough with the quests so I'm sure you could do it faster. Also, be prepared for a decent amount of slow travel… Tatooine's Dune Sea is a vast area of virtually nothing but sand, which is a little boring. I know this is useless now but it would have been cool to still be able to play around after you beat it - instead, once you kill Malak, they take you through some cut scenes and then return you to the main menu. You can't continue questing or leveling up after that. Also, truly would have enjoyed further character customization. Regardless, worth every penny, definitely a good way to procrastinate around finals for me :) No noticeable bugs playing on a late 2011 MBP i7 16GB RAM.

Now if only we could get KOTOR II back… it's been a very long time since I played that. And for the love of God, please reboot KOTOR 3, I know it was cancelled in its production, but with SW Episodes 7, 8, and 9 on the way, there's going to be a MASSIVE market. Battlefront is already taking advantage of this, but I'd rather play an RPG as a customizable character with a versatile storyline manipulated by decisions you make along the way, not some guided storyline that the Battlefront games usually bring to the table. Overall awesome game though, just wish there were more like it!
Best RPG I've Ever Played
Graphics: The game looks impressive (ex. grass), yet runs smoothly for me even at high settings (I have double the minimum system requirements). Sound: I loved the music and voice acting from the start. Gameplay: You're able to customize many skills for each character. At first there are no useful active skills for combat (aside from throwing grenades), but over time you're able to do cool stuff with the force powers and maybe a few feats. You'll have lots of party members, and the game generously levels up the ones you don't use so you can play around with them when you want. Story: From lore questions to dark/light side choices (which adds replay value), there are several times more dialogue options than a visual novel. Over the course of the game, I experienced the most mature story of any game I've played. Bugs: I didn't buy it on Steam because people were complaining about game-breaking bugs. Fortunately, the game only freezed twice during conversations (don't click too fast) and skipped ahead of dialogue once. Hence, I can at least recommend this version.
View in Mac App Store
$9.99

Category:

Games

Updated:

Mar 16, 2011

Version:

1.3.8

Size:

3.28 GB

Language:

English

Seller:

Aspyr Media (iDP)
Compatibility: OS X 10.6.6 or later