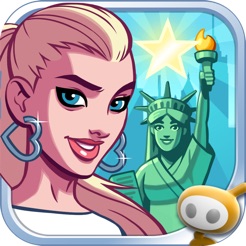 Stardom: Hollywood
17+
Free
Offers In-App Purchases
Description
Start a new life as an aspiring actor in Stardom: Hollywood, and go from nobody to A-list celebrity!

YOU'RE THE STAR in a huge interactive adventure: sleazy agents, self-centered celebs, parasitic paparazzi... what you do is up to you!

⋆Create your own actor or actress: make your own look from hundreds of style options!

⋆Star in hit TV shows and blockbuster movies: land roles, earn reviews, and win awards!

⋆Crash the best parties and hottest clubs: flirt and make the next power-couple, or network with Hollywood elite to land the best roles!

Stardom: Hollywood is a huge new adventure in a huge new city. Hollywood is bigger and better than ever: visit all-new restaurants, clubs and movie studios, flirt and network with other famous actors to get the best roles, customize your home with cool designer furniture, avoid the paparazzi, and get famous in new movies and TV shows. Your favorite characters are back with new quests, along with a bunch of new people and stories.

FOLLOW US:
facebook.com/StardomHollywood
facebook.com/GluMobile
Twitter @GluMobile

PLEASE NOTE:
- This game is free to play, but you can choose to pay real money for some extra items, which will charge your iTunes account. You can disable in-app purchasing by adjusting your device settings.
- This game is not intended for children.
- Please buy carefully.
- Advertising appears in this game.
- This game may permit users to interact with one another (e.g., chat rooms, player to player chat, messaging) depending on the availability of these features. Linking to social networking sites are not intended for persons in violation of the applicable rules of such social networking sites.
- A network connection is required to play.
- For information about how Glu collects and uses your data, please read our privacy policy at: www.Glu.com/privacy
- If you have a problem with this game, please use the game's "Help" feature.
▶ Halloween is coming! Join in the fun later in October to collect Halloween props while on set to win limited-time clothing, costumes, and stars! (level 5+)
▶ Travel to the film festival in Cannes (level 12+; must complete "Cosmo vs. Cosmo" project)
▶ Be the biggest star in the Big Apple: fly to New York City! (Must complete "A Manhattan Tale" project - Level 15+)
▶ Drama, quests and projects in New York City
▶ New York clothing collection for guys and girls
▶ Level 26 added
▶ Take your star to San Francisco! (level 14+)
▶ New San Francisco story quests and projects
▶ New clothing for guys and girls, PLUS: You can now send gifts to your date to change their clothes!
▶ Millions more fans added for A-listers to earn
▶ Level 25 added
▶ Get stars for liking us on Facebook (use your Stardom contact list)
▶ Bug fixes and other improvements
Ratings and Reviews
Needs updated
These games are fun, and I always seem to like Glu games. I like the RPG and real time type of play. But I think it is a little much when you finish a project and have no energy, and as soon as you leave the place where the task was, your agent calls. And then I can't except the role because if I start it, I won't be able to do anything for a couple of hours. Also, when the agent calls and asks for you to come by to talk, and then as soon as you phase into a different screen he calls and offers you a role, when you are trying to finish the first task, and I like quests like that where you explore, and talk to people and do things and even that stuff sometimes requires a lot of energy. Also with dates, I am surprisingly doing well and am engaged, but it was hard work which it should be, but I would risk stars on quests quth movies to leave and use the energy I had to have a date just so he wouldn't dump me. I don't like the one way street with the boyfriend thing. And you can't do anything in 24 hrs without seeing them or they will dump you. So love the game, but I definitely think it needs better coordinated, and definitely updated.
Fun Yet Frustrating
I enjoy playing this game, but I get frustrated by the fact that I can only play for five minutes at a time before the energy is all gone. I just had a "24 Hour" task, but I work full time and have to sleep. There's no way I can do a good job if I can play for only five minutes before I have to wait two hours for the energy to recharge. I just deleted the Kardashian version of this game because I was frustrated, but this one does have better energy "freebies" that one can find by clicking on birds, trash cans, etc. I guess when I play a video game, I want to be able to sit down and play for an hour or so to relax, not just five minutes.
Frustrating
I like the game, but I'm pretty frustrated with it. The game keeps crashing in the middle of actions and then I loose the stars and the energy. This isn't a maybe once a day issue but something that consistently happens. So much so that I can go days and even weeks without playing it. I also have to reopen the game multiple times when this happens. I spent money to play this game and it's frustrating when the game keeps crashing in the middle of actions. If it hadn't been for the fact that I actually invested money in this game, I would stop playing. I just wish the app would stop crashing, it would be a much more enjoyable game if that stopped. I would've achieved higher fans and finished some tasks with higher stars if it hadn't crashed so much.
Information
Seller

Glu Games Inc

Size

123.7 MB

Category

Compatibility

OS X 10.7 or later

Age Rating

You must be at least 17 years old to download this app.

Infrequent/Mild Sexual Content and Nudity

Infrequent/Mild Profanity or Crude Humor

Infrequent/Mild Horror/Fear Themes

Frequent/Intense Alcohol, Tobacco, or Drug Use or References

Infrequent/Mild Mature/Suggestive Themes

Infrequent/Mild Cartoon or Fantasy Violence

Copyright

© 2013 Glu Mobile

Price

Free
Supports
Game Center

Challenge friends and check leaderboards and achievements.

Family Sharing

With Family Sharing set up, up to six family members can use this app.