Starfront: Collision
By Gameloft
Open the Mac App Store to buy and download apps.
Description
PLEASE CHECK SYSTEM REQUIREMENTS PRIOR TO PURCHASE
This game is not supported by iMac and MacBook Pro devices equipped with the following video cards:
Radeon X1600
Intel GMA 950


The best real-time strategy is now at your fingertips! Starfront: Collision, the ultimate in RTS gameplay with gorgeous HD graphics and a competitive 4-player multiplayer, finally hits the Mac Store!

Welcome to planet Sinistral, where rare Xenodium crystals are coveted by a human mining conglomerate called the Consortium. However, they are not the only ones after the rare mineral. The Myriad, an indigenous race of aliens, is addicted to Xenodium and will do everything they can to prevent the Consortium from plundering their resources. To add to the chaos, a sentient robot race called the Wardens is trying to turn the war in their favor. Whose side will you choose?

With Starfront: Collision, choose from 3 unique but balanced races and deploy your strategy for victory in this battle. Each faction can construct 8 different buildings and over 10 destructive units to build up their base and mount an unstoppable assault on adversaries. Once you've mastered the solo campaign, put your skills to the test in exciting multiplayer battles.

THE DEEPEST, MOST BALANCED RTS GAMEPLAY ON THE MAC STORE
• Hone your strategy with three different factions - The Consortium, Wardens and Myriad - each with unique tech trees and tactics.
• Complete 20 missions and create your own battles thanks to Skirmish mode.
• Gather resources to build 24 different buildings and recruit 30 different units.
A DEEP AND POLISHED SCI-FI UNIVERSE
• Wage war across five gorgeous environments: ice, badlands, a jungle, an underground reactor and a destroyed alien city.
• Discover the deep and engaging story of a war for resources, told throughout the solo campaign.
• Gaze upon top-notch 3D-rendered environments, buildings and units.
HIGHLY COMPETITIVE 4-P MULTIPLAYER MODE
• Confront your friends in epic and challenging Local and Online Multiplayer battles.
• Choose between 5 multiplayer maps, each corresponding to one of the 5 environments in the game.
• Enjoy unlimited replayability thanks to Multiplayer mode.
• Connect to Gameloft LIVE! 2.0, chat and compete to rule the leaderboards.
Screenshots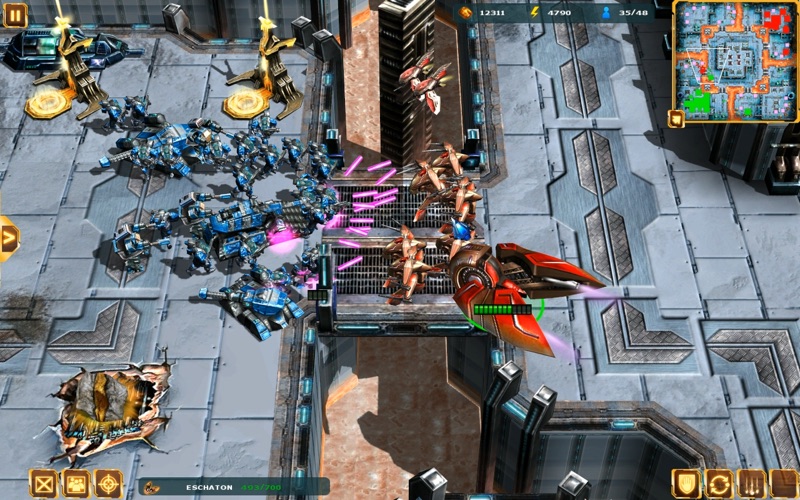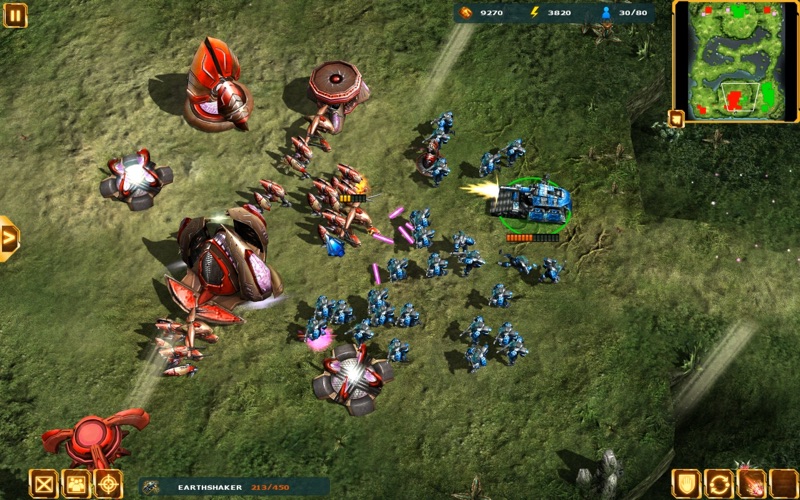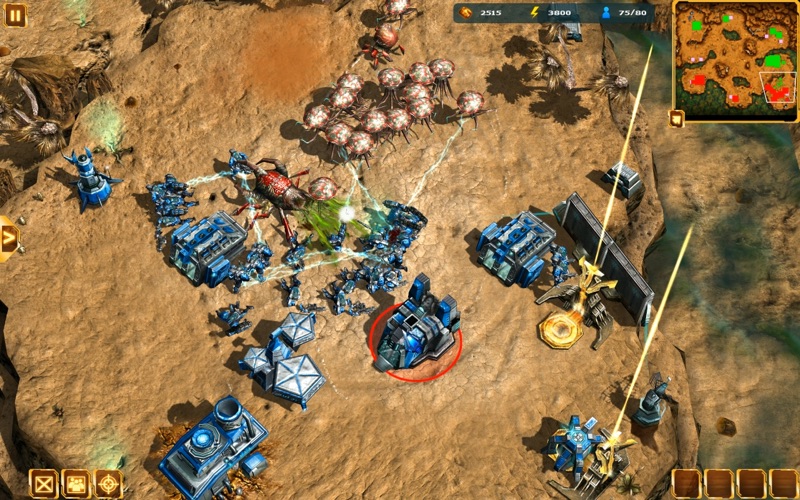 Customer Reviews
Decent
I may have had my expectations too high, but the game is ok. The graphics and controls are great. The skirmishes are too simple on single player…basically, just build a force and go destroy. They can all be over in under 5 min (even the pro level) with very little though, resource management or strategy. Plus, there has been no update to the game since the release, so you can't really expect Gameloft to put one out. Could be an incredible game with more campain levels, more options (like 3 or more players in skirmishes, more distinction between the races, etc.), but it seems GL is satisfied with an OK game, regardless of the potential. The sad part is that it wouldn't take much work to make the game AMAZING! The game is worth the .99 cent sale price, though, so get it while you can. Definitely not worth $10!
Great Game But It Feels Like It
I like this game but I also found it limiting. How do u delete some of your troops in mid game? because when i fill up my pop limit and they tell me to get a certain troop i have to find an enemy and make him kill me before i can make that thing they want in campaign mode. I felt like there could be more options in this game but that's not a big problem, and like "Jim Wiley" I think an "attack to location" or a general attack everything or "fire at will" button would be nice. It gets annoying when you get attacked and you're troops arnt really fighting until you click on that tiny barely-seeable monster. So in a summary: If you can delete troops, add more in-game options, and make a "fire at will" attack button this game would be sooo much better!

But overall it's a good game and WELL WORTH it's money so I would still get it! Graphics are really good for a mac game, It's a good game to play, and this game goes str8 to the point!

4/5
Felt like an off brand clone.
I'm getting a little fed up with app-store off brands. I went in search of Age Of Empires, or Starcraft, or World Of Warcraft. What did the app store have to offer?

Starfront.

It feels like I just bought a china knock-off of a game. It looks like a Starcraft, as if they spent all there time trying to make people think they were buying Starcraft, but it just doesn't behave well. For examples: The tutorial is filled with pauses that just don't make sense. All this "backstory" that doesn't actaully have any story in it, all while preventing you from actually being able to move your troops. You can't by pass it, its not remotely engaging, and the result is i got so frustrated I quit the game, and nearly deleted it.

Actual game play is the same. Forces you to stop periodically to read increadibly uninteresting dialog. (if you HAVE to put dialog in, hire some voice actors, people! They are cheap, and enhance your game a ton without annoying players.)

In summery, I've played dozens of RTS, and I lasted about 15 minutes with this one. I just found it far more annoying then fun. Probably will uninstal.
View in Mac App Store
$9.99

Category:

Games

Released:

Jul 28, 2011

Version:

1.0.0

Size:

2.34 GB

Languages:

English, French, German, Italian, Japanese, Korean, Portuguese, Spanish

Seller:

Gameloft
Compatibility: OS X 10.6.6 or later