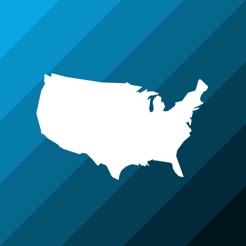 Description
What's the story of health in America?

Explore the nation's vital signs―from life expectancy to access to medical care―and make your own conclusions about America's health. See a stat you'd like to share? Save it as a snapshot.

Stats of the Union is powered by the Community Health Status Indicators (CHSI) report, which consists of data from federal agencies including the Census Bureau, Department of Health & Human Services, Department of Labor and the Environmental Protection Agency.

Since we've had a few inquiries, here are a few details about how the application works:

• Where applicable, the blue color is the "positive" side of the indicator, and the green is the "negative". For this reason, the color scale will change between some factors. Otherwise you have a confusing situation where a large green area on one map is a problem area, where on another map, green would otherwise mean something more positive.

• The two color scale is used to provide greater contrast and make it easier to read: we want to be able to see how counties compare against one another, and also against the median. Because the numbers sometimes vary quite widely, we color the legend against the median value, instead of the mean (or average). Coloring above or below the median is in linear proportion away from median to the highest (or lowest) value.

• However, using the median doesn't fix all of the enormous ranges in the distributions. In the case of the population map, for instance, the upper half of the counties have values quite close to the median value, so they're colored much closer to black. On the other side, there are many counties that have sizes much closer together, which causes there to be a large number of counties that are brightly colored blue.
This version includes fixes for a couple of bugs and typos seen in the first release.
Ratings and Reviews
Fine app, but data interactivity needs work
This is a fine app, with interactive map interaction to see any level of detail necessary. It provides access to a wide set of demographic data at the county level.

Where the app falls down is its lack of ability to interact with the data layers themselves. It identifies each data layer with a min, max, and median. All colors are based on this, with black being the median and min and max being shown in contrasting colors. This is fine for some data (like poverty level). But other data (like population density) could use colors that are not centered around the median. And the only selection for color mapping is linear. This means that outlier counties (like those in New York) can blow out the range such that the rest of the country has barely perceptible variations. This app could use a set of controls to determine how the data is mapped to color, adding other color mappings (e.g., median-centered, zero-based) and scalings (e.g., linear, log10, log2).
Fantastic stats, but usability can be improved
It's incredible to see all of this information in one place, that can be accessed and flipped through so quickly and easily.
My gripe with this app comes from how difficult it can be to see items. Black-on-black, with slight variations in color from the median, make it difficult to identify slight changes in county data. Further, when the stats column is open on the left side, the state of California is invariably covered. Just being able to move the map the the right an inch would go a long way.

And...why would the colors for "high" and "low" switch back and forth?
Horrible execution, bad data, totally misleading
Did the developers of this app even spend one minute with it? Look at the most basic data shown in the app, population density. The entire nation has low or middling population density. The ONLY county in the entire US with high population density is LA county. !?!? New York? Chicago? Houston? Nope. Just LA. Ever the data are bad or the programming behind the app is bad.

Also, who in the world thought that these color choices to represent data gradation made sense? Yellow to blue with black as the median? Totally nonintuitive and actually just poor design. Clearly, someone with no actuall knowledge of how to displayi and interpret quantitative data designed this app.

Seriously, how could ge attach itself to a project like this? It's embarrassing.
Information
Seller

Ben Fry LLC

Size

8.2 MB

Category

Compatibility

Requires iOS 3.2 or later. Compatible with iPad.

Age Rating

Rated 12+ for the following:

Infrequent/Mild Mature/Suggestive Themes

Infrequent/Mild Alcohol, Tobacco, or Drug Use or References

Copyright

© 2011 Fathom Information Design

Price

Free
Supports
Family Sharing

With Family Sharing set up, up to six family members can use this app.