SteadyTune
By Agile Partners
Open the Mac App Store to buy and download apps.
Description
Introducing SteadyTune, the menu bar tuner for your Mac. Beautiful, accurate, stable, intuitive: you have to see it to believe it.

A POWERFUL TUNER RIGHT WHERE YOU NEED IT
Guitar players and musicians are some of the heaviest Mac users around. SteadyTune, the Mac menu bar tuner from the makers of GuitarToolkit and AmpKit, is beautifully implemented, amazingly lightweight, and always available when you need it. Now you can add tuning to the list of musical tasks your Mac is great at!

ACCURATE AND STABLE
SteadyTune's tuning algorithm is completely new, developed based on our 5 years of experience with the award-winning GuitarToolkit app. SteadyTune improves upon earlier-generation tuners in two ways: better tuning accuracy, and vastly improved needle stability when tuning. The difference is dramatic.

EASY ON THE EYES
A great tuning algorithm deserves a great tuning visualization, and SteadyTune introduces an altogether new visualization, with a high-precision log-ruled tuning strip that smoothly animates from out-of-tune dark red to in-tune bright green. The combination of this highly-intuitive visualization with SteadyTune's stability and precise note detection results in a fast, accurate and enjoyable tuning experience.

MORE THAN JUST GUITAR
Whatever instrument you're tuning, SteadyTune has you covered. And the list extends well beyond guitar:

◼ 6 String Guitar
◼ 7 String Guitar
◼ 12 String Guitar
◼ 4 String Bass
◼ 5 String Bass
◼ 6 String Bass
◼ Banjo
◼ Mandolin
◼ Ukulele
◼ Violin
◼ Cello
◼ Viola
◼ Double Bass

In fact, with SteadyTune's "All Instruments" setting, you can tune just about anything—woodwinds, brass, you name it. Note: bagpipes are prohibited.

KEY FEATURES

◼ 13 identified instruments plus "All Instruments" mode
◼ Over 200 alternate tunings
◼ Adjustable reference pitch
◼ "Always on top" mode
◼ "Start at login" option
◼ Mappable keyboard shortcuts
◼ Tune using the built-in mic or select an audio interface
◼ Works with AmpKit LiNK HD and other USB guitar interfaces
◼ Level meter shows signal strength

Follow SteadyTune on Twitter: @SteadyTune
Be a SteadyTune fan on Facebook: Facebook.com/SteadyTune
What's New in Version 1.1
Miscellaneous bug fixes
Screenshots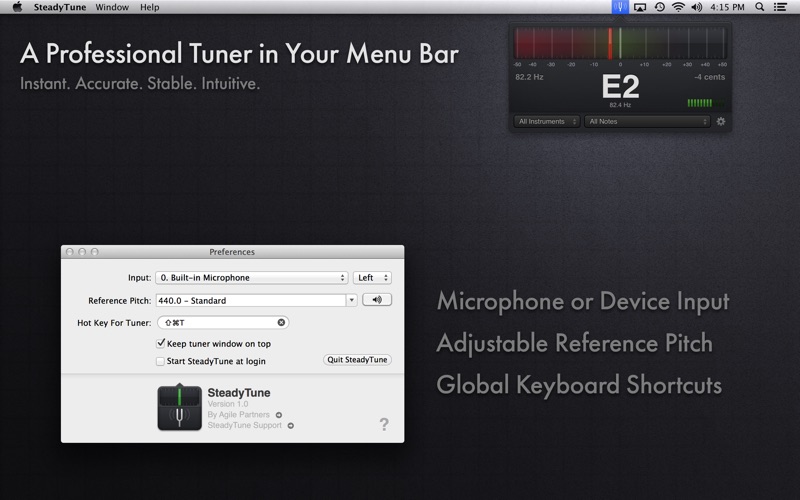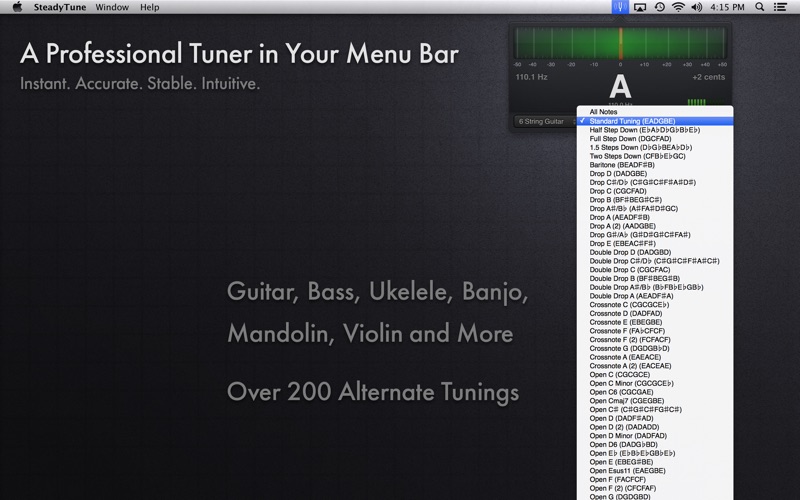 Customer Reviews
The great houdini of tuners
At first I thought I got ripped off because it wouldnt open. It does open, but i use a dark heme on my mac, so I didnt see the icon at top at first (duh me). So far it is working great. I havent tried to use it to intonate yet, but it has many options and was well worth the $7. Im giving it 4 stars for now but if it works well for intonating my gear, i will give it a five. If you're having issues, make sure and select your instrument. It seems they have an algo that takes some slight buzz into account (both hiss and fret). Great job on this though - thanks guys!

One feature I'd recommend for guitar is 6 string in drop C tuning as its being used widely in metalcore - I do love all the options you have for 7 string (those are useful to me as well), but only standard tuning for 6 string is a bummer, although the 'Every Note' option is very useful.
Good design, simple, and it works
This tuner looks great and it works as advertised. I own also own a Korg Sledgehammer Pro and a few Snarks. The Korg is more accurate than the Snarks. I did a quick test tuning my acoustic and SteadyTune is as accurate as the Korg, a pleasant surprise. My only complaints are also suggestions. First, In dark mode, the menu bar icon is barely visible. To the developers, please fix soon…I'm pretty sure a lot of us are using Dark Mode on our Macs. Second, it would nice to be able to detach the app window so I can move it to another screen while using a dual monitor setup.
SWEET!
I have several guitars, a Dobro, a mandolin, a banjo and an upright bass in my studio. My brother plays the fiddle. (I have some other instruments, too, but these are the only ones that constantly need tuning. I set this tuner to use the input from Duet 2. And now I can tune up in seconds and record a track. Switching back and forth between instruments with only a slight delay for tuning back up.

Purely amazing! I also notice that if I'm off slightly in my finger placement when playing a fretless instrument, this tuner lets me know so I can be a little more careful of that note on the next take. This is worth every cent I paid for it. Should have bought it long ago.

For those of you who have trouble finding it after you buy it, go to the application folder (blue folder with the A on it) and look for Steady Tune. After that first use, you can launch it from the bar near the time and date.

Sweet!
View in Mac App Store
$7.99

Category:

Music

Updated:

Aug 05, 2013

Version:

1.1

Size:

2.9 MB

Language:

English

Seller:

Agile Partners Technologies, LLC
Compatibility: OS X 10.7 or later, 64-bit processor