Steambirds: Survival
By Spry Fox, LLC
This app is only available on the App Store for iOS devices.
Description
In the Steambirds universe, the Allies are losing the war against the Axis powers and their incredible Armada. As an elite Allied pilot, your goal is to stand your ground against endless waves of Axis aircraft. The odds are overwhelming. You're hopelessly outnumbered. The United Kingdom is almost certainly doomed, but you *might* be able to save its citizens.... if you can hold off death long enough for them to evacuate!

Steambirds: Survival features 10 unique aircraft and 80 unique missions. Each plane in SB:S has its own strengths and weakness which will require you to change your strategy if you want to succeed. You'll also need to collect powerups dropped by enemy aircraft; grabbing and using these at the right time will be the key to your survival.

Steambirds: Survival, the sequel to the hit game Steambirds (first released in 2010 and played by over 12 million people worldwide) is brought to you by its original creator, Spry Fox, and by Halfbrick, the developer of Fruit Ninja and Jetpack Joyride.

***************************************
IMPORTANT NOTE FOR CURRENT CUSTOMERS: If you have previously purchased the "unlock all cities" upgrade, after you update the game, the cities may once again appear locked. This is easily rectified! Just verify in iTunes Purchase History that your purchase is there, then click the "buy" button again (you won't be charged twice.) If for some reason the purchase is *not* showing up in iTunes, just email us and we'll help you.
***************************************
What's New in Version 1.3
Changes in this update include:

* Brand new city, featuring a brand new plane! (Birmingham)
* OpenFeint has been removed from the game, as it is no longer being supported by its parent company.
* Local leaderboards have been added to replace those previously supplied by OpenFeint
* The order of the cities has been changed based on feedback from our players WRT difficulty
* Rebalanced city prices. Earlier cities are more expensive to unlock, but later cities are much cheaper. We hope this will make the end-game cities feel like less of a grind.
* A link to dedicated game forums have been added to the game
* Minor bugfixes

We love our fans and want to be direct and honest with you about the state of this game. So far we've taken a significant financial loss on our development efforts for Steambirds: Survival and we just can't afford to continue working on it if we can't find a way to stop losing money. One thing left for us to try is increasing the length of time that advertisements in between sessions are played. We are hoping that this change will make the game profitable enough that we can justify continuing to do free content updates for all of you. As always, if you dislike the advertisements, you have the option of disabling them *and* unlocking all cities for a single, fixed price.

Questions? Comments? Please don't hesitate to contact us at support@spryfox.com.

Love,
Your friends at Spry Fox and Halfbrick
iPhone Screenshots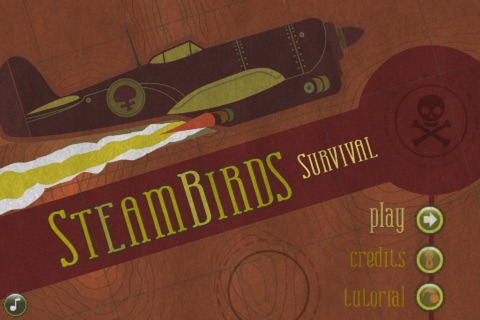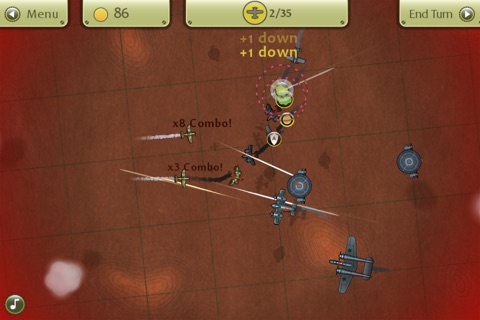 Customer Reviews
Great but historically reversed
It's a great game, but the notion that the RAF was "outnumbered 10 to 1" was untrue, it was american propaganda to help get the American public at the time to support the effort to supply them and ultimately join them in the war. Wen one looks at the real history and not what is commonly known, it's was the complete opposite, the allies were bombing Germany to ashes, even in places were there were no military industries and, at the point were even with them, they would lose the war anyway at the long run. I have heard the the German Air Force pilots were so desperate to keep the allied bombers from reaching the cities were there families lived, that they crashed there plaines into the allies bombers to keep them away from there homes. It's incredible and insulting, especially scine even officially 11 million Germans died in the war, the British and French dead don't even come close. In the end I wish I had a refund for the lies told in the game, the National Socialist were not the people we are told, watch the greatest story never told.
Prepare to get Tactical
One of the best Turned based Aerial shooters I've played. The PC version was Very good, but the iPad Version is Awesome. Very fluid motions with the controls and your excitement always builds up when thinking about the next city and plane. The only con is the problem when reinforcements spawn next to or in front of enemy planes, but other than that its a really fine game.

Hopefully we can expect to see more
updates and maybe even a new Steambirds game soon,
Fun and Tactical
The Steambirds games feel more like board games than anything. Being turn-based they let you really sit back and think about you next two or three moves, and really feel like you're directing fighters in some alternate Battle of Britain.

Loads of fun.

Unfortunately, you shouldn't use the game backup feature because it causes the game to get stuck backing up. I had to reinstall, and that caused me to lose all of my progress. :(
View in iTunes
Free

Category:

Games

Updated:

Mar 13, 2013

Version:

1.3

Size:

14.0 MB

Language:

English

Seller:

Spry Fox LLC
Compatibility: Requires iOS 3.2.0 or later. Compatible with iPhone, iPad, and iPod touch.
Top In-App Purchases
Unlock All Cities and Disable Ads$2.99
500,000 Copper$4.99
45,000 Copper$0.99
100,000 Copper$1.99
200,000 Copper$2.99