Steve Peat - Downhill Mountain Biking
By Apposing
This app is only available on the App Store for iOS devices.
Description
Welcome to the OFFICIAL Steve Peat - Downhill Mountain Biking Game!

-----------

No.1 racing game in Panama - 26/05/11

No.1 racing game in Slovenia and Chile! - 21/06/10

Top 50 game in most countries worldwide! - 22/06/10

-----------

At last ... MTB on iPhone! - ★★★★★

by jasterixstrange

A DH MTB game for iPhone at last!!! Been checking the app store for this daily since June 1st. Just one level at the moment but you can certainly see scope for updated tracks going forward. As time goes by God only knows how many tracks they'll be. For now though this game is pretty tricky so one level will do! When the shop opens it could also do with a Steve Peat news or blog section with iPhone wallpapers ready for OS4. This would be a real nice touch. Looks like it's going to go up to £3 soon so may as well buy it now and practice ready for the update. Thanks Apposing for making my day!

-----------

Great game - ★★★★★

by Toldownhill13

Great game really enjoy it one problem where's the brakes?

-----------

Message from Apposing:

We are the developers of the Steve Peat - Downhill Mountain Biking app. We just like to thank everyone for their support, the idea of the game is to listen to the players - we are riders too...we want to get the game updated asap with some bug fixes, adding brakes, new level and rider all for free! The update will be coming soon, probably in the next 4 weeks so we ask you to hold tight until then and try and beat the current hiscore which will be posted on the website www.stevepeatdh.com today! We will take all your points on board and over time build the game to be something awesome that we will all be proud of.

-----------

Ride as current world downhill mountain biking champion Steve Peat on his home track of Wharncliffe, Sheffield in this unique 3D gaming experience allowing you to customise game-play by accessing Steve Peat's virtual bike shop to buy the latest track additions, new real-life riders, awesome bikes, trick kit and much more!

Peaty himself added: "We are confident that this game is going to raise the bar within the extreme sports genre, while appealing to new and existing fans including the mountain biking community."

This game has been played by all the top names in the sport to critical acclaim including Steve Peat, Greg Minnaar, Josh Bryceland, Rob Warner and Hans Ray!
iPhone Screenshots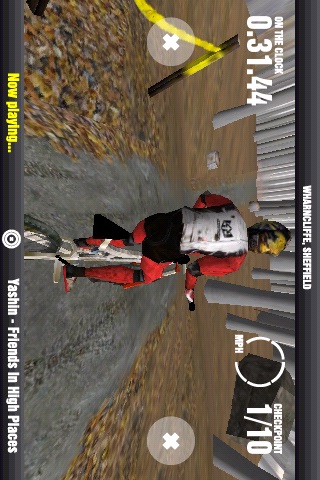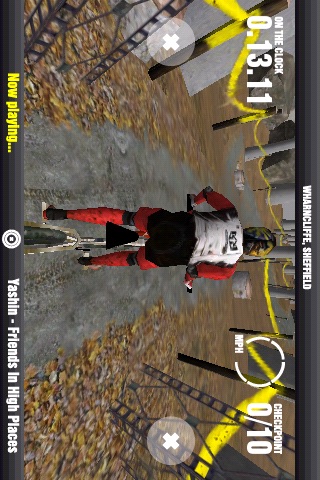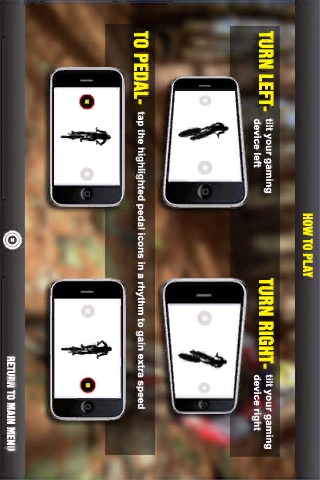 Customer Reviews
CRASHED!! CRASHED!! CRASHED!! CRASHED!! CRASHED!!
Fortunately I'm not referring the the stability of the app. Rather you'll be crashing your bike left and right constantly, either you're not turning fast enough, or turning too fast, or slamming into a rock that would make any respectable downhill cyclist laugh. And as "unextreme" as it sounds, there's no brakes on your bike.

Graphics are serviceable, but good enough. Unfortunately the controls ruins the overall experience. Grab this game whenever it goes on sale for free and hope they refine the controls in upcoming updates.

Reviewed on a first generation iPhone.
Where's the update?
Love Peaty, however, he should be ashamed of himself for endorsing this P.O.S game. The developers have yet to deliver on their promise of updating the game. Snake oil is what it is! A full refund should be awarded to all who've purchased this app and it should be pulled from the store!!! It's not even worthy of the one star that must must be entered to submit this review!
This is NOT peaty volume 1
First off Steve Peat is the man don't let this game make you think otherwise...as for the game Atari probably could have made a better DH game in '82. Worst game in the app store just like someone else said Peaty should be ashamed about being associated with this thievery. I would much rather give the $ straight to peaty!
View in iTunes
$1.99

Category:

Games

Released:

Jun 19, 2010

Version:

2.0

Size:

14.3 MB

Language:

English

Seller:

Apposing
Compatibility: Requires iOS 3.0 or later. Compatible with iPhone, iPad, and iPod touch.