Stockfolio - Stocks, Real-Time Stock Portfolio
By Pandaris BVBA
Open the Mac App Store to buy and download apps.
Description
FEATURED BY APPLE AS A NEW APP THEY LOVE: ** CURRENTLY $24,99 INSTEAD OF $49,99 **

Stockfolio is an investment app for macOS that will help improve your investment returns by allowing you to research and track interesting stocks and cryptocurrencies. It is extremely easy to set up and the best way to manage and follow your investment portfolio.

* Featured several times by Apple in new Apps we love
* #1 Top Paid Finance app

SOME HIGHLIGHTED FEATURES:

TRACK EQUITIES AND CRYPTOCURRENCIES
* Realtime stock and cryptocurrency quotes from around the world
* Track mutual funds, ETFs, and major stock indices.
* Research and monitor important stock details, and analyze valuable investment fundamentals, such as RoA, RoE, operating cashflow and free cashflow.
* Support for more than 60 major cryptocurrencies, including Bitcoin, Litecoin, Ethereum, Dash, Ripple, Monero and Bitcoin Cash.

CHART
* An advanced and powerful, yet simple to use chart.
* Extensive support for technical analysis. Draw customized trend lines.
* Add technical overlays, including:
- Simple Moving Average (SMA)
- Exponential Moving Average (EMA)
- Bollinger Bands (BB)
- Money Flow Index (MFI)
- Moving Average Convergence Divergence (MACD)
- Relative Strength Index (RSI)
- Stochastic Oscillator
* Zoom in on any area of the chart you find relevant.
* Support for different charting modes: area, line, candlestick and bars.
* Pick the theme that works best for your investment or trading set up: light, dark, improved contrast.
* Easily share your chart and annotations with your fellow traders with a single click, or save the chart to disk.
* Support for both a linear and logarithmic chart scale
* Customized date ranges

WATCHLISTS
* Create one or multiple watchlists
* Watchlists allow you to monitor in realtime the stocks and cryptocurrencies you own, or intend to buy.

ADVANCED PORTFOLIO(S)
* Divide your holdings in one or multiple portfolios.
* Receive a visual overview of the composition and weighting of your portfolio, and its entire overall gain or loss.
* Get a detailed overview of your current positions, plus both the gains and losses on those positions.
* Contains a historical overview of your entered transactions

NEWS
* Direct integration with various news sources to fetch relevant news data.
* See what other investors are saying about your favorite stock or cryptocurrency through integration with Stocktwits and Twitter.

MENU BAR INTEGRATION
* Quick access to your stocks and cryptocurrencies from anywhere on your Mac.
* Check the current price of your favorite stock directly on the menu bar while you continue with your normal work flow. (You don't even need to click anything!)

TOUCH BAR SUPPORT
* And of course, we support the MacBook Pro touch bar. :)

We currently do not support connecting directly to your brokerage account to trade securities from within the app. It is something we are working on, though!

Have an issue or discovered a crash? Seeing something you don't like? Do you have some feedback? Let us know at stockfolio@pandaris.com and we'll take a look! We are constantly updating our app. App issues will be fixed and your received suggestions might pop up in one of our next updates.
What's New in Version 1.3.2
What's new in v1.3.2:
* Significantly improved the chart: included support for technical overlays, added drawing tools for trend lines, added chart zoom, added charting themes (light, dark, improved contrast, etc), added sharing capabilities, added a logarithmic scale.
* Included more fundamentals: return on assets, return on equity, operating cashflow and free cashflow.
* Added 60+ additional cryptocurrencies, including Ripple, Dash, Monero and Bitcoin Cash.
* Support for multiple portfolios
* Ready for macOS High Sierra
* Various improvements and bug fixes
Screenshots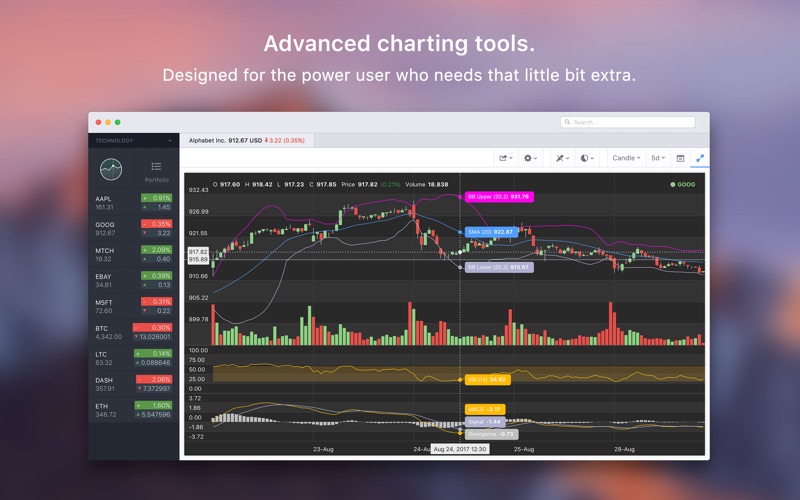 Customer Reviews
Nothing else from the Mac App Store beats it!
I use a couple of web based platforms too, but I'd like to keep everything more uniform, so my hope is that they continue to update and work on what's already a very promising set of features, so I can solely rock with this one. I've had to reach out to support twice over the last (two months) for bugs, and (even though there's a 6 hour TZ difference) they always respond to my query within an hour or so. The UI is rather clean for a data and analytics based application. I haven't found anything on the web as 'neat' and 'intuitive', and I'm sure that's because of Apple's meticulous curation process where you have to speak their design and function language. Stockfolio executes the 'Apple Way' extremely well and my 5 star rating is based on this being the a HUGE step in the right direction coupled with this being the BEST STA in the Mac App Store!
Stopped working (v1.3.1)
UPDATE: Thanks to the dev for following up on this review. The problems I was having were present in version 1.3.1 and shortly after I posted my review below, they contacted me to let me know that the problem was being resolved in the next version. That version was pushed out to the Store in no time at all and sure enough, the problems I was having were resolve in the update. Customer service gets a 5-star rating, as does this app. Waiting for the update that include keeping track of cash in your portfolio. Thanks for the nice app and great customer support!

I was enjoying the app for the few weeks it worked properly. Since about a week ago (as of this review posting), no stock data loads at all. I can still update my portfolio transactions and see the news feed, but the stock ticker information never loads. I'm feeling as though I wasted the $25.
Excellent app for watching stocks and cryptocoins
This app is great. I used to use Google Stocks and this has more than replaced it's use in letting me obsess over my portfolio. The only thing I'm missing is a combined portfolio chart but the devs are attentive and responsive so I'm sure there's more good things to come for this app. They've already done better than I expected after purchasing. I had to reach out to the devs twice over some bugs and they were super responsive and I only had to wait on Apple to get the fixes through the review process.

I'd say they should raise the price because it's so good I would have paid more for this app but I know it's hard to trust random apps sometimes.
View in Mac App Store
$24.99

Category:

Finance

Updated:

Sep 08, 2017

Version:

1.3.2

Size:

11.5 MB

Language:

English

Seller:

Pandaris BVBA
Compatibility: OS X 10.10 or later, 64-bit processor