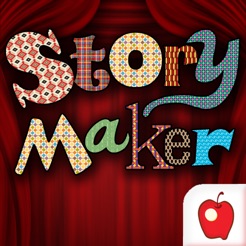 Story Maker
4+
Free
Offers In-App Purchases
Description
Make Your Own Story from New Avatar App! Make Creative Story!

# New Packages(Wizard of Oz, Red Riding Hood) Updated!

# App of Week in Korea - 2011.04
# Top 1 in Education (19 countries) - 2011.04
# Top 5 in Education (45 countries) - 2011.04

You can make your own Avatars from over 200 FREE Items, offering millions of combinations.
Avatars for Only Sharing? It's old story!
Your Avatars will be printed as Paper Craft.
Your Avatars will act as Characters in your Story.

Make Avatar! Make your Story! You will be an Author!

## Features
- Make Avatar
- Make Story (Include Avatars, backgrounds and other accessories)
- Basic Pack for FREE, Also have 3 Little Pigs, Cinderella, Wizard of Oz and Red Riding Hood
- Print Avatars as Paper Craft (Air Print)
- Print Story as Picture Book (Air Print)
- Share your avatars and stories via Twitter, Facebook, Email

Make Your Own Story from New Avatar App! Make Creative Story!

# New Packages(Wizard of Oz, Red Riding Hood) Updated!

# App of Week in Korea - 2011.04
# Top 1 in Education (19 countries) - 2011.04
# Top 5 in Education (45 countries) - 2011.04

You can make your own Avatars from over 200 FREE Items, offering millions of combinations.
Avatars for Only Sharing? It's old story!
Your Avatars will be printed as Paper Craft.
Your Avatars will act as Characters in your Story.

Make Avatar! Make your Story! You will be an Author!

## Features
- Make Avatar
- Make Story (Include Avatars, backgrounds and other accessories)
- Basic Pack for FREE, Also have 3 Little Pigs, Cinderella, Wizard of Oz and Red Riding Hood
- Print Avatars as Paper Craft (Air Print)
- Print Story as Picture Book (Air Print)
- Share your avatars and stories via Twitter, Facebook, Email

"This app features SmarTots
SmarTots provides learning reports and mobile education app reviews that
help parents understand what their children are learning. Signing up for
SmarTots also gives parents access to fun activities that enhance the
educational value of mobile education apps like this one. Click the Parent
Button inside this app to get these great features!"

Enjoy your Life
BlueFinger
Enjoy your Life
BlueFinger
Ratings and Reviews
Disappointed 😞
I purchased this app for my 8 year old daughter. She loves to write stories and was so excited to use this app. Tonight my heart broke when she told her sister that she wanted to write a story about her but she couldn't because there was no option for her to create an African-American child. I know this may seem trivial to some, but I want my child to love herself. I question why the creators of this program didn't seem fit to make characters that embrace the different shades of people that may download this app. As a teacher, I have parents that often ask me if there are any apps that I can recommend that they download. At this time I can not recommend this app to my friends or parents of my students because I do not find it to be inclusive. I hope that if the creators are reading this review they will make the necessary updates to remedy this issue, then I would be able to give it a more favorable review.
Horrible character creator and background settings
When I finished making a character it won't let me save it, all I saw was a blank white box appeared. The blank white box won't do anything when I tried to do something about it. So I had to start all over again. When I get to the background setting, it has only three background versions of fewer objects. The object won't let me adjust the size. There were not very many options of the background setting I want to choose. This is the worst story making software ever!
The animals are soooo cute!
,
Unsatisfactory
I don't like the way the shirts are inappropriate and like other people said there's only pale white. Talk about rude! My screen keeps freezing no matter what I do and it bugs me about how it says 4+ it should be like 9+ the the illustrations are!!! Why does it ask if your a parent or not? Like it matters!!! I'm so disappointed, and creators make more options if you update it with all my wishes I'll download it again. 😐😐😐☹️☹️☹️☹️😞😞😞. I feel bad for parents too. So bye hope you read this review!!!✌🏼️ out!!!
Information
Seller

BlueFinger

Size

48.4 MB

Category

Compatibility

Requires iOS 4.0 or later. Compatible with iPhone, iPad, and iPod touch.

Languages

English, Japanese, Korean

Age Rating

Rated 4+

Copyright

© Bluefinger

Price

Free

In-App Purchases

CINDERELLA Story Pack

$0.99

3 LITTLE PIGS Story Pack

$0.99

WIZARD OF OZ Story Pack

$0.99
Supports
Family Sharing

With Family Sharing set up, up to six family members can use this app.