Storyteller Dice Roller
By Zachary Drake
This app is only available on the App Store for iOS devices.
Description
Storyteller Dice Roller (SDR) is an elegant, streamlined app designed specifically to enhance the experience of Storyteller system tabletop role-playing games such as "Vampire: The Requiem" and "Exalted." With a single touch, SDR will roll up to 99 virtual ten-sided dice, count successes (i.e. how many are higher than a target number), compare the number of successes to a difficulty number, and tell you by how much you succeeded or failed ("Threshold"). Tens can be counted twice, once, or once-and-roll-again ("10 again") and switching between the three modes is a snap. If no successes are rolled, and one or more 1's are rolled, a "botch" is reported. 1's can either subtract from successes or not, depending on your preference. Storyteller Dice Roller is everything you need to stop fumbling with your dice and start enjoying the game.

Compared to other "dice pool" rollers available in the App store, SDR has the following advantages:

•Allows for tens to be counted once, twice, or once-plus-another-die-roll.
•Allows for 1's to subtract from successes, or not.
•All controls are on a single screen for fast access during gameplay.
•Elegant interface with a unified look.
•Results displayed in large font that can be read by others at the table.
•Difficulty setting, and report of how much your roll exceeded or fell short.
•Shows raw dice rolls (for the first 20 or so dice) at the top of the screen.
•Dice rolling sound effect tailored to number of dice rolled.
•Audio feedback when sliders are adjusted.
•Mute button to turn sound on/off.

I welcome feedback and comments and would be happy to add new features if there is sufficient demand.

Happy gaming!

NOTE: Storyteller Dice Roller is not an official Storyteller system product and is not affiliated with White Wolf Publishing.
What's New in Version 1.5
Bug fixes
iPhone Screenshots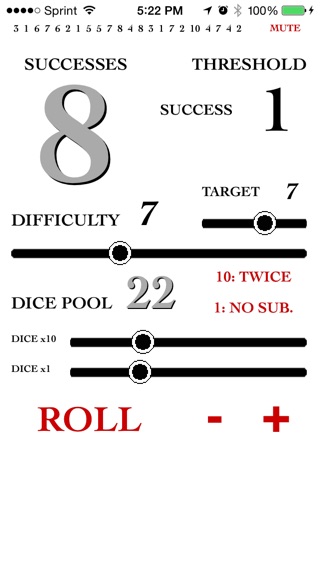 Customer Reviews
A must of White Wolf Gamers
As the title states, this dice program is intended strictly for use with White Wolf's D10 game system and it delivers.
It is easy to use and to quickly adapt to your game needs.
The 'Roll Twice' option for when a '10' is rolled has never yielded another success in all of the many times I have tested it or used it, so it is safe to say it likely doesn't work. Best to just re-roll it yourself, which can be a drag and time consuming, trying to count out all of those '10's when the numbers are so small to see (esp. With larger dice rolls), and for truly HUGE rolls, you'll end up not knowing how many '10's you have, because the full amount of numbers rolled doesn't come up, forcing you to roll 30 or less die.

Other than this hangup, which is why I can't give it 5/5 (but hey, it's FREE), it perfectly does its job.
4/5
Decent, but not the best
Completely focused on White Wolf games, which can be good as there aren't many out there that are. However, there is a short but annoying delay between rolls and, much more importantly, does not let you select any number other than 10 to reroll. Exalted merely doubles 10s, but Mage has numerous effects which give rerolls for 9, or even 8. This app has no way to specify that.
Needs an update
Keeps crashing
View in iTunes
Free

Category:

Games

Updated:

Sep 17, 2014

Version:

1.5

Size:

2.2 MB

Language:

English

Seller:

Zachary Drake
Compatibility: Requires iOS 7.1 or later. Compatible with iPhone, iPad, and iPod touch.