Strong - Workout Tracker and Training Log for Bodybuilding, Weightlifting, Fitness and Strength Routines
By Strong Fitness Ltd.
Open iTunes to buy and download apps.
Description
Strong is the simplest and easiest to use fitness app for tracking your weightlifting workouts.

Strong has been downloaded over 200,000 times and ranked Top 5 Fitness app in over 20 countries, including USA and Canada.

"I have used nearly every logging app since the App Store launched. This is the best bar none"
"I use this every time I go to the gym and seriously couldn't train without it"
"Simple. Intuitive. Functional. Exactly what I was looking for."
"This is bare bones and serious. Right on, and works perfectly... I wish I could give 10 stars."
"It's by far the most intuitive and easy to use workout app I've used."
"It's amazing. That's all you need to know."
More at bit.ly/strongreviews

Whether you're a beginner or an experienced powerlifter, Strong provides everything you need to record your workouts as effortlessly and as quickly as possible. Unlike other fitness apps, Strong doesn't bog you down with pictures and videos you don't need, and provide unnecessary functions you'd never use.

Strong is optimised for a progressive barbell routine such as Starting Strength or Stronglifts 5X5, but it is easily adaptable to any other routine of your choosing!

And you can also select a range of cardio exercises for an all in one fitness tracking experience.

FEATURES:
- The simplest interface of any fitness app available on the App Store - newly updated for iPhone 6 and 6 Plus!
- Add your own routines and choose easily between them
- Add your own exercises to the database - and save your favorites for even easier access
- Cardio and strength exercises
- See your progress in Graphs
- Warm Up calculator tells you which weights to warm up with
- Plate calculator for when the weights get high
- Built in bodyweight tracker helps you record your weight every workout
- US(lbs) AND Metric(kg) weight support
- Add additional notes to your workout
- No useless pictures and videos (but we provide some links to useful online resources)
- Advanced Statistics show your personal records and progression, and even calculate your one rep max and total weight lifted!
- Browse through your previous workouts by Routine
- Export workout information by email and to CSV format, as well as full Database Export
- Built in Auto Countdown Timer to help record rest breaks

Note: Strong requires the "Unlock Strong" In App Purchase in order to enter more than 4 workouts. But feel free to try it for as long as you like!
What's New in Version 3.3
Strong Version 3.3

Bug Fixes and Stability Improvements
- Fixed issue with Finish Workout showing while in history
- Fixed receipt/store issues

Thanks so much for using Strong - if you have a moment, please leave a review, it makes a huge difference to keeping the app up and running!
More features and an exciting new redesign are coming very very soon - stay tuned!
iPhone Screenshot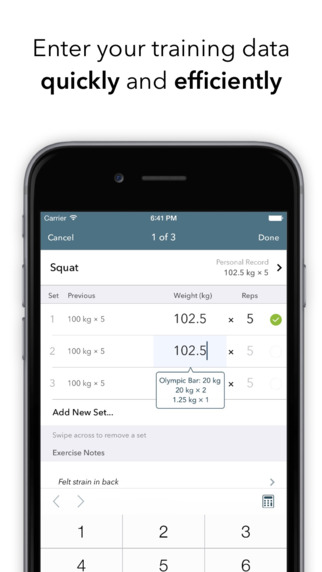 Customer Reviews
Fantastic for Any Level
This app is a dream come true. It makes logging workouts simple and easy. It's misleading that the app is free because you only get four workouts, then have to pay. I was convinced to make the purchase after my free uses and think it's money well spent. I like how I can save routines or create one on the spot if it's somewhat random that day. This app makes viewing improvements very simple compared to keeping track on paper. A few things to improve, however: I can't uncheck a set (It always marks a set as complete if I try to edit the reps/sets mid exercise; Sometimes I accidentally click it as completed), there's no option to group exercises as a superset, the app has spaces where it would include my body weight and trends, but there is no place to input that. I would give 5 stars if it weren't for the inability to uncheck an exercise. I like to check as I go, and mistakes happen. Despite that, these needs do not detract from the fact that this app is practically invaluable and makes working out much simpler.
The best and "cleanest" workout tracker available
I have tried a number of apps that will allow me to keep track of my workouts in a very easy format and "clean" approach without a lot of other bells and whistles make it confusing to use or clutter it up. This one is perfect for doing that and the best one after I tried several different others. Highly recommended. My only suggestion to the developer would be that you create either an iPad version or at least if you use your iPhone version on the iPad, that you have a way for it to sync with iCloud across the two. Well I typically use it to track my work out real time on my iPhone, I often need to go back and make updates or create new routines and I would like to be able to do that on the iPad. Thanks
Amazing app that will help you achieve your fitness goals!
One of the most critical aspects of improving your physique is keeping track of exactly how you are using your time in the gym.

We all have a limited amount of time and energy to dedicate to exercise and making sure that you are using your time effectively is critical to achieving meaningful results.

Strong allows you to document every rep, every set and every exercise that you incorporate I to your workout. The benefits of tracking your workouts are numerous and there are two that really stand out to me.

The first one revolves around staying motivated. At least for me, when I document all of my hard work I feel more compelled to stick with my exercise routine. I think it's important to have a record of all of your hard work!

Secondly, tracking your workouts allows you to ensure that you are actually making progress (merely making it to the gym does not guarantee that you are spending MEANINGFUL time there). If your lifts are not progressing you can identify where you are plateauing. This is very important if you're not seeing the kind of results that you are hoping to achieve.

tldr: Strong is a great app that can benefit people of all skill levels.
View In iTunes
Free

Category:

Health & Fitness

Updated:

Oct 25, 2015

Version:

3.3

Size:

23.1 MB

Language:

English

Seller:

Strong Fitness Ltd.
Compatibility: Requires iOS 8.0 or later. Compatible with iPhone, iPad, and iPod touch.
Top In-App Purchases
Strong Combo Pack$6.99
Unlock Strong$4.99
Strong Powerpack$3.99
Strong Graphs$2.99
Theme Pack$0.99
Strong Plate Calculator$1.99
Strong Warm Up Calculator$1.99
Support Strong$2.99