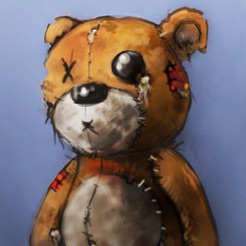 Description
StuffIt: Playroom is a free app that lets you throw around the stuffed animals of the upcoming game StuffIt by Michael Allar and Team Forecourse.

You can check out details about StuffIt as the game is developed on IndieDB at http://www.indiedb.com/games/stuffit

During the development of StuffIt with the Unreal Development Kit, at one point in the pipeline our 3d characters needed to be rigged, imported, and assigned physics assets. Basically, this means they have to be turned into ragdolls. Inorder to test our ragdolls, we put them all in a room and started flinging them around. The game StuffIt isn't a physics based game but instead a third person shooter, however we had so much fun throwing these stuffed animals around that we decided to release a free app of our testing room.

Once loaded up, you can spawn stuffed animals in a room and throw them around with your fingers. Turns out that after 3 or 4 ragdolls, performance starts to not be so great, however we ran into some VERY INTERESTING RESULTS with lots of ragdolls so we decided to leave it uncapped as a feature, not a bug.

There are also some other features that are not bugs, and that involves the stuffed animals becoming stretchy, sticking to things, becoming dismembered, melting, exploding, turning inside out, going into epileptic shocks, etc. We found this highly entertaining, and thus are not aiming to fix this any time soon.

Also, gravity is based on the orientation of the device. Sometimes gravity is flipped, in this case we recommend turning your device around. Inverting gravity is a feature, not a bug. :D

Hope you have as much fun as we have torturing these stuffed animals as we did and still do.

Ideas and suggestions are greatly appreciated, and while we are busy working on StuffIt, if we have time we will try to update StuffIt: Playroom based off of your comments.

We are aware that our UI is ugly. A future update might take care of that. The UI is solely programmer art.

Remember to check out StuffIt!

http://www.indiedb.com/games/stuffit
Ratings and Reviews
What the heck?
This game is very weird but it's kinda fun it sometimes gets a little glitchy when I have a ton of animals and when I throw the
The giraffe at the ceiling it's head gets stuck and he gets stretched across the screen. Just saying very very very weird but fun:)
CREPPY... But cool
Like I was always afraid of broken toys since they came out with FNAF... But now I am kinda liking them but if you get this game then you will start to become evil...😏 by the way don't through the giraffe at the ceiling too hard or it will fly out of the house.
Please add more stuff to app
Plz add more stuffed animals and rooms to choose from. Is it just me or does a bouncy ball sometimes appear when u press the 'clean up' button and choose the stuffed giraffe?? :-/
Information
Seller

Michael Allar

Size

30.1 MB

Category

Compatibility

Requires iOS 3.1.3 or later. Compatible with iPhone 3GS, iPhone 4, iPhone 4s, iPhone 5, iPhone 5c, iPhone 5s, iPhone 6, iPhone 6 Plus, iPhone 6s, iPhone 6s Plus, iPhone SE, iPhone 7, iPhone 7 Plus, iPhone 8, iPhone 8 Plus, iPhone X, iPhone XS, iPhone XS Max, iPhone XR, iPad, iPod touch (3rd generation), iPod touch (4th generation), iPod touch (5th generation), and iPod touch (6th generation).

Age Rating

Rated 9+ for the following:

Infrequent/Mild Cartoon or Fantasy Violence

Copyright

© 2011 Michael Allar

Price

Free
Supports
Family Sharing

With Family Sharing set up, up to six family members can use this app.