Sunshine - A brighter lifestyle
By Sunshine Technologies, Inc.
This app is only available on the App Store for iOS devices.
Description
Sunshine is a lifestyle service for the modern individual who craves wellness, style and the inspiration to live a happier and healthier life.

It learns about you based on your environment, location, and time of day and creates personalized advice for your wellbeing.

ENERGY UP, SKIN HEALTHY, MOOD BALANCED
Begin by setting up your lifestyle preferences, locations, and skin type. Sunshine then lets you report your stress and energy levels, mood, and health as often as you like. The more frequently you report, the faster Sunshine learns and begins tailoring advice to help you thrive. Soon, it can predict how you'll feel and offer suggestions in advance so you can stay one step ahead!

A COMMUNITY OF GOOD VIBES
Connect with amazing people just like you. Share your personal Vibes and get support and suggestions from fellow Sunshiners. Or, respond to others' Vibes with hugs, high-fives, love, and LOLs.

We build every feature under the sun :)


"The Sunshine app made a difference in my day" - Inc.
"Sunshine makes me feel happy when a message pops up" - REFINERY29



"Sunshine is a can't-miss app"



We love feedback, so tell us what you think at support@thesunshine.co
What's New in Version 1.6.3
Hey there, Sunshiners!! We've got a great new update for you.

First, we've brought weather reporting back by popular demand!
Once again, you can add weather conditions to any Vibe you make. Hooray!
We've also added some things to your personal profile, including streaks, sunlight reports, and badges.
Make some vibes to see what insights Sunshine learns about you.

Until next time!!
iPhone Screenshots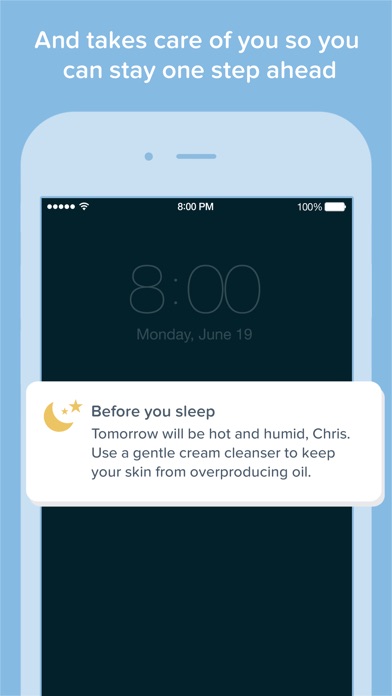 Customer Reviews
Why?
Jessiebest brings up the same problems I have, but I also have some other things that bug me. I live in Portland Oregon and I used to have it set up so it would tell me what the weather was like at my school. during the summer I had a job and moved the weather location to the job then halfway through the summer it changed my work/school location to some place called Pocatello... I have never been to Pocatello nor have I ever heard of it ... the real problem I have is that I cannot change the location and now I'm stuck with having to find my school/work manually every time I need to know the weather...
The other major problem I have is when I look at other people's things that their saying I have no filter for it... I get people want to tell people how their boyfriend just got them some taco bell BUT I would like to focus more on weather related subjects. I can look on instagram if I want to hear about boyfriends.
Lastly I just want to make it clear I do really like this app before these problems became a thing, and now I have three different weather apps on my phone when I used to only have to use this one.
Going downhill
I used to adore this app. I would get cute messages alerting me to weather conditions every morning and I could check on the weather for the next couple days as well. However, since the update I no longer have the ability to look more than a few hours into the future weather conditions. I've had to resort back to my original weather app if I want to know anything except what the weather is right now and in a few hours.
I am also tired of these pop-up ads asking me to rate the app. I have rated it twice, when I was still happy with it, per the in app "rate" button. However, the system has no way to log that and I keep getting asked to rate it. There is no button to tell it I've already rated it or "never ask me again" it simply asks if I love the app and even clicking "no" will still lead to another pop up asking me to tell them what's wrong with the app.
Well, Sunshine, this is what's wrong. I miss my three day weather forecast and I'm tired of pop-ups every other time I open the app.
Where are the tips?
Although I'm glad that Sunshine has brought back its self-reports for the weather (which will make the actual reports a lot more accurate), I'm confused as to why the personalized tips seem to have stopped completely. I used to get very specific, almost constant tips in addition to my morning notification that seemed responsive to my reports, and were really uplifting (like reminders to hydrate, lunch and dinner suggestions, etc.). Since the last couple of updates, all the personalization (including the lifestyle parameters in the settings) seem to have disappeared in lieu of the community features. The most I get now is that Sunshine notices I'm in a different location. I'm still using the app hoping that perhaps I can get the tips back with more frequent reports (if it's some kind of new rules to the point system), but it doesn't seem to be changing. It was perfect before, and really attuned to each person- why are you making it blander with each update?
View in iTunes
Free

Category:

Health & Fitness

Updated:

Aug 26, 2017

Version:

1.6.3

Size:

93.4 MB

Language:

English

Seller:

Sunshine Technologies, Inc.
Compatibility: Requires iOS 9.3 or later. Compatible with iPhone, iPad, and iPod touch.