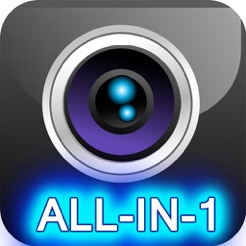 Super Camera 2: ALL-IN-1
4+
Description
=======================

UPDATED V2.5 with NEW FRAMES!!

=======================

How many camera apps do you have on your iPhone? One? Tow? Three? Even more?

Now only ONE will be enough. Super Camera will cover everything you need and more than all your cameras have done.



FEATURES



* 25 Photo Filters

* 20 Photo Frames (update!)

* Up to 4x Digital Zoom

* 3 Burst Shots

* Self-Timer: 5~20 seconds delay for self-taking pictures

* Anti-Shake: stable shooting with the gravity sensor

* Anti-Shake Gauge (new!)

* Tap to Focus

* Full Screen Shutter

* Full Screen Viewfinder

* Guide Lines: 3x3 grid for better shots

* Flash: Control bar up to +- 3 EV (Exposure Value)

* Battery State

* 4 Resolution Options: S 480x320, M 900x600, L 1500x1000, RAW

* Scompatible with iPhone 3G/3GS, iPod Touch

(Since you don't have camera function on your device you can only open your saved photos rather than take a photo)



AMAZING 25 FILTERS



* Black & White

* Natural Gray: adapted for human eyes' color sensitivity.

* Red Tone

* Green Tone

* Blue Tone

* Sketch

* Emboss

* Rain Drops: Unique filter only for Super Camera.

* Oil Painting

* Frosted Glass

* Natural Sepia

* Sepia

* Sepia+

* Lomo Sepia

* Lomo(Vignetting): reduces light at the edge.

* HDR: allows greater dynamic range of illuminance.

* HDR Night

* Contrast+

* Color+

* Bloom: makes glow effect on bright objects.

* Bloom Night

* Sharpen Night

* Sharpen: enhances detail and makes images more sharp

* Blur

* Soft Light





SPECIAL FILTERS for SPECIAL USES



* For Night Uses: HDR Night, Bloom Night, Sharpen Night

* For Portrait: Lomo Sepia, Lomo, Soft Light

* For Landscape: HDR, Contrast+, Color+, Oil Painting

* For More Pleasure: Sketch, Rain Drops, Emboss, Frosted Glass





VALUABLE 20 FRAMES



* 5 NEW CHRISTMAS FRAMES! (new!)

* White Boarder

* Black Boarder

* Lined Glass: Semi-transparent glass border with white line.

* Rounded

* Scrub: brushes the edge with rough black.

* Letters

* Postcard

* PaperFrame

* Film

* Soft

* Tear

* WhiteOval

* BlackOval

* Iced

* TapeTop

* TapeCorner



_______________



Like US facebook.com/BlueOnionSoft

Follow US @blueonionsoft

Watch US youtube.com/BlueOnionSoft
Ratings and Reviews
Just like the ad states...
Yes, I've too downloaded many camera apps, and this one is very well thought out. I played around with it's features for about two hours, and am impressed. This app is one of two camera apps in Apple's iTune store that are a cut above the others, e.g. Camera+. And yes I'm aware of editing with the computer graphic giants, but that's comparing apples to cement trucks because these apps are for, say, the iPhone and your immediate gratification, emails, showing off to friends, etc., and can later be done for proffessional needs. That said, this app will definitely do for most all your needs because it's near perfect in what it does for the amateur photographer and many needs of the pro. No one should be complaining for use with a 5 MP phone camera. This is an outstanding product unless you're a whining pretend photographer... I have no affiliation or any gain by doing this review, other than steering someone towards not wasting their money on lesser quality camera apps. And I believe that as a 45 year recently retired professional photographer you won't go wrong buying this app. You're welcome.
Not a maintained app
It seems likely that the developers of this app have given up on it. Its basic functionality (take a pic, then take another) doesn't work- the first shot I took monopolized the screen with no other onscreen button to engage the camera for another shot. The one I did take was supposed to have been a zoomed in shot but the resulting image was not at all zoomed in. Furthermore the shot, which I'd have deleted, was no where to be found in any photo library. The filters also didn't work (I tried to use "oil painting". Wish I could have my money back but not about to chase these guys down for a buck.. Maybe that's their business model?
Almost perfect
Has a Ton of filters, zoom, exposure +-2 by thirds, grid, 4 resolution choices, full screen shutter option, saves and processes relatively quickly, can apply all these to any photo on the roll even if taken via the normal cam, etc. Etc. Etc. My only complaint is the steady is too sensitive. Having options to change shake sensitivity, like darkroom, would make this a 5. Of the 6 apps I've tried, this is my keeper.
Information
Seller

Blueonionsoft, Corp.

Size

2.6 MB

Category

Compatibility

Requires iOS 3.0 or later. Compatible with iPhone, iPad, and iPod touch.

Age Rating

Rated 4+

Copyright

© 2009-2010 Blue Onion Soft

Price

$0.99
Supports
Family Sharing

With Family Sharing set up, up to six family members can use this app.