SuperScore Music
By TimeWarp Technologies
Open iTunes to buy and download apps.
Description
SuperScore is the premiere app for viewing, managing, and interacting with your library of musical scores. SuperScore provides virtually unlimited notation sizes with Liquid Music Display™ technology. Simply use the standard pinch and spread gestures to find the size and layout that is right for you.

SuperScore provides a unique bundle of features including:

• Liquid Music Display™ technology that reformats the music notation to accommodate your chosen viewing size
• Option to show/hide musical parts
• Playback of scores that contain embedded MIDI performances with the option to mute selected parts
• Additional playback features including looping, tempo control, and metronome
• Full/partial page-turns by swipe, wireless Bluetooth pedal, MIDI signal, or intelligent score-following
• Intelligent and interactive play-along features when you play a MIDI instrument connected to your iPad
• Support for wireless Bluetooth LE MIDI devices
• Markup mode for adding musical symbols or your own free-hand drawings to the score
• Option to create Collections (e.g. "playlists" or "set lists") that enable you to switch quickly from score to score during a lesson or gig.
• PDF Import (optional, in-app purchase feature)

SuperScore works with specially-formatted SuperScore files provided by publishers, composers, and arrangers and which are uniquely available from TimeWarp Technologies. SuperScore comes with sample files, and you may acquire additional scores as in-app purchases.

You can also import and use PDF scores (if you add this optional feature). Although Liquid Music Display technology and MIDI playback do not extend to PDF files, you can enjoy other SuperScore features when using PDFs, such as the various methods of page-turning, markups, and Collections. Import PDFs using the "Share/Open In…" feature of Dropbox, Mail, and similar apps.

Future feature: Add your own MusicXML files and use SuperScore as a convenient place to store your entire music library. The option to import MusicXML files will be available as an in-app purchase feature.

SuperScore's unique features start with a completely flexible Liquid Music Display, available instantly in virtually any size or layout. In both landscape and portrait orientations, SuperScore reformats the music instantly, maintaining the integrity of the score regardless of the size you choose. And if your score has multiple parts, you can show and hide parts at will.

An extensive set of annotation tools enables you to mark up your scores for practice or performance. You can even show or hide your markups with a simple tap on the screen.

Page-turning, the bane of many-a-musician, couldn't be easier. SuperScore offers multiple page-turn options, including full and partial page-turns. You can set a playback tempo and follow a moving cursor while enjoying automatic page-turning or use any Bluetooth pedal accessory for hands-free page turns. You can even use a MIDI foot switch pedal to turn pages.

SuperScore files are often available with backing tracks that provide an immersive, real-world performance experience for students and professionals alike! These performance-type files can be played at ANY tempo, with the flexibility to mute any backing track.

MIDI connectivity adds a whole other dimension to SuperScore. With any MIDI-enabled digital, hybrid, or even acoustic instrument, SuperScore can actually follow your playing. SuperScore responds to your tempo and dynamics, adjusting the speed and expression of the accompaniment parts, and turns your pages automatically. There is even a learning mode in which the program will wait for you to play each note.

Once you have purchased add-on support for MusicXML files (coming soon) and PDF files, all of your scores can be stored, viewed, and annotated in SuperScore. You can even create set lists (called Collections) to keep yourself organized during lessons or at your next gig!
What's New in Version 1.1.1
A number of PDF enhancements have been made. It is now possible to zoom the view of a PDF page and then crop the page at the new resolution.
Page-turning of PDFs now works with MIDI triggers.
A number of improvements have been made to score-following and notation display.
Product descriptions in the Store now include a table of contents and (if available) a product video.
iPad Screenshots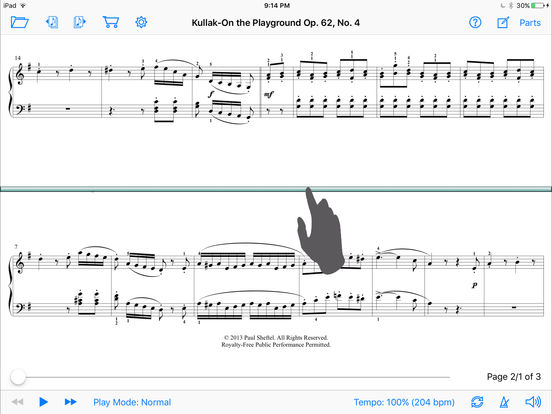 Customer Reviews
Fabulous App - students love it too!
As a teacher I love this app but more imporantaly my students love
using this app for their practice at home.
They have thought of all the features you would want to help pianists in their
learning process.
The solos sound like a real person is playing them, now a rhythm machine. The kids can tell the difference for sure and they love hearing the hands alone option too.
Teachers, give this a try. You wont be sorry.
View in iTunes
Free

Category:

Music

Updated:

Sep 02, 2016

Version:

1.1.1

Size:

244 MB

Language:

English

Seller:

TIMEWARP TECHNOLOGIES INC.
Compatibility: Requires iOS 9.0 or later. Compatible with iPad.
Top In-App Purchases
Prelude in C Major, BWV 924 - J. S. BachFree
Children's Album, Op. 39, No. 01-Morning Prayer - Pyotr Tchaikovsky$0.99
Common Baroque EmbellishmentsFree
Beginning Piano Tunes for Pre-Readers$4.99
Allegretto by Anton DiabelliFree
Fantasie in C (excerpt) HWV 490 - G.F. HandelFree
Angels We Have Heard on High - Traditional-Matz$0.99
Import PDF Scores$4.99
Sunrise from Merry and Mellow by Paul SheftelFree
Peter, Peter, Pumpkin Eater arranged by Paul SheftelFree
More iPad Apps by TimeWarp Technologies