SwingTIP Golf Swing Analyzer
By MOBIPLEX INC.
This app is only available on the App Store for iOS devices.
Description
Everyone wants to learn how to play better golf. The challenge is in knowing how to quickly improve. SwingTIP makes learning golf easier, convenient and more affordable. Use the new MobiCoach real-time, remote golf instruction service with your SwingTIP app to get real-time golf swing video analysis and instruction from the game's best teachers, on your mobile device, from anywhere in the world. Pair the app with a SwingTIP golf swing analyzer device for real-time swing analysis

Watch the video to see how it works at http://www.mobicoach.com

REAL-TIME, REMOTE GOLF SWING VIDEO ANALYSIS AND INSTRUCTION FROM A COACH
SwingTIP with MobiCoach delivers the ultimate mobile-to-mobile learning platform, connecting coaches and students remotely, and in real-time, using video and 3D swing analysis, a live voice call, mobile device display sync, and whiteboard drawing tools. Get immediate feedback from a coach on your grip, stance, posture and golf stroke mechanics. Get real-time instruction on chipping, putting, driving, drawing, fading, swing plane, swing power, backspin, tempo, lie angle, release and much more

No need to travel to a coach for instruction. No more uploading swing videos and wait for feedback days after taking your swing. Hone your swing technique all year-round from the comfort of your living room, basement, garage or backyard. In as little as 15 minutes, you can get the feedback for real-time results

Mike Malaska, 2011 National PGA Teacher of the Year, Worldwide Director of Instruction for Nicklaus Academies. "To play your best, a golfer needs to be in regular contact with a qualified coach. Unfortunately, most golfers take infrequent lessons and bad habits can creep in between sessions. With SwingTIP MobiCoach, you can get regular lessons and "tune-ups" from a coach at anytime from anywhere, which can lead to measurable and consistent improvement of your game"

Using the SwingTIP mobile app, and the optional SwingTIP Bluetooth-enabled motion sensor, get feedback to improve your technique and game

LIVE VOICE CALL (VOIP) – connects you and the coach for a live voice call during the lesson

COACH-INITIATED VIDEO CAPTURE – a coach can remotely record and view a video of your swing, you focus on instruction

AUTO-VIDEO, 3D SWING SHARING – use your SwingTIP motion sensor to auto-capture and share swing with a coach

DISPLAY SYNC - mirrors the coach's screen to your screen for real-time visual instruction

REAL-TIME WHITEBOARDING - Coach can markup your videos, share it on your display in real-time, to further illustrate teaching

POST LESSON REVIEW – archives coach marked up videos for review

MOBICOACH.COM USER PORTAL – free account to choose your coach and schedule your lesson with a growing roster of top golf coaches from institutions such as Nicklaus Academies, Troon Golf Academy and Jeff Ritter Golf

CAPTURE, ANALYZE AND IMPROVE YOUR SWING IN REAL-TIME
Use the SwingTIP app with the SwingTIP motion sensor to learn and improve on your own or in-between lessons. This Bluetooth-enabled 3D motion sensor clips onto a golf club and wirelessly transmits real-time golf swing to your iPhone, iPod Touch or iPad. Designed with leading golf experts including PGA Pro Craig Stadler, shows you what and why it happened, and how to fix it

Auto-record a video of your swing using front-facing camera
Capture and examine a 3D animation of your swing from 3 angles (target, front, top)
Get feedback on club head impact metrics: speed, tempo, clubface angle, swing path and impact zone
Star best swings for comparison
Use Analytics to pinpoint strengths and flaws on 9 power and plane swing aspects
Learn with instruction tips, videos, and scorecards
Wirelessly sync data to a free MobiCoach.com account

Learn more at www.mobicoach.com/support

Reach us at support@mobiplex.com for feedback or questions

Please visit us at www.mobicoach.com to purchase SwingTIP motion sensor online or to find a retail store near you
What's New in Version 3.2.2
Bug fixes for syncing swings with server
iPhone Screenshots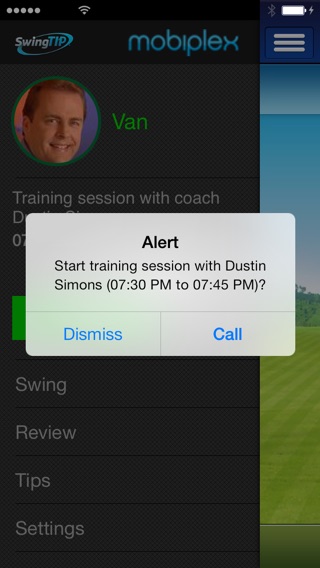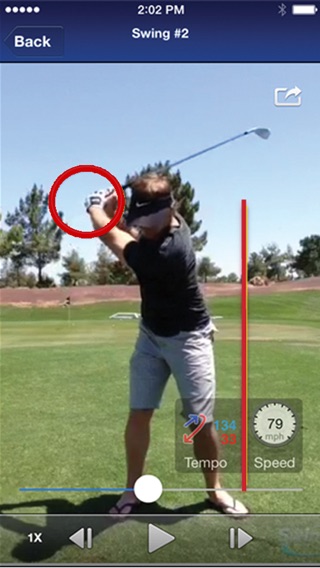 Customer Reviews
Save your money
Since this is a software review I will start there but I am also going to review the hardware package as well as it is part of the system.
The software is very lacking in useful information. I have talked with the developer on the phone and was told they wanted to keep it simple. That's fine but it devalues the usefulness of the app and basically is cop out. It will tell you your face is open but not if it is 1degree or 40 degrees so you have no idea what you need to do to correct it. This is the same with every thing it tells you about your swing it is only generic statements without the numbers you need to make a change. It could easily have an advanced mode for people that want those stats.
The biggest problem I have with wingtip is hardware based. It is a pain to connect sometimes take three or four tries to get it going and I am very tech savvy. It will lose Bluetooth connection sometimes with my phone laying on the ground next to me. You must make your swing and wait for the entire process of it to analyze your swing or you risk locking up the app and have to reconnect it. If you make a swing and then try to practice swing immediately afterwards it is going to freak out and require a Bluetooth reset.
It states that it works for left ganders but it does not "work". Sure it gives you feedback but it's not correct. Swing path is sometimes backwards from what it should be depending how steep of a swing you make. It only does this with a left handed golfer and is very frustrating.
View in iTunes
Free

Category:

Sports

Updated:

Jan 08, 2015

Version:

3.2.2

Size:

68.3 MB

Languages:

English, Simplified Chinese

Seller:

Mobiplex, Inc.
Compatibility: Requires iOS 6.0 or later. Compatible with iPhone, iPad, and iPod touch.