صيدليات الدواء | AlDawaa Pharmacy
By Mahmoud Hassan
This app is only available on the App Store for iOS devices.
Description
Application language changes depending on the phone language.
تتغير لغة البرنامج اعتمادا علي اللغة المختارة في الجهاز.

حمّل تطبيق **صيدليات الدواء** لتتمكن من الاستعلام والاطلاع على كل ما هو جديد في الصيدليات من منتجات وعروض والعديد من الخدمات التالية:-
Download the application of **Al-Dawaa Pharmacies** to be able to query and see all that is new in pharmacies and offers products and many of the following services: -
1)برنامج أرباحي:-
يسرّ صيدليات الدواء أن تقدم لكم برنامج أرباحي، الذي يمكنك التمتع بخيارات وخدمات إضافية. كل ما عليك فعله هو ملء الاستمارة ومن ثم التمتع بالتسوق في فروع صيدليات الدواء المنتشرة في عموم المملكة
1) ARBAHI Loyalty Program: -
Al-Dawaa Pharmacies Administration is pleased to offer you ARBAHI program, which you can enjoy the options and additional services. You can see the program of your points gained and last purchases of you.

2)عروض الدواء:-
يوفر لك التطبيق إمكانية الإطلاع على العروض الشهرية المتميزة التي توجد في صيدليات الدواء.
2) Promotions: -
Provides you with access to the application offers monthly premium that exist in pharmacies.

3)صيدليات الدواء:-
من خلال التطبيق ستتمكن من الوصول والإطلاع إلى أقرب الصيدليات المحيطة بك, حيث تتمكن من الإتصال بالصيدلية أو تشغيل خاصية الملاحة للوصول إلى أقرب صيدلية إليك.
3) Pharmacies Locations: -
Through the application you will be able to access and view to the nearest pharmacies around you, where you can contact the pharmacy or Turn navigation to get to the nearest pharmacy to you.

4)النشاطات:-
تابع أخر النشاطات للصيدليات على مستويات عدة.
4)Activities
Al-Dawaa Pharmacies Activities

5)مجلة الدواء:-
في إطار سعيها لنشر الوعي الصحي تقوم شركة الدواء للخدمات الطبية المحدودة بطبع ونشر العديد من المطبوعات والمنشورات والمجلات على اختلاف موضوعاتها ونحن في هذه الصفحة نتيح لقراءنا قراءة وتحميل إصدارات الدواء العلمية والصحية ومن هذه المطبوعات مجلة الدواء بين الصحة والجمال.
5) Magazines of Al-Dawaa : -
In a bid to raise awareness of health based company medicine Medical Services Ltd. has printed and published numerous publications, publications and magazines on different subjects and we are in this page give to our readers read and download versions of medicine science, health, and these publications Journal of medicine between health and beauty.

6)معلومات طبية:-
يسر صيدليات الدواء أن تقدم لكم معلومات طبية مقدمة من طاقم عملها المتميز لتتعرف على العديد من الامراض الشائعة ونصائح التعامل مع هذه الامراض وطرق الوقاية والعلاج الافضل لهذه الامراض.
6) Medical Information: -
Pharmacies Al-Dawaa Administration is pleased to provide you with medical information provided outstanding work crew to be familiar with many of the common ailments and tips to deal with this disease and ways to better prevention and treatment of these diseases.

7) رأيك يهمنا:-
في حال كان لديك أي استفسار أو شكوى تواصل معنا بالطريقة التي تناسبك على مدار الـ 24 ساعة.
7) Feedback: -
You can communicate with us if you have any complaints or concerns.

8)استشير الصيدلي:-
صيدليات الدواء تقدم لعملائها خدمة استشارة فريق طبي متخصص بمساعدة العملاء
8) Consult the pharmacist: -
Al-Dawaa Pharmacies offers you a service for consulting their finest pharmacists by filling out the form and we will contact you as soon as possible.

9)طوارئ
قائمة من الارقام التي قد تهمك
9)Emergencies
List of numbers that could be useful for you
What's New in Version 7.0
New Pharmacies Locations
إضافة مواقع الصيدليات الجديدة
Support English-Arabic (Depends on the IPhone selected Language)
دعم اللغة العربية والانجليزية (اللغة تتغير اعتمادا على لغة الجهاز)
performance enhancement
تحسين في أداء البرنامج
iPhone Screenshots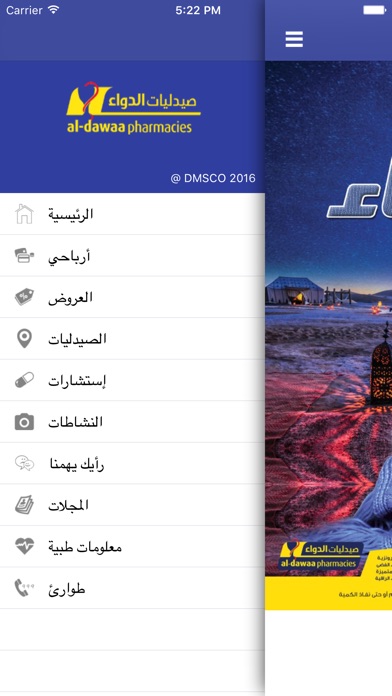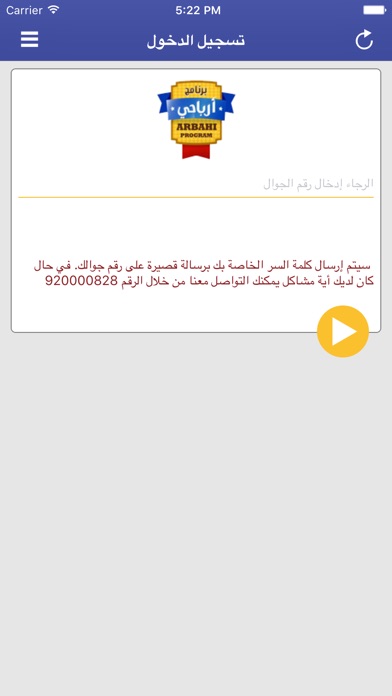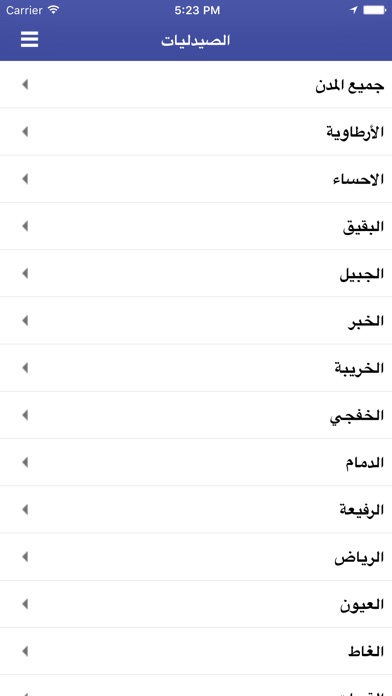 Customer Reviews
التطبيق متواضع جدا
يبيلكم تشتغلوا اكثر ع التطبيق وتحطو فيه مزايا اكثر زي البحث عن منتج لان المنتات المعروضه غير كافيه! وغير كذا رقمكم محد يرد عليه. العروض لازم تكون كامله مو بس منتج واحد عليه العرض! التطبيق جدا بدائي ويبغى له شغل وتحديث وزيادة خيارات
مشكله
يبيله تطوير كبير غير ان اساس التطبيق اللي هو خدمه ارباحي فيها عطل او مشكله
View in iTunes
Free

Category:

Health & Fitness

Updated:

Jul 07, 2016

Version:

7.0

Size:

14.5 MB

Languages:

English, Arabic

Seller:

Mahmoud Hassan
Compatibility: Requires iOS 9.3 or later. Compatible with iPhone, iPad, and iPod touch.