Symphony Pro
By Xenon Labs, LLC
Open iTunes to buy and download apps.
Description
Symphony Pro 4 (SP4) is a complete and easy-to-use app for creating music notation on iPad. It allows you to compose music for just about any size ensemble, from piano, symphonies, band, lead sheets, chord charts, guitar tabs, and more.

SP4 provides many great options to begin your work. Import a score via MusicXML, MXL, MIDI, or Symphony file from your computer, or from apps like Dropbox, Mail, iCloud Drive, or Safari. You can base your project on a template, or start a blank score and add additional parts later.

To add notes, select the easy-to-find Pencil mode, and tap anywhere inside a measure to begin editing right away. You can quickly specify note properties before or after placing notes. By switching to Select mode with one touch, you can also transpose, erase, cut, and paste multiple notes anywhere in the score.

With an on-screen instrument, a QWERTY keyboard, or Core MIDI compatible keyboard, you can quickly enter notes & chords in step entry mode. Or, record a part in real-time with the built-in instruments to transcribe into notation.

Version 4 takes greater advantage of the iPad touchscreen. With shortcuts and contextual menus to edit note & bar properties, many of the commonly used editing commands are right at your fingertips.

In 4.0, Symphony Pro supports a wider range of notational elements for your composition. SP4 provides a wide selection of dynamics & articulations, time & key signature changes, clef changes, pedals, and repeat conventions. Edit chord symbols, lyrics, and annotations using the iPad's standard keyboard.

When you're finished, print out your score with AirPrint, or export it as a PDF, MusicXML, AAC, MIDI, or Symphony file. Share files via email or directly to another computer or iPad via Dropbox.

More Complete Features:

• 114 built-in instruments for playback, and auditioning the notes you entered.
• Create scores in standard music notation or tablature
• Edit with an on-screen instrument, QWERTY keyboard, or a MIDI input device
• Dozens of shortcuts & gestures to edit & navigate. Or, use an attached QWERTY keyboard
• Reduce your score size, range, or combination of parts for viewing & editing**
• Print the score from your iPad with AirPrint
• Up to 15 instruments, 45 staves, 4 voices/layers per score
• Record a part in real-time with clicks at the beat with optional emphasis
• Backup & sync your scores with iCloud**
• Import MusicXML, MIDI, MXL, or Symphony files
• Export as a PDF, MusicXML, MIDI, AAC, or Symphony file
• Large selection of articulations & dynamics in the Expressions menu
• Multi-measure rests** for parts
• Grace notes
• Customizable notehead symbol & colors**
• Chord symbol, lyric, and annotation tools
• Edit multiple notes and rests by selection, toggle, and note groupings.
• Copy/Paste function can select multiple measures & staves, and cut single or multiple voices/layers
• Unlimited undo and redo
• Customizable stem directions & note beaming
• Transposing instruments & concert pitch options
• Change tempo or clef at any point in the score
• Stream audio or share your screen wirelessly with AirPlay
• Advanced document management support
• Create your own custom project template or use a built-in one
• Customizable part groupings for SATB and instrument families
• Customizable chord symbol, lyric, and annotation font
• Loop playback choices
• Auto-save, and overwrite protection for current projects.

** Part of the Version 4 Complete Features Bundle for only $4.99

For More information, please visit:

• http://www.symphonypro.net
• Forums at http://forums.symphonypro.net
• Facebook page at www.facebook.com/symphonyapp
• Learn about our iPhone version at bit.ly/symphonyiphone
What's New in Version 4.2.73
** iCloud Scores: missing projects from earlier versions restored automatically with this update **

Any such files that were affected will restore entirely after updating, provided that you haven't deleted any of SP's cloud data allocation, such as from the Manage Storage window.

If you're still having trouble syncing cloud projects, first verify a working Internet connection, and make sure you're logged into the correct email address under Home Screen > Settings > iCloud. If the documents still fail to show up, however, do let us know by emailing to support@symphonypro.net.

Below are some other improvements & features we've introduced early-on with this update!

- Bluetooth MIDI compatible
* To enable a device with app, first open the Bluetooth Setup menu under Instruments > Playback > MIDI Options > MIDI Connections

- Improved stability when editing with the On-Screen Piano, or when transposing notes
- Improved editing performance on iPad 2/3
- Toolbar layouts even more ergonomic across all iPad models
- Fixes crash when moving projects between folders
- Fixes a bug where MIDI Input would occasionally become responsive
- iOS 10 compatibility improvements

* Remember you can instantly share your ideas or feedback directly within the app. Just navigate under Help > Feedback at the top-left corner.

* As commonly the case, we've been needing lots of extra preparation to provide a composing environment that will be more seamless, yet more commanding than ever before. Below are just several aspects we'll encompass in a major release arriving soon:

- Dedicated support for Apple Pencil
- Convenient new gestures for editing & navigating
- Powerful new expression & annotation tools
- Part management & viewing features that will soon taking full advantage of the iPad Pro touchscreen, and the latest hardware

Thanks for your patience in awaiting the more ambitious improvements planned for the coming months! To stay posted as details on major releases become available, subscribe to our mailing list at symphonypro.net/#newsletter
iPad Screenshots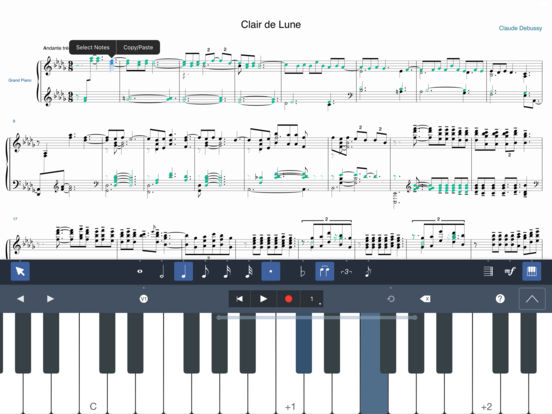 Customer Reviews
Fantastic!
I don't understand the bad reviews out here. Get this app, it's a no brainer. It's a tiny fraction of the cost of Sibelius and though not as powerful it does a lot of things really well. One thing that works great for me as a guitarist, I often input music via the guitar fret board and touch screen (which is very quick) and finish it in Sibelius. You export the xl file. Piano players can do the same thing. However, even if you're not transferring it to another program you may be able to do everything you need within Symphony Pro. I like that I have this always at my disposal.

Is it going to replace a desktop program like Sibelius? No. It's not perfect but customer support has been very good.

Another thing I do: I give my students assignments in SP and I can email them files which will play back so they can hear it while they're reading it.
Mediocre at Best
I purchased this app because it was a requirement of one of my graduate courses to have a musical notation software. I could not afford Finale, and this app looked incredibly promising. UNFORTUNATELY, it has several major flaws. Most importantly, it refuses to save my formatting in the way by which I set it. For example, whenever I save a choral composition, the software moves all the dynamic markings below the measure, and it covers the lyrics. The other major issue concerns slurs over large groupings of pitches. After saving, the slurs are pulled completely away from the pitches I assigned.

It is incredibly frustrating, and there is no help to answer the issue. I am then to assume that the software is flawed, and needs a major update.

PLEASE FIX THESE ISSUES!
Limited use, terrible interface
Although one of the few apps that actually exists, SP is unfortunately not ready for any serious music creation or editing. The interface is poorly designed, help is difficult to find. It supposedly supports xml import/export, but makes a unusable mess of any longer xml file that's imported. Import itself is cumbersome too—no import mechanisms for use with services other than iTunes. On the plus side: For very simple songs it works, it's cheap. I'd be willing to pay at least double for something that is much more beefy.
View in iTunes
$9.99

Category:

Music

Updated:

Sep 28, 2016

Version:

4.2.73

Size:

359 MB

Language:

English

Seller:

Xenon Labs, LLC
Compatibility: Requires iOS 8.0 or later. Compatible with iPad.
Top In-App Purchases
Version 4: Complete Features Bundle$4.99