Sync Folders Pro
By VADIM ZYBIN
Open the Mac App Store to buy and download apps.
Description
Compatibility with macOS 10.12-10.7 & Retina! Sync Folders Pro has been developed with a dual purpose in mind: To be easy to use FOR BEGINNERS, but also provide the ability to fine-tune synchronization settings FOR THE MOST EXACTING PROFESSIONALS.
The app can synchronize multiple pairs of folders at the same time "on the fly" using our REAL TIME SYNC technology, on a SCHEDULE, or MANUALLY. The app also provides ROBUST tools to filter your files and folder so that you sync EXACTLY what you want.

Do you have terabytes (TB) of data to sync? No problem!

Sync Folders Pro has been specifically optimized to work with EXTREMELY LARGE files and data sources, reliably and efficiently.
Sit back and relax, your data is being automatically synced!

Sync Folders Pro is perfect for backups to all media destinations including:
USB, memory cards, disks on remote computers within your network, folders on Cloud services (Dropbox, etc.)

Sync Folders Pro is the REAL and the ONLY bidirectional synchronization app that you will ever need!

Check out our amazing App Store reviews from 22 countries all over the World on our website!
Our customers are raving about our App and we pride ourselves on EXTREME CUSTOMER SERVICE.
We encourage our customers to contact us with any issues, and we are happy to provide prompt and quick answers to any and all of your questions.

Install the VPN Server Configurator app, and you can synchronize folders on a remote Mac from ANYWHERE IN THE WORLD!

Install the Compare & Sync Folders app, and you can view the changes before sync and change the file operations, if required, compare files "line by line" or by "QuickLook".
Learn more at www.greenworldsoft.com.

Please watch our extremely helpful video tutorial for Sync Folders Pro on www.greenworldsoft.com.

FOR BEGINNERS
- Choose 2 folders to synchronize.
- Set the sync mode, or use the default mode.
You do not need to worry about the other parameters, they are set to the recommended.
- Click the "Sync current task" and your folders will be synced!

FOR THE BUSINESS
Set up an instant synchronization of documents between your employees by using the "Real Time Sync" mode.
Your employees will always have the most current version of the documents for work.
This mode allows you to instantly sync documents in folders with a lot of files.
It works for 10.8 and later.

FOR PROFESSIONALS
- 9 Sync Modes.
- 4 comparison modes allow to synchronize files on different file systems (OS X, FAT32, etc.)
- Powerful filters for files and/or folders on the entry and/or exclusion.
- Synchronization over the network. Automatically mount network folders before sync.
- Disconnect network folders after sync.
- Protection for unauthorized disconnect drives (folders) during sync.
- Saving the last/all versions of files to delete. Using this mode, you are insured against accidental deletion of files, and you can always get back deleted files, even if you re-sync several times.
- Quick view of latest changes in sync-folders and Finder integration.
- Sync subfolder attributes.
- Show in menu bar status of sync (Auto Sync mode is on, sync is performed, the number of pairs of synced folders, the sync ended with errors or synced folders were not available).
- Writing your own script of the copying files, for example:
- Copy all the unsynchronized files to the selected folder before copying.
- Verification of Checksum files before copying.
- Copy files using Unix commands: cp, rsync, etc.

The Main Difference from the similar apps on the App Store:
- You can TRY FREE version before buy. We don't hide from you the quality, speed and stability of the app.
- The real bidirectional synchronization. Tracking deletions, additions, changes in Sync-Folders.
- Faster sync for the number of not synchronized files more than 50 000.
- "Real Time Sync" mode.
- 4 status of sync in Menu Bar.

Many thanks to falconexe for his ongoing help with the English translation!
What's New in Version 3.3.2
- Improved compatibility with macOS 10.12 Sierra.

v.3.x:
- Added "Exclude List". You can exclude the subfolders, files, aliases, hidden files and subfolders, files with specific extensions.
- Launch the Compare & Sync Folders (app with powerful preview mode) from the Menu Bar.
- Move the items within the task table. Arbitrary sorting of the items.
- Edit settings for multiple tasks simultaneously.
- Copy, remove selected tasks.
- Confirmation to remove the task.
- Improved mode "Last changes" (Optimized to work with a large number of items).
- Additional monitor of the synchronization process.
- Improved sync-engine with faster synchronization.

v.2.x:
- Added "Resolving the file versions conflict".
- Limitation of file date, file size, copying speed and other solutions available on the website.
- Added "Prevents accidental deletion of all files" mode.
- Improved protection for unauthorized disconnect drives (folders) during sync.
- Added "Email Error Log".
New sync modes:
- Bidirectional sync mode without the tracking deletions, without the tracking additions.
- Restore modes "A->B", "A<-B"
Drive Type (for better compatibility with different drive type):
- Mac OS. Drive supports the saving original timestamp of Mac when copying.
- FAT32, ExFAT. Timestamp may differ from the original timestamp in some seconds after copying.
- Drive doesn't support the saving original timestamp of Mac when copying. Some NAS types.

Comparison mode:
- Timestamp
- Timestamp+Size
- Timestamp+Size+Checksum
- Timestamp+Checksum

- The app prevents sleep mode during synchronization or using "Auto Sync" mode
- Enable/disable showing App icon in the Dock
- Grayscale/Color icon in Menu Bar
- Enable/disable character indication of Sync-Results in Menu Bar. (Displays the different status of the App for people with limited color vision)
- Optional enabling "Reset of Error-Indication E" Every New Sync"
- Sync locked files
- Added button "Reset Database"
- Improved protection for unauthorized disconnect drives (folders) during sync
- Improved work "Folder Filter". Possibility to make «Folder Filter» for sub-path as: =exact=subfolder1/subfolder2/subfolderN
- added "Error Log" (for logging error events only: "Was disabling folders during sync", "Directory not exist", etc.)
- the possibility to see the "Log All Events" and / or "Error Log"
- the possibility to choose the events for "Log All Events"
- the possibility to choose the events for "Error Log"
- enable / disable the creation of "Log All Events"
- enable / disable the creation of "Error Log"
- Added "Sync Subfolder Attributes"
- Added "Use shell command to copy". You can write your own script of the copying files, for example:
- Copy all the synchronized files to a selected folder (in addition)
- Copy files using Unix commands: cp, rsync, etc.
- Real Time Sync: It allows you to instantly synchronize changes in folders with any number of subfolders and files (including those with a lot of subfolders and files). It works for 10.8 and later. The Real Time Sync mode supports the main types of files as: .pages, .txt, .pdf, .doc, .docx, .xls, .xlsx, .ppt, .pptx, .dot, .ods, .jpg, .png, .avi, .mov, and etc. Low usage CPU and RAM in this mode
- Show the date of the "Next Sync"
- Auto Sync every __ seconds for each task
- Before sync check the changes in the folders after last start/finish sync
- Protection during copying
- Timer before Auto Sync
- Connect to network folders at launch
- Disconnect network folders after sync
- Close the main window without dialog box
- Show number of the files which has been read during reading file structure.
- Improved filter. Filter by the beginning, ending, exact match, any match string. =begin=String, or =end=String, or =exact=String, or ==String. So you can include / exclude hidden, tmp, with specific expansion and etc. files. You can use complex filtering conditions as (=begin=2009, and =end=.jpg,) or (=begin=2010, and =end=.png,)
Screenshots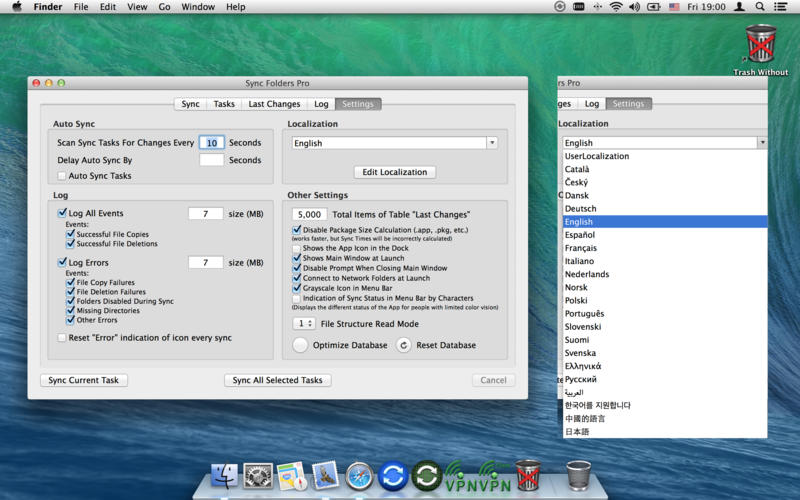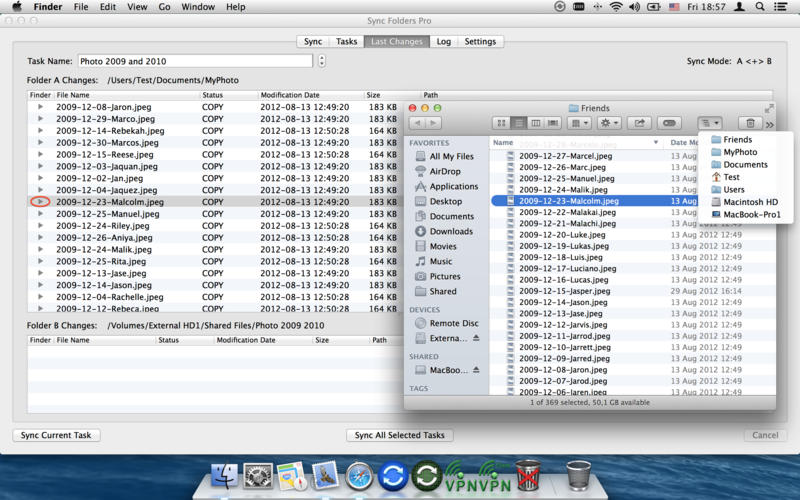 Customer Reviews
Essential for safe data habits and very flexible.
Sync Folders Pro is well worth the money for making backing up data and synchronizing data across various platforms simple and reliable. It is easily able to synchronize folders between my local hard drive, networked Airport Disk, Drop Box and Transporter Sync volumes. This allows me to set up data redundancy between these platforms that allow access remotely. While you can supposedly do this through Terminal commands and Applescript, I found this to be a much simpler and more reliable way to set up recurring and scheduled synchronizations across these various platforms. It is also helpful in consolidating data that has been warehoused in various volumes to syncronize content so that a copy of everything is preserved in the location of your choice. The Sync modes take a little bit of figuring out at first, but the pro version allows significant control over what to copy and in which directions.
BUY IT JUST BUY IT
This is the greatest app ever if you do any file and folder organizing AND it's also a great backup app as well. I have 10 hard drives with hundreds of thousands of photos and movies alone and got to the point where I had copies scattered everywhere over many hard drives. This app saved me centuries of time trying to figure out what I had and where—there's simply way too many files. I also use it to back up my home directory without deleting previously saved files that no longer reside on the main drive. The many choices of how you want to sync folders is remarkable and you can schedule it to keep folders in sync or backup or whatever it is you do. If you have a billion files of any kind and use multiple drives this is a must have app. The simple backup operation is really a must have too I would never rely solely on Time Machine.
Not for the feint of heart, but amazingly powerful. Reliable. UI isn't too easy.
There is nothing in the program to tell you which mode you should use: A<=>B or A<->B or A<+>B or A+>B or A<+B or A=>B or A<=B or A-<B or A->B. Yet, this is the single most important setting.

Really, the selection should be documented. And, the drop-down descriptions should be more obvious. Perhaps this part of the program needs re-thinking to be more clear.

Also, it's not really obvious that the first tab is one item from the list of items on the second tab.

I was able to figure this all out because as it turns out I used this program under Windows 6 years ago. (What a surprise for me to find it.)

Now, the program is superb. It works incredibly well. It's really amazing. It is fast and reliable. It can sync up millions of files. It is a spectacular piece of work, which is why I still gave it 5-stars. The ability to do real-time syncing makes this just extra special and perfect for a data center where you keep replicated copies of files.

So I would say this is a high-end proghram for experienced computer users. It's an outstanding file synchronization app. But the user interface is mediocre.
View in Mac App Store
$7.99

Category:

Business

Updated:

Sep 16, 2016

Version:

3.3.2

Size:

2.7 MB

Languages:

English, Arabic, Catalan, Czech, Danish, Dutch, Finnish, French, German, Greek, Italian, Japanese, Korean, Norwegian Bokmål, Polish, Portuguese, Russian, Simplified Chinese, Slovak, Slovenian, Spanish, Swedish, Traditional Chinese, Ukrainian

Seller:

VADIM ZYBIN
Compatibility: OS X 10.7 or later, 64-bit processor