SystemPal
By Pop-Hub Limited
Open the Mac App Store to buy and download apps.
Description
Shows memory/CPU usage status, CPU temperature and fan speed, network status and disk reading/writing status on status bar. SystemPal is becoming an ALL-IN-ONE app. It also provides a tool kit including mini music player, screenshot capture, memory cleaner.

Great Features:
1. Showing status directly on the status bar. It is very convenient to check system status.
2. Showing a mini music player on the status bar. This mini music player controls iTunes to play songs in your iTunes library. It is very convenient to see song name and artist on the status bar. You can also check the album artwork, read the lyrics, rate the song. When you close iTunes, the mini music player will just become a tiny icon.
3. Providing a screen shot utility. You can use it to capture mouse selection, capture a window, capture the whole screen. You can save the screen shot to desktop or save to the clipboard. You also have the option to delay 3 seconds before capturing.
4. Providing a quick launch for Activity Monitor of Mac OS X.
5. Memory usage pie chart.
6. CPU usage chart. Working well with multi-core processors.
7. Network status (uploading speed and downloading speed).
8. Disk reading/writing status.
9. Configurable items showing on the status bar.
10. 1-Click cleaning memory. When you are short of free memory, you can just click 'Clean Memory' on SystemPal and it will finish in a couple of seconds.
11. Auto-cleaning memory. If the free memory is smaller than a certain number, SystemPal will begin to clean memory automatically.
12. Displaying the top processes which consume much memory, CPU or Network resource. You can the terminate the app which consumes too much Memory/CPU/Network resource. (New!)
13. Providing an option to play alert sound when the CPU temperature is too high. (This option is disabled by default.)
14. Special enhancement for OS X. This utility works perfectly in full screen mode and every space.
15. Auto-run at login (you need to set it in the preferences).
16. SystemPal consumes much less resource than other apps with similar functionalities.

Great For:
- Internet surfers
- Movie creators
- Graphic artists
- Architects
- Developers
- Musicians
- Photographers
- Scientists
- Virtual machine users
- Gamers

Notes:
If you find any problem or have any suggestion, contact us by email: support+macsystempal@pop-hub.com

Dear SystemPal's users,

SystemPal is a popular Mac app. But some users report that there are some issues on certain Mac models. Because we can't purchase all Mac models to test, please help us by providing anonymous information about hardware and sensors. All information is in the form of pure text. You can review it to make sure it's really anonymous.

Please download SystemPal Profiler at https://s3-us-west-2.amazonaws.com/pophub/public/SystemPal+Profiler.zip . Run it (if you have problems, please take a look at this article http://ioshacker.com/how-to/enable-the-installation-of-non-mac-app-store-apps-on-os-x ). In SystemPal Profiler, review the information, press "Compose email" and send the email to us.

History:
2015-01-12 5.0 Added top processes which consume network bandwidth, supported OS X 10.10 Yosemite, and added other improvements.
2014-04-01 4.1 Bug fixes.
2014-01-23 4.0 Added disk status. Increased speed of cleaning memory.
2012-07-21 3.2 Fixed the temperature problem on Macbook Air/Pro/Retina Mid 2012 models.
2012-12-12 3.0 Added a mini music player on the status bar. Added a screen shot utility. Added a quick launch for Activity Monitor.
2012-12-20 2.3 Bug fixes.
2011-12-14 2.2 Supports network unloading and downloading speed. Supports auto-cleaning memory.
2011-09-27 2.1 Supports CPU temperature and fan speed.
2011-09-20 2.0 Supports CPU load status. MemoryTool is renamed to SystemPal.
2011-08-11 1.0 MemoryTool, shows memory pie chart on status bar, cleans memory.
What's New in Version 5.1
New in version 5.1:
1. Fixed the minor UI issues.

New in version 5.0:
1. Improved display for Mac OS X 10.10 Yosemite.
2. Added an option to disable the auto-clean notification.
3. Added top processes which consume network bandwidth.
4. Added the functionality of terminating a process directly.
5. Added an option to play alert sound when the CPU temperature is too high.
6. Removed the message box about rating.
Screenshots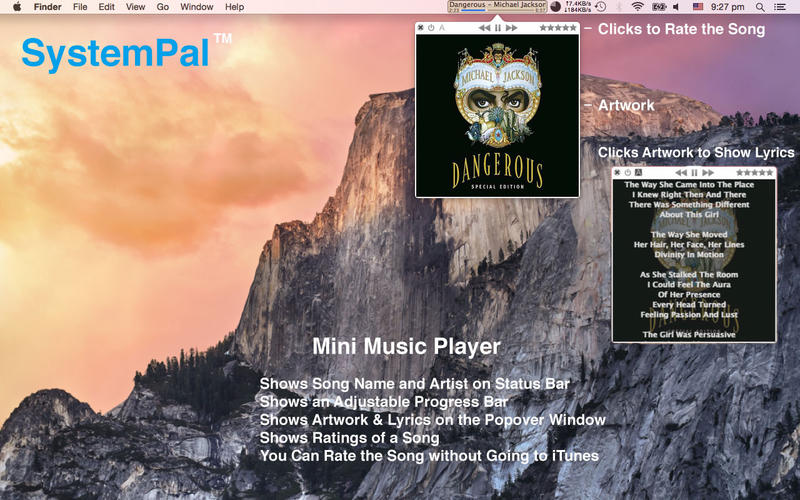 Customer Reviews
I can't see life under any OS, that doesn't support SystemPal
I would NOT like to be without this little toolkit at my disposal. It's my "What's going on with My system" at a glance with tools like; Memory Clean(very Quick!), Chip temperature CPU/GPU average,fan speed, Network Speed(upload/download), Local disk speed (read and write), What's hogging most of the memory and CPU time. Now if that is not enough, Screen Shot, Mini Music Player and a quick call up of the Apple Activity Monitor are at your finger tips. the AddOns keep on coming! Like I said, Whats NOT to LIKE !!!! At $2.00 USD I almost feel guilty for what my money buys. :)
JohnK, Calif.
First app on all my machines
This is a great app and for the money can't be beat. I like the fact taht I can always tell how my RAM is doing and how cluttered it gets. When I first restart my mac there is a lot of green but then as days go by I can see it disapear and with just a couple of clicks I'm able to recover some of that space so my programs run faster. Over the years I've purchased new computers for myself or my wife and this is always one of the first apps I download to the new machine.
Does it's job well
I picked this up shortly after purchasing a 13 inch Retina MBP. I was doing some light gaming and some large format media editing and wanted to keep tabs on performance. I mainly picked it up to monitor temperature and it's done a great job. The different data points it keeps an eye on is really nice and having it up in the menu bar so all I have to do is glance at it makes it very slick.
View in Mac App Store
$1.99

Category:

Utilities

Updated:

Feb 03, 2015

Version:

5.1

Size:

1.0 MB

Languages:

English, Simplified Chinese, Traditional Chinese

Seller:

Pop-Hub Limited
Compatibility: OS X 10.10 or later, 64-bit processor