Tab Notes
By Catalystwo Limited
Open the Mac App Store to buy and download apps.
Description
Tab Notes is a Menu Bar application which keeps your notes tidy and easy to access and your screen uncluttered. Click on your screen edge, then a note pops up!

Watch the demonstration video here ▶ https://vimeo.com/62485482

• Click on your screen's edge to take a note.
• Document file types are conventional RTF (Rich Text) and RTFD (Rich Text with images). Not proprietary format. (This application uses "Comment" property in RTF. )
• iCloud free. RTF documents can be synchronized with iPhone via Dropbox. This means you can view them from any device with Dropbox installed.
• Documents folder can be any folder in your home folder.
• Supports versioning. OSX keeps documents' previous versions. (This app does not contain version browser. Please use TextEdit to browse version files.)
• Customizable with original themes created in Tab Notes Theme Editor:
https://itunes.apple.com/us/app/tab-notes-theme-editor/id665702825?ls=1&mt=12

* This application is a "menu bar app". The application icon does not appear in "Dock". Instead it appears in main menu bar. You can change preferences from the icon in the main menu bar.

--------

There is also Tab Notes Free version, which enables you to keep 3 notes without expiration date and without functionality limitations so you can try it before deciding if you want to buy. This option has been available from the original release of Tab Notes.

Don't be led like a lamb to slaughter. TRY BEFORE YOU BUY.

IT'S OUTRAGEOUS. This app also includes one in-app purchase for our extremely popular #1 utility app "Popup Window" function.
This in-app purchase offer is shown only once.
Of course you don't have to pay. There is also Popup Window Free available to try.

--------

■■FAQ■■

Q. The application does not open. It does't work.
A. This app is a menu bar app. App icon does not appear in Dock. It is designed to serve you discreetly without occupying Dock space. The application icon appears in the right part of the main menu bar at the top of the screen.

Q. Isn't there any "Preferences" for this app?
A. Yes there are. The menu icon of this app is located in the right part of the main menu bar at the top of the screen. You can choose this app's Preferences here.

Q. I don't understand how to make a note in the free version - Ergghg
A. Just click the screen edge. Please see the video https://vimeo.com/62485482

Q. Can't make any sticky notes!! - Allie1401
A. Just click the screen edge. Please see the video https://vimeo.com/62485482

Q. It would not let me delete the app.
A. Finder does not let you delete an app that is currently running. Quit the app first. To quit the app, choose Quit from this application's menu in the main menu bar at the top of the screen. (Even though this app may be running, while in stand by, its CPU power usage is almost nothing.)

Q. How do I change themes or background colour?
A. Press and hold Control key then click a tab. Contextual menu appears. (Depending on device configurations, right-click on mouse or two finger click on track pad may be used.)


----
Copyright CuteCritters http://www.Tutorial9.net/
Copyright SpoonGraphics http://blog.spoongraphics.co.uk
What's New in Version 1.4
• Added new modifier key options to activate hidden tabs.
Screenshots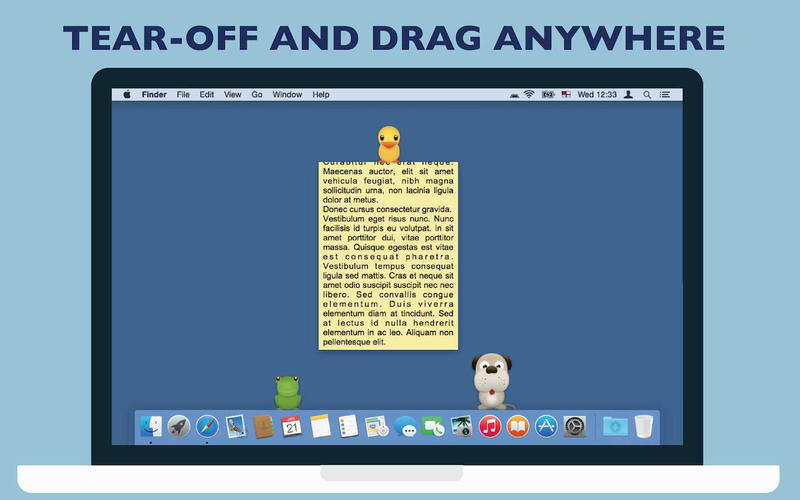 Customer Reviews
Best Kept Secret on the App Store
I've found two apps that I can't live without. This is one. FlowVella is the other. This app has to be bought to be really understood. The idea of rapidly doing stickies that are in pins or tabs as you choose and fold away for a clean screen is something that 1000 apps have tried to do and all but this one have failed. I bought rthe first pin app and then upgraded to the tab pp that adds folders. OMG gang - you can't live without this app if you get it. I get mad often when I waste 99 cents. On this app I think I got a deal at $15 and another deal for another 15 for the folder add on. It is a perfect Graphical representation of what we all need to be quickly and instanty organized. I didn't throw away my todo program - but sometimes there are things - liek 50 times a day- that it just isn't worth entering into formal todo's and checking off later. This on the fly stuff - especially the abilility to grab text and instantly make it a pinned note from anything - is invaluable to the process of working fast and smart! They stink at marketing and telling the story but boy are they a valuable piece of software that pays for itself if you're a business person living on a mac. Apple should just buy this and put it into the op sys. 5 stars!!!
Well Designed
Nicely designed and easy to use. Accordion affect is great. Best feature is dragging copied text to the edge to automatically create a note. Wish that all tab designs could be titled. Love the easy to use theme editor for making personalized tabs. It used to bother me that whenever my mouse got too close to the edge of my screen, the tabs would pop out, but I solved that problem by making the tabs accessable only by a keyboard shortcut.
WOW. This is the most useful app I've ever bought!
It is rare that I ever buy something from the App Store and feel like I actually got my money's worth, especially when it's a $15 app. I usually have a lot of buyers remorse with apps these days. It seems devs are pushing apps out the door half-baked all the time now and it's become expected to have to deal with bugs and glitches until they get it right, if at all.

But this little wonder is a true gem! You might scoff at the price a bit—$15 for a note app? But trust me—you won't be sorry. This app is fully developed and I've had no issues whatsoever. It is well-thought out, seamlessly executed and has features you never knew you couldn't live without. It just works. Tab Notes grants that 'digital sticky note' wish I've had for a long time. Other post note programs feel clunky and difficult to access and you have to go along with whatever note style, color or font they use, and just accept all of the limitations. But Tab Note is different and it's completely changed my workflow for the better. Need to grab a number or bit of text off a webpage for later? Highlight and drag it to the edge of your screen and walah, a little tab note appears and tucks it away. NO OTHER CLICKS NEEDED!

The level of customization is nice. You can label your notes or use cute icons….and with their free add-on app, you can make your own icons for the tabs. You can make special icons for work, home, projects, you name it—and it's easy to do, which is awesome! After watching the short video tutorial, in ten minutes I made 4 icon sets totally customized to my workflow. And the accordion fold animation….I admit I sat there and opened and closed my notes for several minutes, in awe of the fluidity and eye appeal. It's a totally pretty effect that just polishes the app into it's WOW worthiness.

Great product, great dev team….I went out and grabbed some of their other apps because you can just tell these guys love what they do and have the patience to do it right. It's a refreshing change to find a quality app I'm happy to pay for!
View in Mac App Store
$14.99

Category:

Productivity

Updated:

Jan 25, 2015

Version:

1.4

Size:

2.8 MB

Languages:

English, Japanese

Seller:

Catalystwo Limited
Compatibility: OS X 10.9 or later, 64-bit processor
Top In-App Purchases
Popup Window Plug-in$9.99