Tab Notes
By Catalystwo Limited
Open the Mac App Store to buy and download apps.
Description
Tab Notes is a Menu Bar application which keeps your notes tidy and easy to access and your screen uncluttered. Click on your screen edge, then a note pops up!

Watch the demonstration video here ▶ https://vimeo.com/62485482

• Click on your screen's edge to take a note.
• Document file types are conventional RTF (Rich Text) and RTFD (Rich Text with images). Not proprietary format. (This application uses "Comment" property in RTF. )
• iCloud free. RTF documents can be synchronized with iPhone via Dropbox. This means you can view them from any device with Dropbox installed.
• Documents folder can be any folder in your home folder.
• Supports versioning. OSX keeps documents' previous versions. (This app does not contain version browser. Please use TextEdit to browse version files.)
• The app has built-in short term backup system. Changes made to notes will be kept for 3 days in the backup folder (you can open it from the preferences). For more comprehensive backup system, we recommend other application.
• Customizable with original themes created in Tab Notes Theme Editor:
https://itunes.apple.com/us/app/tab-notes-theme-editor/id665702825?ls=1&mt=12

* This application is a "menu bar app". The application icon does not appear in "Dock". Instead it appears in main menu bar. You can change preferences from the icon in the main menu bar.

--------

There is also Tab Notes Free version, which enables you to keep 3 notes without expiration date and without functionality limitations so you can try it before deciding if you want to buy. This option has been available from the original release of Tab Notes.

Don't be led like a lamb to slaughter. TRY BEFORE YOU BUY.

IT'S OUTRAGEOUS. This app also includes one in-app purchase for our extremely popular #1 utility app "Popup Window" function.
This in-app purchase offer is shown only once.
Of course you don't have to pay. There is also Popup Window Free available to try.

--------

■■FAQ■■

Q. The application does not open. It does't work.
A. This app is a menu bar app. App icon does not appear in Dock. It is designed to serve you discreetly without occupying Dock space. The application icon appears in the right part of the main menu bar at the top of the screen.

Q. Isn't there any "Preferences" for this app?
A. Yes there are. The menu icon of this app is located in the right part of the main menu bar at the top of the screen. You can choose this app's Preferences here.

Q. I don't understand how to make a note in the free version - Ergghg
A. Just click the screen edge. Please see the video https://vimeo.com/62485482

Q. Can't make any sticky notes!! - Allie1401
A. Just click the screen edge. Please see the video https://vimeo.com/62485482

Q. It would not let me delete the app.
A. Finder does not let you delete an app that is currently running. Quit the app first. To quit the app, choose Quit from this application's menu in the main menu bar at the top of the screen. (Even though this app may be running, while in stand by, its CPU power usage is almost nothing.)

Q. How do I change themes or background colour?
A. Press and hold Control key then click a tab. Contextual menu appears. (Depending on device configurations, right-click on mouse or two finger click on track pad may be used.)


----
Copyright CuteCritters http://www.Tutorial9.net/
Copyright SpoonGraphics http://blog.spoongraphics.co.uk
What's New in Version 1.5.3
- Fixed the issue in which a checkbox could not be inserted at he very last position of a note.
Screenshots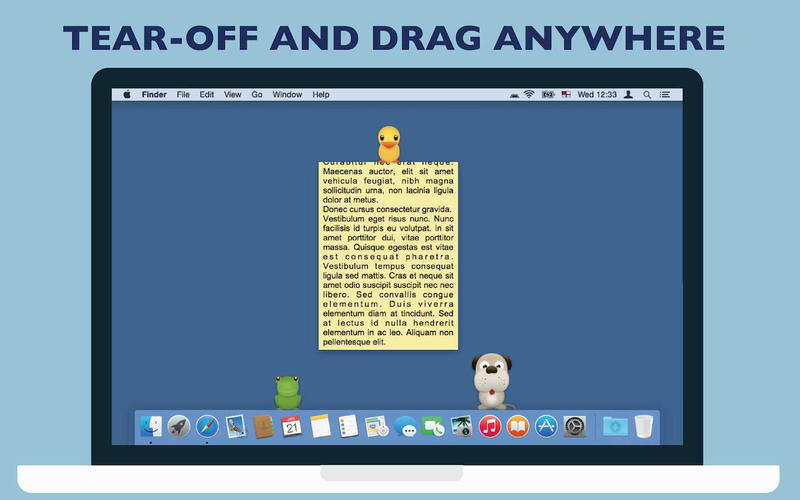 Customer Reviews
Update: Great App & developer support
When I purchased the app, I was amazed how much more productive I became. I use this app all day ( and night ). My only hitch was I couldn't get a screen grab on my Tab Notes. As a Filemaker developer, I was afraid the problem would be related to the fact that I run 3 monitors, each with several spaces. I complained and the developer contacted me with the solution. Now this app is outstanding and works with multiple monitors and spaces. For anyone that uses the mac "Stickies", but gets disappointed how cluttered and unorganized "Stickies" looks on your desktop , "Tab Notes" is the answer. I would give this app more than 5 stars if I could.
Nearly perfect stickies alternative
I've been looking (and looking and looking) for a "stickies" like app that did not operate like a Mack truck. And I just hate the look of the built in Stickies app that comes with MacOS.

One key requirement for me is that it MUST allow creation of a new note from the menu bar. Check! Tab Notes gets the job done and pretty nicely at that. It took some time to get used to the the snapping of notes to the window edge, but now I do like it. Notes are all easily accessible, but out of the way at the same time. Personally, I keep them on a second monitor to avoid distractions on my mail screen.

I did disable the cutesy characters right away though. :)

UPDATE: Still loving this after a couple of months. And I recently discovered that Tab Notes can be easily previewed and browsed using Finder. They may also be edited with TextEdit. Awesome!

NOTE: This app is unfortunately NOT compatible with "Popup Window" by the same developer. I do hope the developer makes these compatible in the near future.
Very good resource for my job!
Not against using the defaul Stickies App in macOS Sierra, but I don't like the way the notes collapse on my desktop screen. Looks like a bunch of
colored lines, and if you have a lot of stickies, for me it just makes my desktop look unindated with "colored horizontal clutter" ;-)

The genius of TAB Notes is it works just like Stickies, with the exception it turns into a map pin when you collapse it-- that was a BIG selling point for me.

With map pins, I can cleanly hide my notes when I don't need them, placing a Tab Notes map pin, on any side of my desktop screen.
After using the trial Tab Notes to manage my desktop at work for 3 months, I went ahead and purchased the full version.

If you are looking for better sticky notes management to add to your productivity and a cleaner notes-filled-desktop, then Note Tabs is worth the money!

LOVE THIS APP!
View in Mac App Store
$17.99

Category:

Productivity

Updated:

Jun 13, 2016

Version:

1.5.3

Size:

3.5 MB

Languages:

English, Japanese

Seller:

Catalystwo Limited
Compatibility: OS X 10.9 or later, 64-bit processor
Top In-App Purchases
Popup Window Plug-in$11.99