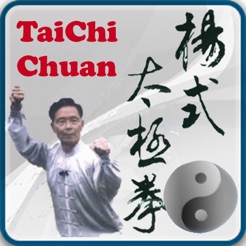 Description
限时特价,人民币1元,只限今天!
The Chinese martial arts, has a long history, while the Tai Chi Chuan is a Chinese martial arts in a wonderful work.

Martial arts can not only physical fitness, but also to train a person's will.

Yang style Tai Chi Chuan is a genre of Tai Chi Chuan. It is created by Yang Lu Chan (1799-1872) and developed by his son-Yang Jian Hou (1839-1917), his grandson Yang Cheng-fu (1883-1936) and others based on the old frame of Chen style Tai Chi Chuan.

Yang style Tai Chi Quan Jia stretch concise, structured, shenfa Chiang Kai-shek, action Hwasun, a mixture of ethereal calm; Lianfa from the Song into the soft, hardness and softness, forming a unique style.

The application procedure of 251 cases of diagrams and a detailed description, and clear videos of each actions, complete explanations of the authentic Yang style Taijiquan for each of all 85-style postures.

This application provides the Simplified Chinese, Traditional Chinese and English version, will automatically match the language based on the user's current settings .

If you encounter any problem with this application, please contact with joyipad@gmail.com.

中华武术,源远流长,而太极拳则是中华武术中的一朵奇葩。

习武不仅能够强身健体,而且能够锻炼人的意志。

杨式太极拳是太极拳的一个流派。这派太极拳是由河北永年人杨碌禅(1799-1872)及其子杨健侯 (1839-1917)、其孙杨澄甫(1883-1936)等人在陈式老架太极拳的基础上发展创编的。

杨式太极拳拳架舒展简洁,结构严谨,身法中正,动作和顺,轻灵沉着兼而有之;练法上由松入柔, 刚柔相济,形成独特的风格。

本应用程序通过251副例图和详细的描述,以及清晰的教学视频动作演示,完整的讲解了正宗的杨式太极拳所有85式的每一招式。

本应用程序提供了中文简体、繁体和英文三种文字,会根据用户当前的设置自动匹配。
1.) Append English version and localization, application will display simple Chinese, traditional Chinese or English language automatically according to the user's current preference.
2.) Add video play of every posture, demonstrated by Fu qingquan, heres of 6th generation of Yang Style Taijiquan.
3.) Beautify of user interface, enhanced user's experience.
4.) Optimize the application's performance, remove few function that not very necessary.

Ratings and Reviews
Great Taiji
Who is this guy? Practiced with a lot of people in a lot of places for years. Use the arts on the job. This guy is good and I love the kid in the corner of the frame!
Information
Seller

Jerry Lee

*WEA.AppPages.Size*

64.2 MB

Category

Compatibility

Requires iOS 3.0 or later. Compatible with iPhone, iPad, and iPod touch.

Age Rating

Rated 4+

Copyright

©2014 JoyiPhone inc.

Price

$0.99
Supports
Family Sharing

With Family Sharing set up, up to six family members can use this app.