Tajweed Quran for iPad - مصحف التجوید للآيباد
By SHL Info Systems
This app is only available on the App Store for iOS devices.
Description
NOTE: This app features the newest print from Daral Maarifah and unlike other apps, it is legally licensed. The print is of top most quality obtained directly from Daral Marifah. By purchasing this app, you can rest assured that you have bought an authentic Daral Maarifah product.

Introduction:
SHL info systems presents " The most advanced Quran application ever made for a touch device".

This is a digital version of the Quran printed by the Daral Maarifa (http://www.easyquran.com). The new version has been written ground up aiming to provide excellent user experience and appealing design with actual book like interface. A number of new features has been added on top of what the old version of the app provided.

A special highlight of this app is the authentic translation in English by renowned Muslim scholar Shaykh Mufti Taqi Muhammed Usmani (May Allah Preserve Him).

***************
Highlights:
***************
- High quality clear and legible images.
- Color coded letters to identify tajweed rules.
- A brief explaination of Tajweed Rules
- Easy navigation by Juz, Surah, Ayah or Page.
- Remembers last page on exit.
- Continuous back light.
- Auto-rotate for landscape or portrait mode.
- Bookmarks with bookmark tagging
- Drag and drop bookmark editing
- Information such as Sajda, Hizb Number and more on the margin.
- Swipe to turn pages
- 12 free gapless audio recitations with option to purchase additional recitations. New reciters are added every few days. Currently we have: Shaykh Abu Bakar As-Shatri, Shaykh Saud As-Shuraim, Shaykh Muhammed Ayyub, Shaykh Khalil Al-Hussary, Shaykh As Sudais, Shaykh Abdullah Matrood, Shaykh Salah Bukhatir, Shaykh Abdul Muhsin, Shaykh Salah Al Budair, Shaykh Al Juhayni, Shaykh Abdul Basit (Mujawwad & Murattal), Sheikh Hudaify, Sheikh Ahmed Al-Ajmi, Sheikh Ali Jabir, Mishary Al-Afasy, Sheikh Maher Al-Muaiqly, Sheikh Saad Al-Ghamady, Sheikh Muhammed Al-Minshawi, Sheikh Nabil Ar-Rifai, Sheikh Adil Al-Kalbani, Sheikh Mohamed Al-Tablawi, Sheikh Abdul Aziz Nada, Dr. Ahmed Nuaina, Sheikh Hani Ar Rifai, Sheikh Dr. Abdul Hadi Kanakeri and Yahya Hawwa. More coming soon inshaAllah.
- Audio recitation includes repeatition and grouping of multiple ayaahs to aid memorization
- Notes on stickys
- Milestones indicators
- Translations by Mufti Taqi Usmani and Maulana Fateh Muhammed Jalandhari
- Tafseer Al Maysar in Arabic
- English and Arabic languages with option to set only labels (Surah, Ayaah etc. ) and numbers in Arabic
- Hovering options on ayaah highlighting
- Natural book like interface
- Search within Quran text and translations
- Draw anywhere on a page in 4 different colors

SHL Info Systems is committed to deliver quality applications.

Suggestions for improvements are welcome. Search within Quran text and translations
- Draw anywhere on a page in 4 different colors

SHL Info Systems is committed to deliver quality applications.

Suggestions for improvements are welcome.

Holy Quran moshaf Koran Ramadan Ramazan Masjid Mosque Ramzan مجاني mus'haf المصحف Islam Muslim zikar azkaar Taraweeh Sahoor Iftar Tajweed Koran Mushaf القران الكريم اسلام قران الكريم مصحف مسلم معلم علم المعلم الجوال قراءه تجوید احكام التجوید مصحف قراءة القرآن الكريم كريم قرآن الكريم المجود الاكتروني الشريف السديس الشريم قطر رمضان تراويح ختمه المسجد مسجد مشاري العفاسي الله اكبر اذكار افطار سحور
What's New in Version 3.9.7
Important bug fixes

Follow us on Twitter: www.twitter.com/shlinfosystems
Like us on Facebook: www.facebook.com/shlinfosystems
Contact us: support@shlinfosystems.com
website: http://www.shlinfosystems.com
iPad Screenshots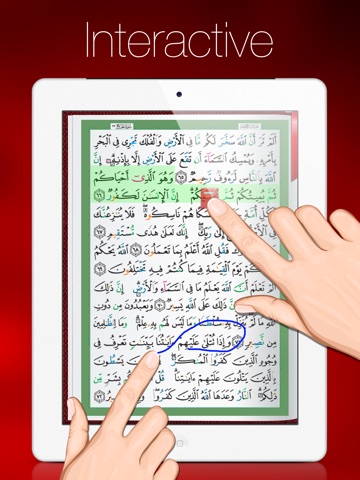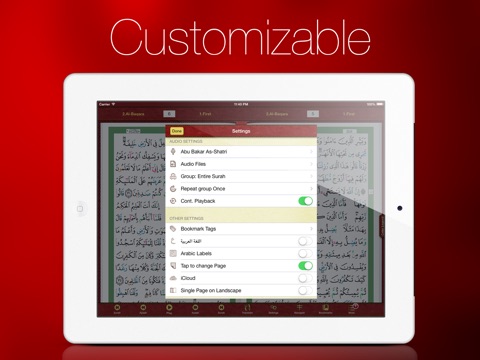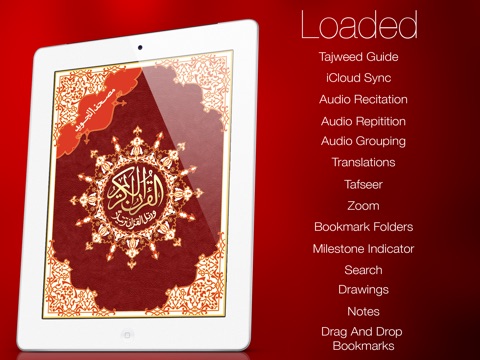 Customer Reviews
Maryam
Assalamu alaykum. This tajweed colour coded Quran is absolutely the Best. My husband and I have been using it since I found it over 3 years now. We have only recently started reading arabic and we read 20 leaves or more per day. This app enable us to keep track of where we last stopped. We can bookmark the page and even draw a line on the exact place where we stopped if we were interrupted. You can listen to the reciters to double check if u are reciting correctly and if you are not able to understand arabic there is the english translation tool to select from. By ALLAH I could go on and on about how good this app is because it is excellent. May Allah reward the producers of it with good in this life and the next ameen. The other blessing is the clock at the top of the page that helps me when I am in Tahajut to know when to stop. Alhamdulillah. I recommend it to every muslim who wants to be consistent in reading the Quran
Excellent Aid
If you want to learn how to read the Quran properly, the usefulness of this app cannot be overstressed. I've been using it for many months and it really has helped.

A note to the developers, the leather and stitching interface does not add any value and to me looks quite terrible. I think a UI redesign is in order. Don't try to replicate a book experience. This is not a book, it's a tablet app. Rethink the possibilities the digital interface provides and redo the interface to maximize the user experience.
الله اكبر Allah Akbar, Very nice and so clear
This app is the best app on my devices and it is so clear and pleasing to the eyes. Out of the many Qur'an apps out there this one here I believe is the best and very easy for me read. Please keep up with the updates for there are too many apps related to Islam that do not get updated after so long and they either run slow or crash. May The Almighty Allah reward you in abundance for your efforts in keeping this app updated.
View in iTunes
$6.99

Category:

Books

Updated:

Jul 14, 2014

Version:

3.9.7

Size:

363 MB

Language:

English

Seller:

Sarim Hussain
Compatibility: Requires iOS 7.0 or later. Compatible with iPad.
Top In-App Purchases
Sheikh Mishary Al-Afasy$0.99
Mega Audio Bundle$6.99
Sheikh Muhammed Siddiq Al-Minshawi$0.99
Sheikh Saad Al-Ghamady$0.99
Sheikh Al-Hudaify$0.99
Sheikh Maher Al-Muaiqly$0.99
Sheikh Ali Jabir$0.99
Sheikh Ahmed Al-Ajmi$0.99
Haramain Audio Bundle$3.99
Melody Audio Bundle$3.99