TapeACall Pro - Record Phone Calls. Call Recorder For Interviews on iPhone
By Epic Enterprises
Open iTunes to buy and download apps.
Description
TapeACall lets you record your iPhone's incoming and outgoing phone calls.

TapeACall, a #1 business app in The United States, Argentina, Austria, Belgium, Bulgaria, Denmark, Chile, Croatia, Czech Republic, Dominican Republic, El Salvador, Estonia, Finland, France, Hong Kong, Ireland, Israel, Italy, Latvia, Lithuania, Luxembourg, Malta, Netherlands, New Zealand, Norway, Panama, Peru, Poland, Portugal, Romania, Singapore, Slovakia, Slovenia, South Africa, Spain, and Sweden!

TONS OF EXTRA FEATURES

√ Record your incoming calls
√ Record your outgoing calls
√ No limit on how long you can record a call for
√ No limit on how many recordings you make
√ No per minute or monthly fees!
√ Transfer recordings to your new devices
√ Easily download recordings to your computer
√ Upload your recordings to Dropbox!
√ Upload your recordings to Evernote!
√ Upload your recordings to Google Drive!
√ Email recordings to yourself in MP3 format
√ Share recordings via SMS, Facebook & Twitter
√ Label recordings so you can easily find them
√ Recordings available as soon as you hang up
√ Play recordings in the background
√ Access to call recording laws
√ Beautiful easy to use interface
√ Push notifications take you to the recording
√ Customer service with real humans
√ Developers that care about their customers
√ New features added all the time
√ Powered by TelAPI

NOTE: TapeACall requires your carrier supports 3-way calling. SimpleTalk and H2o Wireless do NOT offer this in the US.

Frequently Asked Questions
——————————————————————

How does this app record calls?

Take a look at our screenshots for step by step instructions.

When you're on a call and you want to record it, open TapeACall and press the record button. We will put your call on hold and dial our recording line. As soon as our line answers tap the merge button on your screen to create a 3 way call between your other caller and our recording line.

If you want to record an outgoing call, just press the record button. The app will dial our recording line and will begin recording as soon as our line answers. Once that happens, tap the add call button on your screen, call the person you want to record, then press the merge button when they answer.

——————————————————————

Can I download recordings to my computer?

Yes, and we've made it extremely easy to do this. From inside the app you can attach the recording to an email and send it to yourself as an MP3, or you can click the share button and find a short URL that you can type into your computer's browser.

——————————————————————

How many recordings can I make?

As many as you want! We don't have a limit on the number of recordings you can make.

——————————————————————

How long can a recording be?

As long as you want! We don't have a limit on how long your recording can be. You can record for hours if you want.

——————————————————————

Are there any additional fees?

We do NOT charge you any additional fees. Please keep in mind that 3-way calling will use your airtime minutes. Also, carriers outside the US may charge for long distance calls, so be sure to check if TapeACall is long distance for you. If it is, you may be able to get around this by adding TapeACall's access number as one of your "Fav" numbers so you can call it without additional airtime usage or carriers fees. If we don't have an access number that is considered local by your carrier, please contact us and we'll try to get one for you!
What's New in Version 3.3.1
Important bug fixes
iPhone Screenshot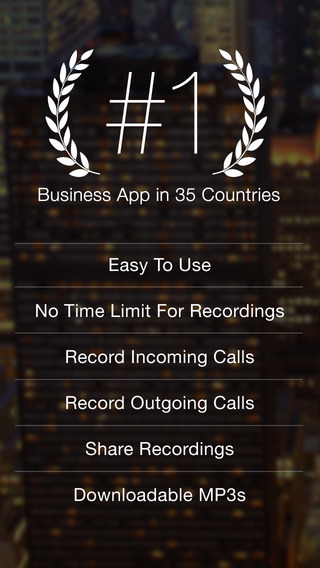 Customer Reviews
My review on this product
hello everyone I am a journalist I have my own podcast where I interview many martial arts celebrities it is actually my outlet to the world as well because I am disabled and I do not get out as much as I should when I first bought this app a few years ago it was working tremendously the reason I have given it a bad rating there is something you need to be aware of since last year there was an update for this application ever since that update the recordings quit going to drop box and Google Drive which makes things more difficult also during the download process my phone started crashing horribly which makes the process even longer and worse I am still on iPhone 3G S the company has told me many times that the issue will be fixed that they have a update that can fix this issue but one thing puzzles me they tell me that Apple is declining their update my question is how are they releasing other updates for the app and because of my work on my show I have been inducted into the USA martial arts Hall of Fame which in turns means I could have had a bunch of shows/interviews set up but instead I had to turn them away because of this glitch and it makes me look very unprofessional until this issue is resolved I cannot recommend this app to anyone or anyone interested in doing interviews for a podcast I sure hope that they take the time to fix things very unsatisfied customer
skeptical...was
I'm having an interview over the phone with celebrity today and I'm sure it's going to be lengthy. Too long to try and write their responses while on the phone so I started looking for a solution to this problem. I did a Google search for the best "Call Recording" apps and this app was suppose to be the best. I was a little hesitant after the reading some of the reviews. I didn't want to be the sucker that paid $10 for an app with problems. However, there were more positive reviews than negative. With the clock steadily ticking and knowing my call will come within the next 2 hours, I decided to pulled the trigger and downloaded the app. To my surprise, it works fine. I'm not sure what iPhone model or problems anyone else has experienced but it works fine on my iPhone 6 Plus. I don't normally write reviews but I do read them. I decided to write this one in case anyone out there is sitting on the fence about this app like me.
Only have had one issue so far
So I bought this app to be able to document some phone calls related to a contested charge-and have successfully made close to a dozen calls that did record. Mostly the other party has not picked up-and there was one time where this happened (they did not pick up) and the recording did not work. I then tested just the app/call line, without merging a call-and it worked fine. I then tested calling another number, and it worked fine. And finally called the original number I attempted earlier-and it worked. So, I think I encountered a glitch-which for a $10 app is probably to be expected. If your business/livelihood depends on recording calls, invest in a quality piece of hardware to do the recording, and don't get stingy or blame an app for dropping "that important work call." I would recommend this as a backup/helpful tool-wouldn't count on it as a necessity though.
View In iTunes
$9.99

Category:

Business

Updated:

Apr 29, 2015

Version:

3.3.1

Size:

20.5 MB

Languages:

English, Arabic, Bokmål, Norwegian, Bulgarian, Chinese, Croatian, Czech, Danish, Dutch, Estonian, Finnish, French, German, Hebrew, Italian, Japanese, Korean, Latvian, Lithuanian, Malay, Polish, Portuguese, Romanian, Russian, Simplified Chinese, Slovak, Slovenian, Spanish, Swedish, Swiss German, Thai, Traditional Chinese, Turkish

Seller:

Epic Enterprises LLC
Compatibility: Requires iOS 7.0 or later. Compatible with iPhone. This app is optimized for iPhone 5.
Top In-App Purchases
Word Searching$14.99