TapeACall Pro: Call Recorder
By Epic Enterprises
This app is only available on the App Store for iOS devices.
Description
TapeACall lets you record your iPhone's incoming and outgoing phone calls. Includes one year of unlimited recording.

TapeACall, a #1 business app in The United States, Argentina, Austria, Belgium, Bulgaria, Denmark, Chile, Croatia, Czech Republic, Dominican Republic, El Salvador, Estonia, Finland, France, Hong Kong, Ireland, Israel, Italy, Latvia, Lithuania, Luxembourg, Malta, Netherlands, New Zealand, Norway, Panama, Peru, Poland, Portugal, Romania, Singapore, Slovakia, Slovenia, South Africa, Spain, and Sweden!

TONS OF EXTRA FEATURES

√ Record your incoming calls
√ Record your outgoing calls
√ No limit on how long you can record a call for
√ No limit on how many recordings you make
√ No per minute fees!
√ Transfer recordings to your new devices
√ Easily download recordings to your computer
√ Upload your recordings to Dropbox!
√ Upload your recordings to Evernote!
√ Upload your recordings to Google Drive!
√ Email recordings to yourself in MP3 format
√ Share recordings via SMS, Facebook & Twitter
√ Label recordings so you can easily find them
√ Recordings available as soon as you hang up
√ Play recordings in the background
√ Access to call recording laws
√ Beautiful easy to use interface
√ Push notifications take you to the recording
√ Customer service with real humans
√ Developers that care about their customers
√ New features added all the time
√ One low yearly rate

NOTE: TapeACall requires your carrier supports 3-way calling. SimpleTalk and H2o Wireless do NOT offer this in the US.

Frequently Asked Questions
——————————————————————

How does this app record calls?

Take a look at our screenshots for step by step instructions.

When you're on a call and you want to record it, open TapeACall and press the record button. We will put your call on hold and dial our recording line. As soon as our line answers tap the merge button on your screen to create a 3 way call between your other caller and our recording line.

If you want to record an outgoing call, just press the record button. The app will dial our recording line and will begin recording as soon as our line answers. Once that happens, tap the add call button on your screen, call the person you want to record, then press the merge button when they answer.

——————————————————————

Can I download recordings to my computer?

Yes, and we've made it extremely easy to do this. From inside the app you can attach the recording to an email and send it to yourself as an MP3, or you can click the share button and find a short URL that you can type into your computer's browser.

——————————————————————

How many recordings can I make?

As many as you want! We don't have a limit on the number of recordings you can make.

——————————————————————

If you choose to upgrade to TapeACall's Pro subscription with unlimited extended duration recording for 1 year, you will be charged a price according to your country. The price will be shown in the app before you complete the payment. Your TapeACall unlimited recording subscription automatically renews every year and your iTunes account will automatically be charged within 24 hours prior to the end of the current period. You can turn off auto-renew at any time from your iTunes Account Settings.

9.99 USD / 13.99 CAD / 169.00 MXN / 14.99 AUD / 14.99 NZD / 1200 JPY / 68.00 CNY / 14.98 SGD / 78.00 HKD / 300 TWD / RP 149ribu IDR / 620 INR / 749 RUB / 26,99 TRY / 35.90 ILS / 199.99 ZAR / 36.99 SAR / 36.99 AED / 7.99 GBP / 79,00 DKK / 95,00 SEK / 10.00 CHF / 109,00 NOK / 9.99 EUD

Privacy Policy: tapeacall.com/privacy
Terms of Service: tapeacall.com/terms
What's New in Version 3.5.0
Upgrades and improvements
iPhone Screenshots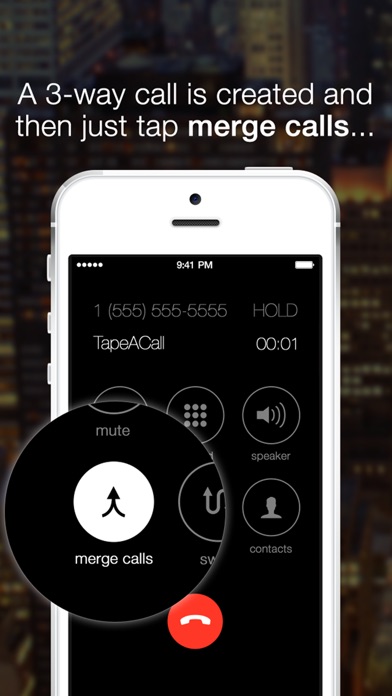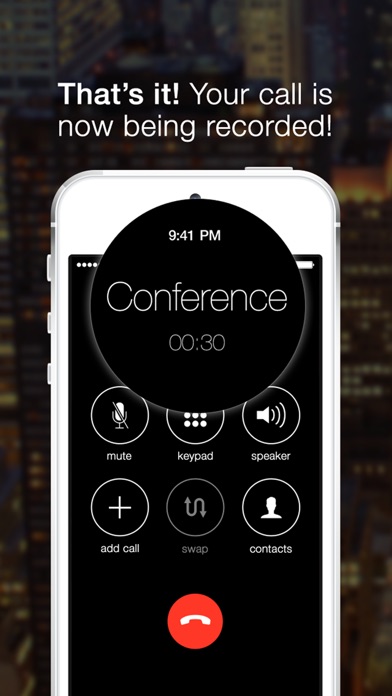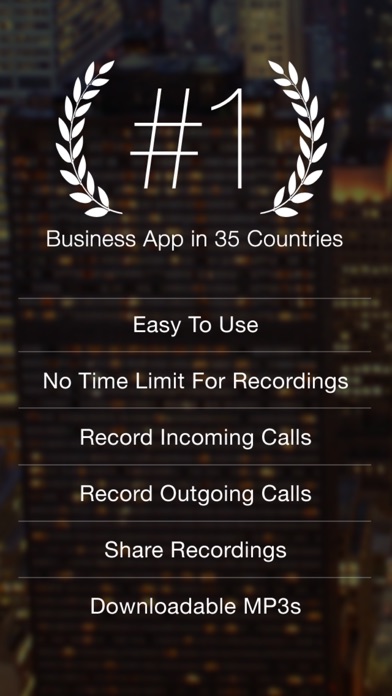 Customer Reviews
Legal, saved me THOUSANDS!!!
So this app has saved me thousands of dollars!! I recorded a call with an attorney making statements of X,Y,Z and those statements were completely FALSES AND LIES!! He thought "I getting away with it, what's he (me the client) is going to do, sue me... hahaha I'm a lawyer and he isn't!!" Well when he found out that I recorded the call LEGALLY he not only refunded me thousands but also I'm now a key witness in a federal case against him, along with many LEGAL RECORDINGS! He is facing being disbarred, which he deserves, how many others did he screw for years!??!!! Justice is being served via TapeACall!!

One call was over 45 minutes and recorded great and downloaded fine!

Love the shortened URL to download the audio file!

FYI, many states are "single party acknowledge", so when TapeACall makes its call and places the other party on hold, just state "I agree to this call being recorded" and then merge the call!)

While I don't like not being able to save locally, it isn't a limitation of the app but a limitation of iOS!

This was NOT a paid review but a happy customer that saved thousands!!
Keeping the record straight
This app is as important as your phone itself when conducting business. I have had many issues resolved immediately when I'm able to replay a conversation I had with a representative where I have taken care of an issue or signed up to have a service and the rep. did not follow through with their job concerning my account. The recording not only proves I did what I said I had already taken care of BUT ALSO informs the company of an employee who possibly was being hard to work with and/or neglected their duties.
When doing business; NEVER call or except a call without it!!!
If you want your phone to mess up, get this!
So I had this app on my iPhone for less than a week. Why you may ask? Because within a couple of days my phone started doing weird things like...
I Reset my data counter every month at 11:00 pm the night of the 1st per alarm. So on Oct 12th it said I had used up 2.9 GB. Turned data off then back on and it said suddenly that I had only used 816MB even though I never hit reset until the 1st of the month. Called phone co and they said I had used 3.9 GB.

Also, the phone was freezing up on me a lot. It froze in the settings, on reading some articles, etc. I have NEVER gone on questionable websites or downloaded things I'm not supposed to.

Then when I did a hard reset and turned it back on it showed the white Apple screen then goes black for a cpl seconds and then shows the white Apple screen again.

I checked my email and it wouldn't stop saying it's checking my mail even after the LTE stopped spinning.

ALL of these issues went away when I simply deleted this app! You should be doing a better job of checking these apps #Apple #AppStore. Creepy!

Btw, the print is larger because I noted all these issues so I can warn my thousands of followers. Yeesh!
View in iTunes
$11.99

Category:

Business

Updated:

Sep 22, 2017

Version:

3.5.0

Size:

63.0 MB

Languages:

English, Arabic, Bulgarian, Chinese, Croatian, Czech, Danish, Dutch, Estonian, Finnish, French, German, Hebrew, Italian, Japanese, Korean, Latvian, Lithuanian, Malay, Norwegian Bokmål, Polish, Portuguese, Romanian, Russian, Simplified Chinese, Slovak, Slovenian, Spanish, Swedish, Swiss German, Thai, Traditional Chinese, Turkish

Seller:

Epic Enterprises LLC
Compatibility: Requires iOS 8.0 or later. Compatible with iPhone.
Top In-App Purchases
Pro w/Completely Unlimited Recording$9.99
Word Searching$14.99
TapeACall Pro w/Completely Unlimited Recording$7.99
Pro w/Completely Unlimited Recording$8.99
More iPhone Apps by Epic Enterprises