Tehran Metro By Fardad Co
By Fardad Co
This app is only available on the App Store for iOS devices.
Description
اپ متروتهران مسیریابی در خطوط متروی تهران، اطلاع‌یابی از امکانات هر ایستگاه، مکان‌یابی مراکز شهری مجاور و مسیریابی خطوط تاکسی و اتوبوس منتهی به مترو را آسان و آفلاین میسر می‌کند.

مهمترین امکانات موجود در اپلیکیشن به شرح زیر است:

• نمایش نقشه تصویری و باز طراحی شده مترو بر اساس ایستگاه‌های کنونی

• امکان شناسایی خودکار نزدیک‌ترین ایستگاه مترو به عنوان مبدا و نمایش نقطه تعویض خط مترو برای ادامه دادن مسیر تا مقصد

•ارائه فهرست کلیه ایستگاه‌های مترو به همراه آدرس و امکانات داخلی آنها، شامل:
«سرویس بهداشتی، پارکینگ، مینی سوپر، اغذیه سرد، روزنامه همشهری، غرفه عطریات، کافی شاپ، کافی نت، فروشگاه موبایل، خدمات ایرانسل، مرکز خرید، خودپرداز بانک سامان، خودپرداز بانک پارسیان، خودپرداز بانک تجارت، خودپرداز بانک اقتصادنوین، خودپرداز بانک کشاورزی، خودپرداز بانک سرمایه، خودپرداز بانک دی و خودپرداز بانک سینا»

•نمایش برنامه زمانی حرکت قطارها به صورت جداگانه برای روزهای «شنبه تا چهارشنبه»، «پنجشنبه» و «جمعه و روزهای تعطیل سال» و نمایش قطارهای سریع السیر تهران-کرج باعلامت مخصوص

•نمایش اطلاعات مربوط به مراکز شهری مجاور هر ایستگاه، شامل:
«ورزشی، شهرک مسکونی، مذهبی، قضایی، فرهنگی، علمی و تفریحی، علمی، صنعتی، سیاسی، تفریحی، تجاری، پزشکی، نظامی، اقتصادی، اداری، تاریخی، رفاهی، خدماتی، رفاهی و خدماتی»

• امکان شناسایی مکانی نزدیک‌ترین ایستگاه مترو به مرکز شهری مورد نظر شما برای پیاده شدن در ایستگاه صحیح

•نمایش مسیر تاکسی‌ها از درب هر ایستگاه به مقصدهای مختلف و نیز نمایش اطلاعات خطوط اتوبوس‌رانی و مسیرهای رفت و برگشت آنها

•نمایش مسیرها و ایستگاه‌های مترو بر روی نقشه با اتصال به اینترنت

Introducing The Tehran Metro app, We provide users with opportunity of routing in Tehran subway lines, getting information about each subway station's features and facilities, detecting adjacent centers and finding taxi and bus routes leading to each station, in an offline and easy way.

The most important features of this app are:

Representation of the reformed subway map based on the current stations;

Automatic exploration of the nearest subway station as the beginning spot and displaying how to change line to arrive at a specific destination;

Listing all subway stations along with addresses and internal facilities such as: "rest room, parking, supermarket, fast food, newspaper stand, perfumery, coffee shop, mobile store, Internet center, Irancell services, shopping center, Saman Bank ATM, Parsian Bank ATM, Tejarat Bank ATM, EghtesadNovin Bank ATM, Keshavarzi Bank ATM, Sarmayeh Bank ATM, Dey Bank ATM, Sina Bank ATM";

Showing each train's timetable for different days in distinct categories, "Saturday to Wednesday", "Thursday", "Friday and Holidays" and specifying high-speed trains for Tehran-Karan line with a special sign;

Displaying the information related to adjacent centers to each station such as: "residential complex, sport, religious, cultural, judicial, scientific, entertainment, industrial, political, commercial, medical, military, economical, administrative, historical and amenity";

Capability to determine nearby station to the desired center;

Representation of the taxi routs from each station to different destinations and information about bus routes;

Possibility to display subway stations on the map with access to the internet.
What's New in Version 1.6
- افزوده شدن خط هفت
- رفع مشکلات گزارش شده توسط کاربران و بهبود عملکرد

-Add line 7
-Bug fixes
iPhone Screenshots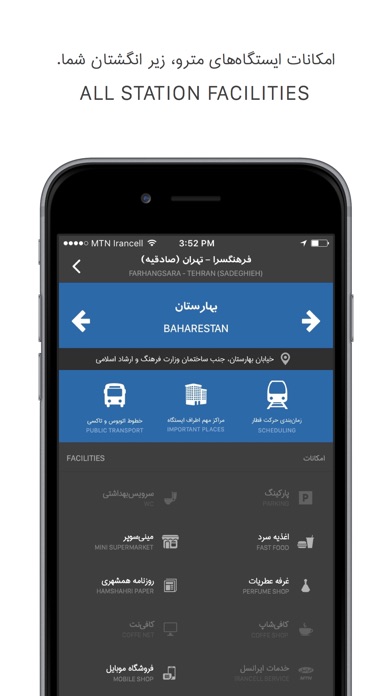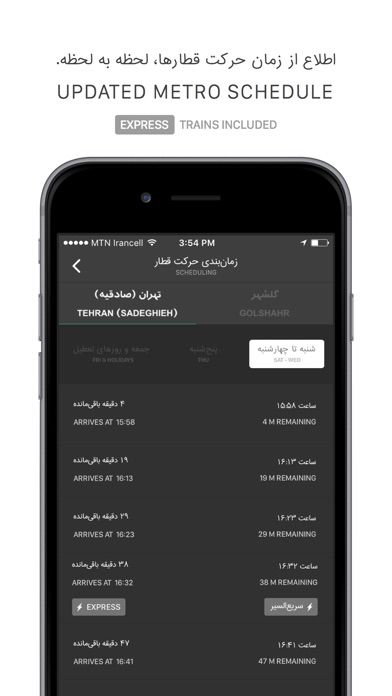 Customer Reviews
A complete app
I think this is complete for someone who wants to use tehran metro. But i think this should have timing capability and determining trip time.
This app should be updated with any variation in metro schedule as soon as possible.
Good
This is a useful map, just need to be updated. If u design a part that alarm the days you are going to fix the ways and its blocked it would be great
useful but should be updated and I'll be better if you can find places by their street names.
thank u very much.
View in iTunes
Free

Category:

Navigation

Updated:

Jul 04, 2017

Version:

1.6

Size:

30.3 MB

Language:

English

Seller:

Fardad Co
Compatibility: Requires iOS 7.0 or later. Compatible with iPhone, iPad, and iPod touch.
More iPhone Apps by Fardad Co