Texas 42 HD
By MaroonEntertainment
This app is only available on the App Store for iOS devices.
Description
Welcome to the Official State Domino game of Texas! Texas 42 is a trick taking game similar to bridge or spades. Invented in the late 1880s, it has become a tradition across generations of players.

The sole motivator for the development of this app has been to create an AI that doesn't make the users wish they spent their 2 dollars on a soda instead of frustrating computer play. Much work has been made into creating an AI that makes the same moves you would. Since you don't have the same play style as everyone else, you can set each computer player to have one of 3 specified play styles "Conservative", "Normal", or "Aggressive". You can mix and match these styles as you see fit and can change them at any time in the game.

A conservative player will tend to bid lower than the rest of the players. Its main focus when it has the lead is to draw all the trumps in play before moving on to non-trumps. If the conservative player does not have the highest trump, it will tend to lead with a junk/punt tile to draw out the higher ones, while holding on to tiles with count until it knows it can win with them.

A normal player will tend to bid higher than a conservative player. Its main focus is holding on to its trumps for cases where count is on the table. If it does not have the highest trump it will tend to attempt to punt to its teammate.

An aggressive player is a mixture of the two. It tends to push the bid to 31 or 34-36 with weaker hands than the other two and is more willing to bid marks if it has a strong hand. It is also willing to lay down trumps with 5 counts in an effort to draw out the ones covering the 10 count. Its more willing to play count at risk of hoping its partner will win the trick.

For bidding purposes, your partner will respond to your bid. If you bid 30, you are indicating to your partner that you have a helping hand and it will be much more likely to outbid an opponent win the bid.

-----------------------------------------------------
Here's what some beta testers have had to say about the app:

"The AI has been impressive for me so far, not a single play that I've seen has been stupid yet and I've probably played around 10 games. Very solid game for my experience"

"I really like your idea of the different styles of play and I think you are pretty close to that reality."

"To date it is the best one out there. I have never felt like I was playing true 42 on the other apps."
What's New in Version 4.3
Multiplayer fixes
iPad Screenshots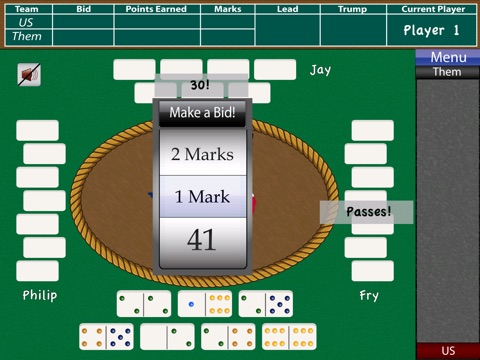 Customer Reviews
Horrible! Rigged
This game is Texas 42 in name only. I've been playing 42 for decades. Luck plays a huge part in being successful.
You can't win when one side virtually gets key doubles at least seven times out of ten! East - West will be dealt the trump 1, trump 2, trump 3 around seven of ten deals! Trump 4 is maybe six of ten times! By trump I mean the double of these suits.
If I were playing craps or poker and this happened, it would be shades of the old West. Gun smoke, etc.
The only way to get a barely even chance is to play the bones face up and base your bid accordingly.
Too bad, graphics are nice. Setting player styles is barely useful. No in between settings and whatever I have tried so far doesn't seem to have any effect. North bids and plays horribly and with no consistency. Too bad since it claims to be developed by a Texas A&M Aggie, hence the maroon colors.
Texas 42 HD
This is the only game I have on my iPad. Very enjoyable to play. I enjoy the bidding process, playing nello, and I like the way the score, the trumps, and the points earned are displayed. I sharpen my skills every time I play. I would recommend this game to anyone who enjoys playing 42 , nello, or splash.
Best 42 App
Well designed and authentic to the real game. Competitive levels are nice. In other apps your partner is liable to miss nuances, but this app knows when to throw count and cover 10-counts. Haven't used the add-a-player feature yet.
View in iTunes
$2.99

Category:

Games

Updated:

Aug 23, 2016

Version:

4.3

Size:

29.2 MB

Language:

English

Seller:

Mike Emery
Compatibility: Requires iOS 6.0 or later. Compatible with iPad.
Top In-App Purchases
Use Black Pips instead of Colored$0.99
Customize your table logo$0.99
Customize your domino$0.99
More iPad Apps by MaroonEntertainment