Text2Speech PRO
De LI JIANYU
Abre Mac App Store para comprar y descargar apps.
Descripción
★★★★★ Text to Speech, Text2Speech PRO, Export Sound to AIFF, MP3 ★★★★★

Text2Speech PRO is a text to speech utility !
Text2Speech PRO can help you export sound to AIFF, MP3 !

It is very easy to change the speaking rate, or to start, stop, pause, continue and select different voice. Meanwhile, Text2Speech PRO can export sound to AIFF, MP3 file and add to iTunes.

Text2Speech can help you read text with over 10 voices, Text2Speech supports non-English languages in OS X Lion.

When you run OS X 10.7 Lion you will be able to download additional voices from Apple for free. go to System Preferences -> Speech -> Text to Speech -> System Voice -> Customize... then choose additional voices to download (click 'OK' button). Once the download has completed relaunch Text2Speech PRO to use the new voices.

OS X Lion support these languages: English, Arabic, Chinese, Czech, Danish, Dutch, Finnish, French, German, Greek, Hindi, Hungarian, Indonesian, Italian, Japanese, Korean, Norwegian, Polish, Portuguese, Romanian, Russian, Slovak, Spanish , Swedish, Thai, Turkish.

▶ Input
TXT, RTF, DOC or Paste text

▶ Output
AIFF, MP3

▶ Feedback
Send your feedback to: hewbo.market@gmail.com
Novedades de la versión 1.37
1. bug fixes.
Capturas de pantalla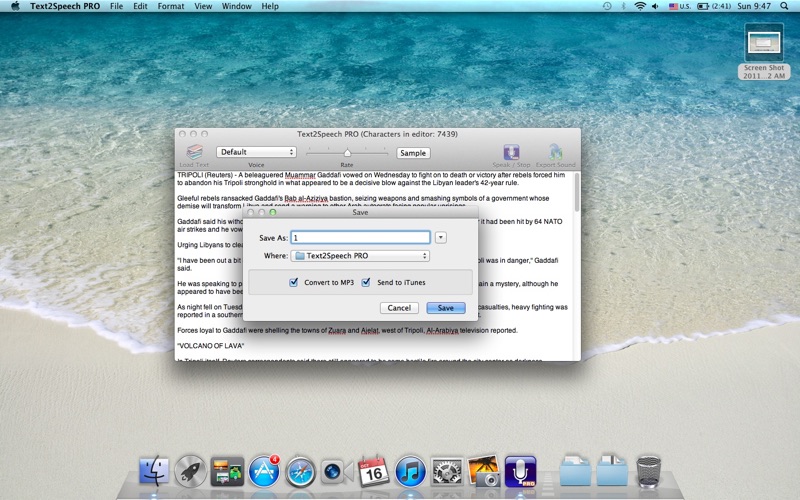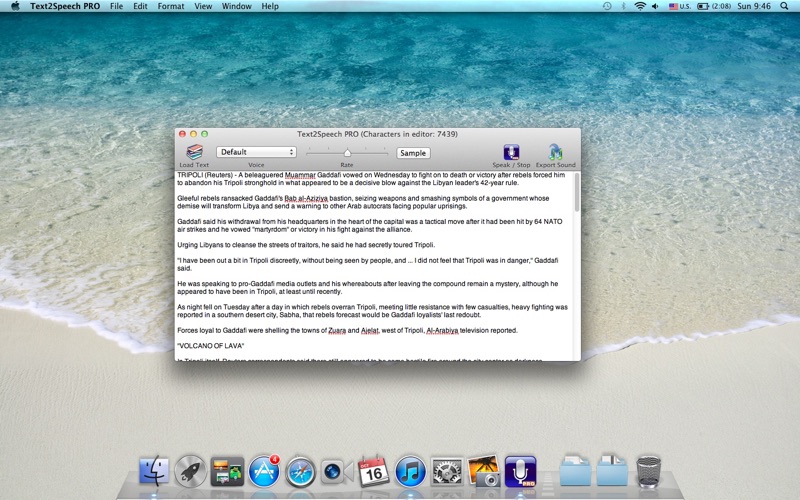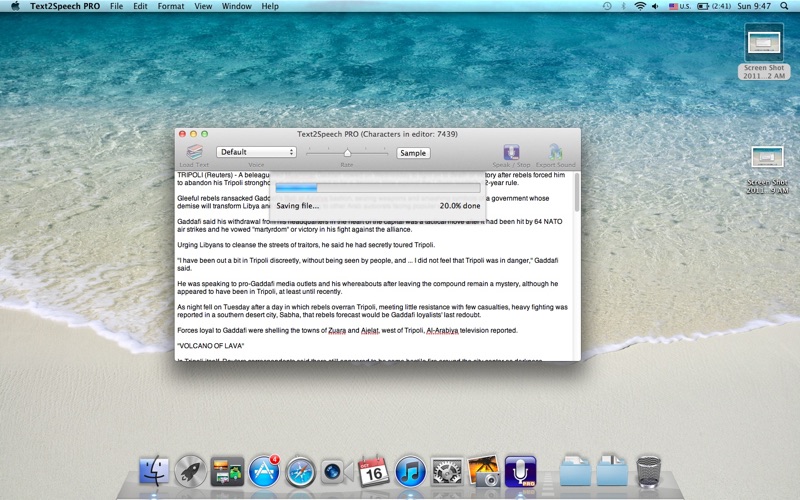 Reseñas de usuarios
Great for Laryngitis
A certain percentage of the adult population is sensitive to the same virus that causes croup in children. In grown-ups, it causes viral laryngitis. I'm one of the lucky ones!
I completely lose my voice about once every other year, for about 5-6 days. Extraordinarily frustrating— can't use the phone, can't order things at a restaurant. People think you're ignoring them when you don't talk to them. It's terrible.
So, I use this software to communicate when I can't talk. For that, it's nearly perfect. The only thing I would change is that I would have a hot key so I didn't have to use the mouse to press play each time.
I feel a little bit like Stephen Hawkins, but it works for me.
Problematic
I purchased this app specifically because it said that it will read TXT, RTF and DOC files. This was helpful because I wanted to automate converting txt files to audio using a folder action. Unfortunately, when you try and "launch" a txt file into Text2speech Pro, it tells you that TXT files are not supported. However, if you manually use file/open to open a text file, it works. This is a significant bug. The last update for this software was August 2013.

I went to the author's web page, and he no longer has any information about the app, leading me to beleve it has basically been abandoned by the author, with no hope of support or bug fixes coming down the pipeline. I haven't worked with it enough to see if there are any other significant bugs, because without that use case, it is not functional for me. That said, there are other reviews with people that have problems with the app, and I doubt they will ever see a new version.
Great voices, easy to use
After trying some expensive text-to-speech programs for Mac, I found that this one seems to actually have more clear (if less human-like) voices. It's easy to use and creates MP3 files quickly, though it doesn't have many bells and whistles. Plus, it's about 10X cheaper than most alternatives.
Ver en Mac App Store
$3.99

Categoría:

Productividad

Actualizado :

27/08/2013

Versión:

1.37

Tamaño:

1.8 MB

Idioma:

Inglés

Vendedor:

LI JIANYU
Compatibilidad: OS X 10.6 o posterior