Textilus - Microsoft Word Edition, Scrivener Documents & PDF Maker
By knowtilus
Open iTunes to buy and download apps.
Description
IMPORTANT NOTE:

- This app is an old version for iOS 8 and iOS 7 users.

Please, if you have installed iOS 9 or newer, please, download the new app TEXTILUS PRO.

If you are looking for a writing app with Scrivener support, please, download SCRIVO PRO.

# 10 REASONS TO UPGRADE TEXTILUS to the NEW TEXTILUS PRO

10 Powerful features only available on Textilus Pro:

+ Unlimited number of documents and nested folders
+ Create your own templates for new documents
+ Modify margins and paper sizes, MLA and APA style format support including document headers/footers, very useful for students and teachers
+ Protect individually your folders/notebooks with a password, very useful for iPads with more than one user in office, classroom or home
+ Use iCloud document syncing among all your devices
+ Install your own TrueType fonts. Over 60 high quality fonts included.
+ Full-text search engine: It allows you to search the contents of your document library
+ Offline/Online document sync with iCloud, Dropbox, Box, Google Drive, webDAV
+ Wi-Fi Transfer: transfer your documents between your iPad/iPhone and your computer via Wi-Fi with a web browser
+ Insert inline photos, signatures, charts and drawings in your documents. Compose sketches

Thanks!

Search for "Textilus Pro" or "Scrivo Pro" on App Store to find it.

Textilus Team
What's New in Version 5.5.9
IMPORTANT NOTE:

- This app is an old version exclusively for iOS 8 and iOS 7 users. Please, if you have installed iOS 9 or newer, please, download the new app TEXTILUS PRO. Thanks!

Search for "Textilus Pro" on App Store to find it.

Textilus Team
iPad Screenshots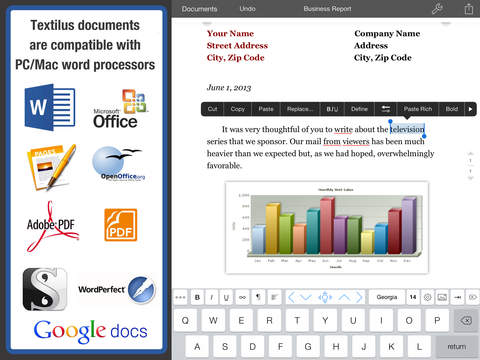 Customer Reviews
Good at what it does
This was worth the price of admission for the keyboard alone. Why Apple can't do that for us is beyond ridiculous.
True, formatting seems to take a hit in transfer either import in or out unless the original was an rtf to start with, like Scrivener. Frankly, I'm way too scared to dump a full on Sciv project into an iPad.
I like it for quickly getting things into the iPad because the keyboard and cursor keys make moving around a document a breeze. The real five star would be for Word iPad to get this interface and keyboard and life would be just about perfect. As it is I'm still more productive on a cheap Windows tablet than I am on the iPad but the iPad is a great noise toy for musicians which is why I haven't thrown it out the window looking for a way to be genuinely productive on it with a word processor.
If you want to enter text in a useable format and get around the screen without holding your breath and hoping your fingers go to the right place, this is the one.
DANGER WILL ROBINSON! AVOID!
It has been years since I've reviewed an app, which is probably a good thing here, because if I had reviewed Textilus when I first downloaded it (years ago), I would have given it 5 stars and potentially led many into this ticking time bomb of a black hole. I tried to update a while back, and now the app no longer opens properly; all I have is a blank gray screen (staring at a blank gray screen isn't very productive). What's worse, when I went to iTunes file sharing, in order to save my work on my PC and re-download Textilus. ALL OF MY FILES WERE GONE. Gasp! Whoosh! As if thousands of pages of work (backed-up, yes, but not recently) suddenly cried out in terror and were suddenly silenced. I tried emailing the app's support team, but to no avail. They don't seem to care. I'll bet if I emailed them and offered to pay their salaries for a year I'd get a reply. THE BOTTOM LINE: use this app at your own risk. It may work properly for years, and then one day decide to erase your work from existence. Is that a risk you're willing to take? Well? IS IT? I didn't think so. Peace, and happy writing.
Fantastic app for writers
I have purchased many text apps and found all of them lacking in certain features (not easy to synch, limited fonts, no custom keys etc...) but thanks to this app I have deleted all the rest. Textiles is an efficient, easy to use and highly functional app.

Great for writers since its very easy to keep your materials organized. Highly recommended with the added benefit of increasing your ipad real estate since you can delete all the others. I would give it 10 stars if I could.
View In iTunes
$9.99

Category:

Productivity

Updated:

Oct 22, 2015

Version:

5.5.9

Size:

61.5 MB

Languages:

English, Catalan, French, German, Hebrew, Italian, Japanese, Korean, Portuguese, Russian, Simplified Chinese, Spanish

Seller:

Umanify
Compatibility: Requires iOS 7.0 or later. Compatible with iPad.