The 7th Guest
By Trilobyte Games, LLC.
Open the Mac App Store to buy and download apps.
Description
"Welcome to my ... house!" Old Man Stauf built a house and filled it with his toys. Six guests were invited one night, their screams the only noise…

* #4 Top Paid Game in the US on 3/21!
* 3/15 featured by Apple as New and Noteworthy!

In the world of The 7th Guest, you are an active and mysterious entity known only as "Ego". Your role, identity and purpose is not known or explained, rather, it is experienced as a seamlessly integral part of the total environment that is the Stauf mansion. Because you are looking out from within, you cannot see yourself, but your inner spirit has a voice. Listen to it.

The house of The 7th Guest is filled with 19 devilishly clever puzzles that will test your wits and scare you out of them as well. To complete the game you must solve every puzzle in the house - only then will the secrets of the madman Henry Stauf be revealed to you.

"My father purchased The 7th Guest for me as a child and it terrified me to the point of having him return it. With my increase and courage and the scary images being smaller, I think I can handle it now." - Geek Tyrant 

"Many gamers won't remember The 7th Guest, either because they didn't have the groundbreaking technology of a CD-ROM drive in 1993, or they hadn't been born yet. We remember The 7th Guest being an incredibly creepy game that snared our young imaginations and helped shape our minds as gamers." - Slide To Play

Bill Gates called this game "The new standard in electronic entertainment."  

✵✵✵✵✵ Awards ✵✵✵✵✵

1995 Interactive Academy/Cybermania Awards - Best CD Game
1994 Multimedia World Readers' Choice Award - Best Entertainment Title
1994 Computer Game Review - Golden Triad Award
1994 New Media Invision Awards - Award of Excellence
1994 New Media Invision Awards - Gold-Creative Excellence for Best Animation/Graphics
1994 PC World Class - Best CD-ROM Game / Adult
1994 Electronic Entertainment 1st Annual Editors' Choice - Breakthrough Game
1994 Computer Gaming World Readers' Poll - No. 1 Rated Game

✵✵✵✵✵ Features ✵✵✵✵✵✵

Ghostly, full-motion video
Supernatural Cinematic Sequences
Improved Soundtrack by "The Fatman"
Original Groovie Game Engine
20 Difficult Puzzles
Hidden Clue Book
Hidden Rooms
Original Game Manual
Original Video "The Making of The 7th Guest"
The Stauf Files
Mysterious Storyline

✵✵✵✵✵ System Requirements ✵✵✵✵✵

Mac OS X 10.6 or later
ATI or NVidia graphics chip
960MB free disk space

See the original trailer at http://www.trilobytegames.com/.
Follow us on Twitter @trilobytegames and join us at http://www.facebook.com/trilobytegames/
What's New in Version 7.1
* Full screen support for Lion and Snow Leopard
* Various minor bug fixes
Screenshots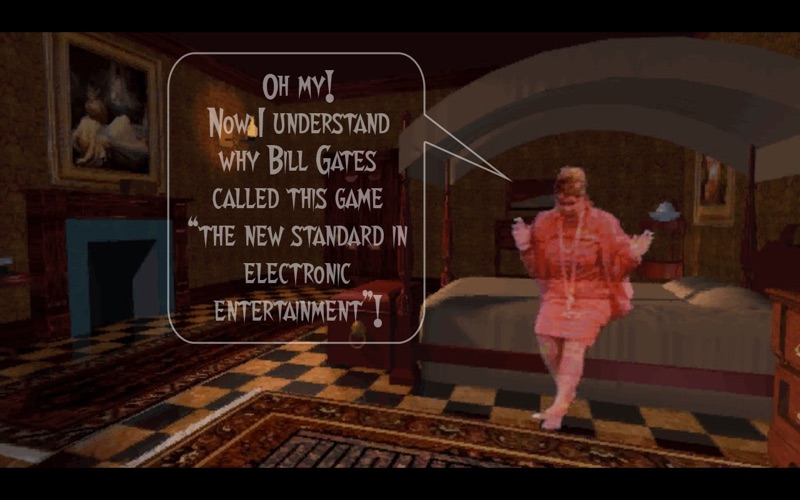 Customer Reviews
Great game but incomplete
This was one of my favorite games back when it was originally released so I definitely enjoyed playing it again. The one thing that bothers me is that the microscope puzzle is missing. That was one of my favorite puzzles (more of a mini-game really) and I was eagerly anticipating playing it again. For my $10, I'd like the complete game please. Also, I wish there was a way to skip some of the audio, video, and animation sequences because it can get a bit old when you're in the maze, for instance, and at every dead end you hear the same audio clip and are forced to wait for it to finish before regaining control.

Overall though, I'm happy to have the game again and I suppose $10 isn't too much to ask for the joy of being able to recapture a bit of my youth. And for anyone complaining about the graphics, you have to remember that this game was released in 1993. Back then the graphics in this game were stunning, and they're still not bad (not counting the video clips). Besides, the game could be rendered in ASCII characters for all I care, as long as the puzzles remained the same because that's the great part.
Worth every penny
Playing this brought me back to my childhood :) Sure, the acting is a bit cheesey, but the puzzles are fun and many of them were quite challenging and had me thinking about how to solve them when I wasn't playing the game. I especially enjoyed the window puzzle at the end. In response to a previous reviewer who claimed the game could not be completed, that is not true because I completed it. There are some puzzles from the original game that are not in this game (spider, piano and microscope puzzles), which was confusing at first, until I discovered that the attic door was open. If you get stuck, you just have to walk around and see if there are any doors that have been unlocked since you last tried them or if there are any new "visions" to be seen. The only reason I don't give it 5 stars is that some of the puzzles were too easy in my opinion. But the $10 was definitely well spent.
Glad it's here on iOS, but….
So I am rather happy that this game has made it to Mac. However, there are a few bugs (listed below) which brought my overall score down to three stars. Please note that I am running the game on OS 10.7.5, so it should be fine --

1) After saving and exiting the game the app hangs up and requires the task manager to end the program (otherwise it continuously loops back to the main menu).
2) Checking the clue book for a third time brings up the message "puzzle is solved" and allows the user to proceed to the next level w/o having actually solved the puzzle.
View in Mac App Store
$4.99

Category:

Games

Updated:

May 25, 2012

Version:

7.1

Size:

885 MB

Language:

English

Seller:

Trilobyte Games, LLC
Compatibility: OS X 10.6 or later