The Bill of the Rights
By Ubiklabs
This app is only available on the App Store for iOS devices.
Description
In the United States, the Bill of Rights is the name by which the first ten amendments to the United States Constitution are known.[1] They were introduced by James Madison to the First United States Congress in 1789 as a series of articles, and came into effect on December 15, 1791, when they had been ratified by three-fourths of the States. Thomas Jefferson was a proponent of the Bill of Rights.[2]
The Bill of Rights prohibits Congress from making any law respecting an establishment of religion or prohibiting the free exercise thereof, forbids infringement of "...the right of the people to keep and bear Arms...", and prohibits the federal government from depriving any person of life, liberty, or property, without due process of law. In federal criminal cases, it requires indictment by grand jury for any capital or "infamous crime", guarantees a speedy public trial with an impartial jury composed of members of the state or judicial district in which the crime occurred, and prohibits double jeopardy. In addition, the Bill of Rights states that "the enumeration in the Constitution, of certain rights, shall not be construed to deny or disparage others retained by the people,"[3] and reserves all powers not granted to the federal government to the citizenry or States. Most of these restrictions were later applied to the states by a series of decisions applying the due process clause of the Fourteenth Amendment, which was ratified in 1868, after the American Civil War.
iPhone Screenshots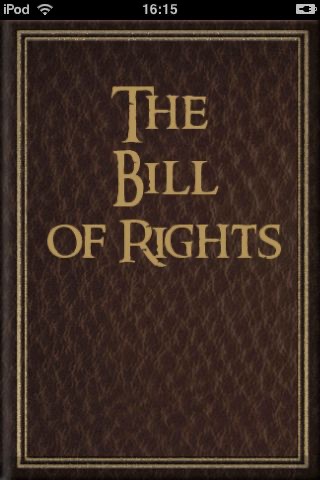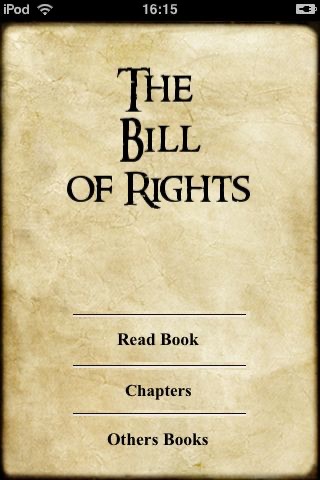 View in iTunes
$1.99

Category:

Books

Released:

Sep 20, 2009

Version:

1.0

Size:

1.4 MB

Languages:

English, French, German, Italian, Spanish

Seller:

Diego Dominguez Ferrera
Compatibility: Requires iOS 3.0 or later. Compatible with iPhone, iPad, and iPod touch.