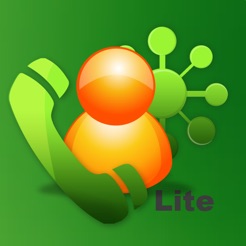 Description
* Introduction
Completely replacing the built-in calling function of iPhone, the Caller has diverse basic and enhanced functionalities related to calling and contact management. Along with its powerful calling features and fast startup time the Caller will enhance user convenience and usability of the contacts with its unique contact management.

While designed to offer basic/enhanced calling experience, the Caller also has many other easy-to-use functionalities such as T9 search, speed dialing, search tab, easy selection and various log management.

The Caller supports asynchronous background loading, so you do not need to wait until all the contacts are loaded. To further enhance the usability, the Caller adopted a concept of 'Linkee' and 'Link' Based on a useful concept called 'relationship' The Caller will make your contacts more usable and valuable.


* Features
-Very fast startup time
-Fast contacts loading for sorted contacts
On iPod 2nd: Under 2 seconds for 1,000 contacts. Under 6 seconds for 5,000 contacts
On iPhone: Under a second for 500 contacts or under 2 seconds for 5,000 contacts
-Asynchronous loading of contacts
-Easy to use of call, SMS, email
-Smart Recent
-Analyze Contacts
-Keyword search support
-Highly usable function of linking relationship between contacts
-Grouping of related items with Linkee
-Fast and convenient link navigation
-Highly usable speed dialing functionality
-Support T9 in searching contacts
-Easy to make links of selected items or to add them to a group
-Fast contact input
-Support addition, deletion and renaming of a group
-Support full search of items in contacts
-Support keypad vibration for keypad

* Limitation
The Caller Lite has 4 limitation.
-Splash screen will be randomly appeared 10 times in a day
-Can only link Person to Linkee
-Can import and analysis only once
-Can't link selected items.

* Linkee and Link of The Caller
With the Caller, turn your monotonous contacts into a social networking tool. Human brain has an inconvenient feature of forgetting unnecessary information quickly. However, such feature helps us concentrate on more important information stored in limited memory space. Then, how can the brain find forgotten memories? It uses linked information called relationship. It is similar to a mind map application or a link in a web search engine.

Your contacts have diverse information waiting to be linked. Contacts related to your family, brothers, cousins, businesses, lovers, relatives, and so on, and there is additional information which can be used to link these contacts, such as Toni's lover, Emily's family, Rich's friend, etc. Even an independent contact can be linked in this way. All these information is available around you. Toni's lover may be Rick's family or Allen's colleague. A person listed in your contacts is spouse of your colleague but also a member of your social club or a relative of a friend. Can you remember all of these relationships?

Although the number of items in your contacts may be limited, but you can create significant relationship from these. That is, you are the center of all of these things. Any popular keyword matching system used in other similar applications shows all the items they can find, but the Caller is designed to enhance its usability by querying your contacts step-by-step to find the information based on pre-linked data.

You can link several contacts to augment the value as you want. You do not need to worry about people to whom you cannot think of any relationship. The Caller will assist you to find related contacts more easily after you find a specific person or information you remember. This is the unique Linkee and Link functionality of the Caller, for which more diverse functionalities can be added easily. This is a huge leap from a simple keyword searching of other contact management applications.

Add search box on contacts and tags list.
Improve UX/UI.
Fix crash bug.
Add search button on Link view.
Ratings and Reviews
Stupid
This app is the cruddiest thing ever it does not work on your iPod it only works on your iPhone which makes no sense because you can already call on your iPhone don't waste your time downloading this app it's crud
No ipod?
Nicely set up but i cant use it on the ipod it says i cant use sms or calling and i have headphones with microphone
Information
Seller

Eun K Lee

Size

4.3 MB

Category

Compatibility

Requires iOS 3.0 or later. Compatible with iPhone, iPad, and iPod touch.

Languages

English, Korean

Age Rating

Rated 4+

Copyright

© Trilinkee

Price

Free
Supports
Family Sharing

With Family Sharing set up, up to six family members can use this app.