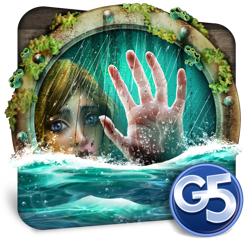 The Cursed Ship, Collector's Edition
12+
Free
Offers In-App Purchases
Description
Head out to sea to reveal the shocking secrets of the Cursed Ship!
The Ondine, the biggest and most luxurious cruise ship ever built, departed on her maiden voyage. But her enormous pools, ornate casinos and grand ballroom were never seen again. Now the Trident Corporation has sent you to locate the ship and rescue the remains. During this dangerous mission, you lose all forms of contact, discover a mysterious mirror and find yourself in a very odd place, where everything happening around you is somehow occurring in two parallel worlds!
Which world is real, and which one is just a hallucination? Are the people you meet really alive … or are they ghosts? Search every deck of the gigantic ship for clues, solve challenging puzzles and master entertaining mini-games on your way to the breathtaking truth!

TRY IT FREE, THEN UNLOCK THE FULL ADVENTURE FROM WITHIN THE GAME!

● Over 100 quests to solve
● 66 amazing locations to search
● 43 fun puzzles and mini-games
● Six enigmatic characters to question
● Two game modes: expert and regular
● Game Center Support
____________________________

Game available in: English, French, Italian, German, Spanish, Portuguese, Brazilian Portuguese, Russian, Korean, Chinese, Japanese
____________________________

Sign up now for a weekly round-up of the best from G5 Games! www.g5e.com/e-mail
____________________________

*** G5 Games - New game apps every week ! ***

Collect them all! Search for "g5" in Mac App Store!

Adventure:

▶ The Secret Society® - Hidden Mystery
▶ 9 Clues: The Secret of Serpent Creek
▶ Nightmares from the Deep: The Siren's Call
▶ Mystery of the Opera
▶ Tales from the Dragon Mountain: the Lair

Strategy:

▶ Virtual City Playground®
▶ The Island: Castaway® 2
▶ Supermarket Management 2
▶ Stand O' Food® 3
▶ Virtual City®
____________________________

VISIT US: www.g5e.com
WATCH US: www.youtube.com/g5enter
FIND US: www.facebook.com/g5games
FOLLOW US: www.twitter.com/g5games
G5 End User License Supplemental Terms: http://www.g5e.com/G5_End_User_License_Supplemental_Terms
Ratings and Reviews
It's the Titanic on steroids with ghouls!
I am really digging this game! I just can't seem to stop playing it. i love the whole idea of a storyline within a game. I love the guide or hint button which makes it more easier to understand and play. I'm not too great at playing these type of games but it definitely helped me knowing there's a hint button to help out when needed. Love all the twists and turns and interaction. My only suggestion for improvement is I wish some of the characters had a bit more movement. For example, the captain just stands there when you enter the bridge. It mightt be more enjoyable if he and other characters would have dialogue which might help to find clues or something. Other than that, can't wait for the sequel if there is one!
Great
I love all these types of games and I was especially excited to play one on a ship! I would like to spend more free roaming time in one of these games and decied which room I would like to stay in and find things for myself. I don't know exactly why everyone else plays these hiddin objects games, but I like to play them to go in all the rooms and look around and find things. It is fun to have a story line and mission, however my dream is to find a game that literally has tons of rooms and places and says….no pressure, no plot, just enjoy all our great graphics and find hundreds of objects anywhere you chose. And then when you have done it in the order of choice, it will be then over. What this offers is what it says and I think anyone would enjoy it.
The Cursed Ship
I just started playing the game and you wanted a review. So far it is good like all of your games. But just one suggestion, please let us get more into the game before you interrupt us for a review. Otherwise you will not get an honest opinion of the game from your customers. We need time to get the feel of the game to see what it is about and how we will react to it. Trust me, you will get better reviews and more honest reviews this way. By the way, if I get interrupted again during one more of your games for a review, I will leave a more negative review next time. I like to leave my reviews after I have completed playing the game so I can give my BEST AND HONEST opinion. Thank you.
Information
Seller

G5 Entertainment AB

Size

755.1 MB

Category

Compatibility

OS X 10.7.4 or later

Languages

English, French, German, Italian, Japanese, Korean, Portuguese, Russian, Simplified Chinese, Spanish

Age Rating

Rated 12+ for the following:

Infrequent/Mild Realistic Violence

Infrequent/Mild Horror/Fear Themes

Infrequent/Mild Cartoon or Fantasy Violence

Copyright

© 2014 - 2019 G5 Holdings Limited. Published by G5 Entertainment AB. All Rights Reserved.

Price

Free
Supports
Game Center

Challenge friends and check leaderboards and achievements.

Family Sharing

With Family Sharing set up, up to six family members can use this app.