THE KING OF FIGHTERS-i 002
De SNK CORPORATION
Esta app solo está disponible en App Store para dispositivos iOS.
Descripción
Detalles:

¡La mítica serie de juegos de lucha en 2D, "KOF", ahora en iPhone/iPod touch!
Los magníficos gráficos de alta resolución en combinación con el Virtual Pad te permitirán experimentar la lucha con inusitado realismo. Asímismo, los más complejos movimientos marciales podrán ser ejecutados con gran sencillez gracias al innovador sistema de controles.
Este juego no es solo para los jugadores experimentados. ¡Los novatos también sois bienvenidos si queréis probar vuestras habilidades de lucha en esta nueva experiencia de "KOF"!

Características:

* ¡Hasta 4 modos de lucha para un jugador!
Pelea de 3 a 3 en el modo "Team Battle" o de 1 a 1 en el "Single Battle". Mira cuántos oponentes puedes derrotar en el modo "Endless", o practica los combos con el Virtual Pad en el modo "Training".

* ¡Cromos e imágenes de regalo!
Puedes ver todos los extras si desblqueas el Gallery Mode. ¡Si eres un auténtico fan de la serie, no dejes pasar la oportunidad de hacerte con todos los cromos, tarjetas con ilustraciones hechas a mano y otro tipo de artículos como tebeos e incluso animaciones de "KOFXIII"!

* ¡Intercambia y lucha con otros jugadores en cualquier lugar y momento!
Usa el Bluetooth para conectarte con otros terminales que estén en la misma zona. ¡Júntate con tus amigos para echar una partida! ¡Aumenta la diversion hasta límites extratosféricos gracias al intercambio, el replay de luchas etc.!

* ¡Los luchadores más fieros de la historia ya están aquí!
¡Los 13 luchadores, incluyendo al protagonista Kyo Kusanagi, K' y también Ash Crimson, luchan junto a Billy Kane, de "Fatal Fury"!

*"Iori Yagami", "Mature", "Vice", "Elisabeth Branctorche", "Shen Woo", y "Duo Lon" se unen al
elenco original de 14 personajes de "THE KING OF FIGHTERS-i" ¡para un total de 20 luchadores
disponibles! Estos 6 nuevos personajes incrementan el número posible de equipos, permitiéndote
crear equipos que se ajusten a tu estilo de lucha. Además de estos personajes adicionales, nuevos
cromos e ilustraciones han sido agregados, ¡que puedes disfrutar en cualquier momento en el
modo "Gallery"!
Novedades de la versión 1.03.00
* Soporta versión iOS5.0 o superior.
* Se ha corregido un error que se produce en Ver1.02.00.
----------------------------------------------
*[IMPORTANTE] Advertencia sobre iOS 11
Debido a problemas de compatibilidad con el nuevo iOS 11, es posible que la aplicación no funcione de forma correcta.
Sentimos los inconvenientes causados a todos los usuarios. Rogamos su comprensión.
Capturas de pantalla del iPhone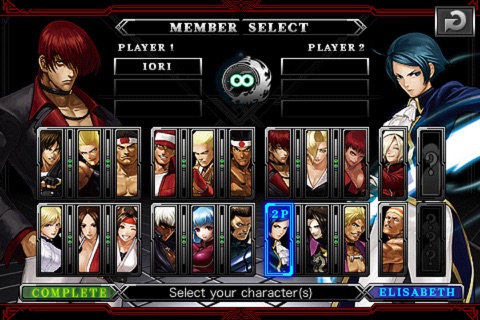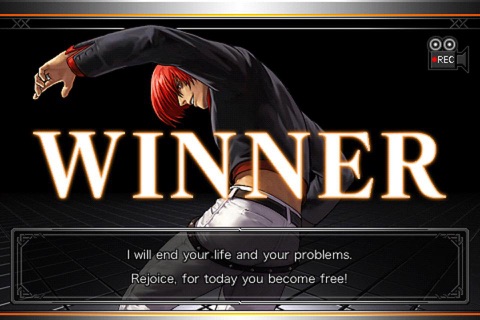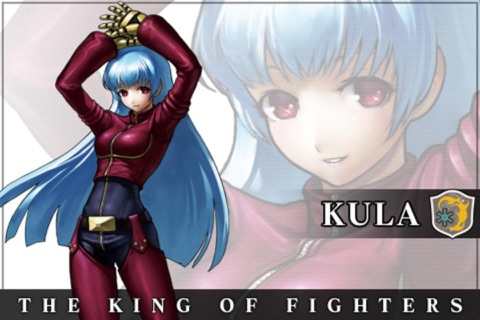 Reseñas de usuarios
Surprisingly great
This was a surprisingly excellent iteration of King of Fighters. The button layout is customizable, so after a little bit of fiddling I was able to find a position to make Drive Cancels flow like water. The animation is fantastic and game looks gorgeous (particularly the character sprites and the Super Moves). The fighting mechanics are smooth, fast, responsive KOF standard and they work well on the pared down controls (i.e. a touchpad joystick and 5 buttons -1 punch, 1 kick, 1 "Special" (for EX moves or easy specials), 1 evade, and 1 to turn on Hyper Drive).

There are also more than enough modes and extras Training (inc. move lists and combo training), 1vs1, Arcade 3vs3. There's a gallery mode with unlockable artwork and "card-collecting" system using in-game points for even more bells and whistles. There's also Bluetooth VS for playing against other people (no WiFi, unfortunately), but KOFi is perfect for short bursts of single player Arcade when you have a few minutes.

Overall very worth it.
Love it
I have never played kof before this game and I can safely say that I love it. I'm honestly glad they came out with a new version so they would lower the price of this one (as $7 is to much). I love the graphics, sound, and controls. You have a variety of game modes to keep you entertained and trading cards to collect. One last thing for those rating this game low because they came out with a new one. It's a fighting game franchise. This is to pretty much be expected. Anyways all in all, great game.
Great Game for $0.99
What a great game for $.99. I haven't completely figured out the controls yet, but really fun. I also bought Street Fighter vs Tekken for the same price. For some reason I think the moves are easier to pick up on Street Fighter. Cool to have this game right there on my iPhone. I got this instead of 2012 version just because it took up less space. I'm running 5.? on a iPhone 4. I hope the update to newer phones and os's Get this game.
Ver en iTunes
$2.99

Categoría:

Juegos

Actualizado :

23/03/2012

Versión:

1.03.00

Tamaño:

403 MB

Idiomas:

Inglés, Japonés

Vendedor:

SNK CORPORATION
Compatibilidad: Requiere iOS 4.1 o posterior. Compatible con iPhone 3GS, iPhone 4, iPhone 4s, iPhone 5, iPhone 5c, iPhone 5s, iPhone 6, iPhone 6 Plus, iPhone 6s, iPhone 6s Plus, iPhone SE, iPhone 7, iPhone 7 Plus, iPhone 8, iPhone 8 Plus, iPhone X, iPad, iPod touch (3ª generación), iPod touch (4ª generación), iPod touch (5ª generación) y iPod touch (6ª generación).
Más Apps para iPhone de SNK CORPORATION