The Lord of the Rings: War in the North
By Feral Interactive Ltd
Open the Mac App Store to buy and download apps.
Description
In the battle for Middle-earth, a new Fellowship is born.

Before you buy, expand this description to check the system requirements below.

NOTE: If you experience problems launching the game, check you are signed into Game Center, then try again.

Sauron's dark forces are marching and a small band of heroes is all that stands before them. Together, Eradan the Ranger, Andriel the Elf and Farin the Dwarf embark on an epic journey across frozen mountain ranges, ancient forests and mighty citadels to protect the North from his terrible power.

The Lord of the Rings: War in the North is the untold story of those heroes and the unbreakable Fellowship they formed. A compelling combination of visceral action and immersive role-playing that can be played in single-player mode or with friends in co-operative multiplayer mode over a local network connection.*

Key features:

• Take on the might of Sauron's forces alone in single-player mode or invite friends to form a Fellowship in local network multiplayer mode.*

• Discover an untold story of the war in the North of Middle-earth, inspired by J. R. R. Tolkien's renowned The Lord of the Rings trilogy.

• Engage in brutal combat with your blade, bow, axe or magic and summon Beleram, one of the Great Eagles of Middle-earth, to fight alongside you in battle.

• Develop the Fellowship's unique skills, customize their appearance and upgrade their weapons, equipment and armor.

• Forge a new path through unexplored domains of Middle-earth as well as legendary locations such as Rivendell and the Misty Mountains.

*Multiplayer is only available on a local network and does not have an online element.


Important information regarding The Lord of the Rings: War in the North:

• If you require assistance, please contact our support team at support@feralinteractive.com

• Minimum System Requirements: Processor: 2.0GHz, RAM: 4GB, Graphics: 256MB, Free Space: 11GB.

• The following graphics cards are not supported: ATI X1xxx series, ATI HD2xxx series, Intel GMA series, Intel HD3000, NVIDIA 9400, NVIDIA 3xx series, NVIDIA 7xxx series and 8xxx series.

• The following graphics card requires 8GB of system RAM: Intel HD4000.

• This game is not currently supported on volumes formatted as Mac OS Extended (Case Sensitive).

• You can find out more about the game on The Lord of the Rings: War in the North mini-site at feralinteractive.com/lotrwin


THE LORD OF THE RINGS: WAR IN THE NORTH software © 2013 Warner Bros. Entertainment Inc. Originally developed by Snowblind Studios, Inc. All other trademarks and copyrights are the property of their respective owners. All rights reserved. © 2013 New Line Productions, Inc. All The Lord of the Rings content other than content from the New Line films © 2013 The Saul Zaentz Company, d/b/a Middle-earth Enterprises ("SZC"). The Lord of the Rings: War in the North, The Lord of the Rings, and the names of the characters, events, items, and places therein are trademarks or registered trademarks of SZC under license to Warner Bros. Interactive Entertainment. Developed by and published on the Mac by Feral Interactive Ltd. Mac and the Mac logo are trademarks of Apple Inc. registered in the U.S. and other countries. Feral and the Feral logo are trademarks of Feral Interactive Ltd. All other marks and trademarks are the property of their respective owners. All rights reserved. SNOWBLIND STUDIOS LOGO, WB GAMES LOGO, WB SHIELD: ™ & © Warner Bros. Entertainment Inc. (s13)
What's New in Version 1.0.1
• Improves performance on AMD and Intel graphics cards.
• Fixes a bug which prevents running on 4GB graphics cards.
• Fixes a number of minor issues.
Screenshots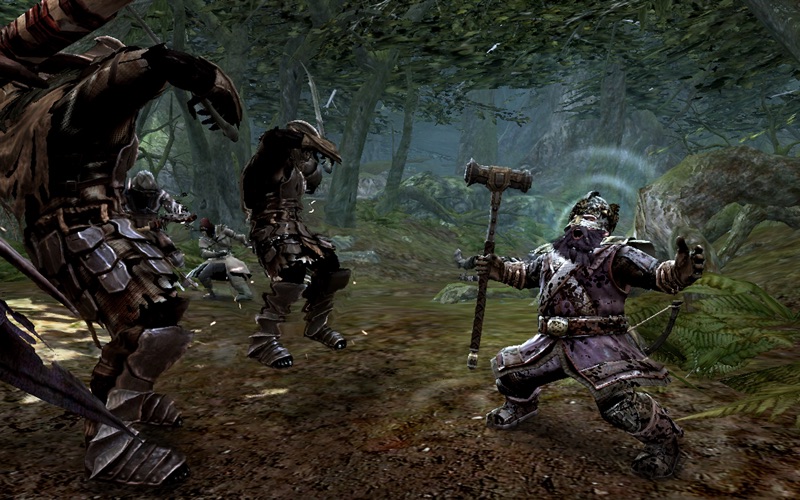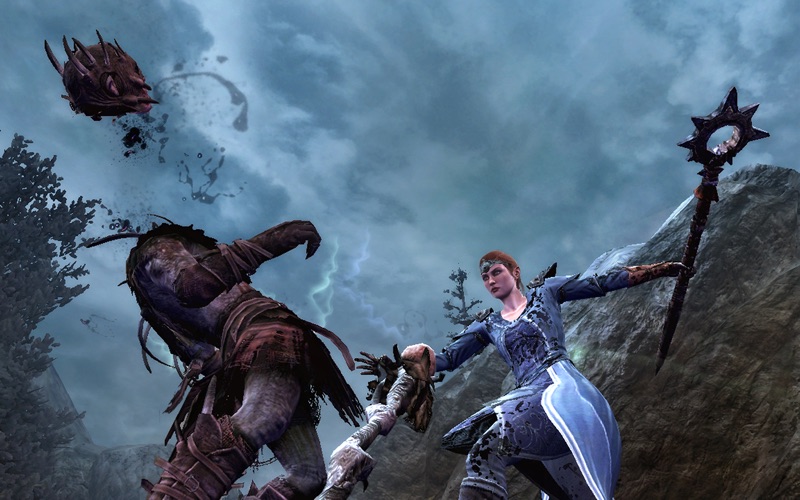 Customer Reviews
Great game!
Running on a 2012 iMac this game works great, runs smoothly and has a lot which can be done! Gameplay is smooth, no freezes or trouble spots so far and for those wondering if it supports a gamepad, just plug in an xbox controller and it works great!

Edit: The latest update should fix the lag issues which some on here have noticed, there was one particular chapter on my iMac which I found would lag if the camera was pointed in one direction, so I proceeded to email Feral and received a quick reply about the problem and asking for more information. Within a few days I found out that Feral was already working on a patch to fix the issue and would soon have an update to resolve the problem which I was experiencing. The customer service of Feral alone is worth a 5 star rating, most developers wouldn't take the time to fix the problem so quickly but they did and it appears the problem has been resolved in this new update.
Fun game, worth the price
I paid $20 for this game and it was well worth it. I was drawn to this game from my previous love of Middle Earth and this game satisfied my need for a new story within Middle Earth. The world feels like the ME of the films and draws upon some content from the books and films. The singleplayer is very fun and a nice time killer. The multiplayer is even more fun! Technically Feral did an amazing job porting the game. I had no problems running it on my late 2014 macbook air and I could run the game on fairly high visual settings too.
When it comes to the actual game it felt a little short to me and the game is very much on a straight go here do this basis with little to no freedom. You don't really get to explore Middle Earth beyond the levels and all the characters felt pretty dry.

Overall this game is very fun to play alone or with someone. It's great for Middle Earth lovers and it's totally worth the $20!
Runs Great but not with El Capitan
I throughly enjoyed playing this game and was progressing through the characters - dwarf, ranger and elf until . . . I upgraded to El Capitan. Now I can only hope to open the application once in 20-25 attempts. The first time I attempted to use it after the OS upgrade, it changed my user name to Newstar54 then promptly crashed. I've yet to receive a response from Feral or Apple. It would be nice to know if they intend to provide an update to fix the problem. A simple acknowledgement that they are aware of the problem if nothing else.
View in Mac App Store
$19.99

Category:

Games

Updated:

Oct 30, 2013

Version:

1.0.1

Size:

7.29 GB

Languages:

English, French, German, Italian, Japanese, Korean, Polish, Portuguese, Russian, Spanish

Seller:

Feral Interactive Ltd
Compatibility: OS X 10.7.5 or later