The Meeting App
By Action Day
Open iTunes to buy and download apps.
Description
The Meeting App by Action Day® Layout Designed to Run Effective Meetings
With the Meeting App you can make every meeting matter, because you have a layouts and tools to manage and take actions before, during and after the meeting:

BEFORE THE MEETING
Meeting Planning

Meeting Title (the purpose of the meeting)
• Location – Choose a location suitable to your group's size
• Attendees – Identify who really needs to be there
• Calendar Invitation and Agenda - Create an agenda, list of topics, presenter(s) and time.
• Timer – Choose an appropriate meeting time and set a time limit
• Tagging – The app comes with a few default tags. (With the Pro version you can tag your meetings any way you see fit).
• Sharing –Distribute the agenda so members will be prepared (With the Pro version you can distribute the agenda as a PDF file).

The Meeting App connects with the Calendar, Maps and Contacts on your iPad.


DURING THE MEETING
• Timer — The timer tracks the length of the meeting and alerts you via visual cues.
• Agenda — Your agenda is on the screen, so it's easy to stick to it.
• Notes — You can create as many notes as you see fit in the note area. You can handwrite, type the text, create a mind map, record video, import pictures or record audio. You also have a handy calculator.
Action Items — Close with an action plan (actions to be taken, by whom and when). All items placed in the Action Items list will be displayed in the Action Pool.
• You can delegate action items to individuals and identify them by pressing the @ sign. You can set a due date for the item and send an email to notify the individual.
• You can share meeting notes as PDF files.


AFTER THE MEETING
All Actions list summarizes all action items developed during the meeting, giving you an overview of tasks to be done. When a task has been completed, you can mark the action item as done. With the Pro version, you can filter your action items by pulling down the filtering menu in the action pool. The All Actions list makes it easier for you to check progress and ensure that tasks are taking place as agreed.

The Meeting App is free to download and use.

The Meeting App Pro does not allow advertising and offers more great features, including the ability to send the agenda as a PDF file so members will be prepared and to check action progress and ensure that tasks are taking place as agreed. (The Meeting App Pro costs $2.99 a month or $29.99 a year through an in-app purchase.)
See how Action Day's Meeting App can help you to run effective meetings.



The Meeting App by Action Day®
Layout Designed to Run Effective Meetings
What's New in Version 2.0
Completely revised user interface
iCloud integration - all your data is backed up safely.
The Meeting App is now free with ad support, you can remove the ads and get added functionality with a subscription.
iPad Screenshots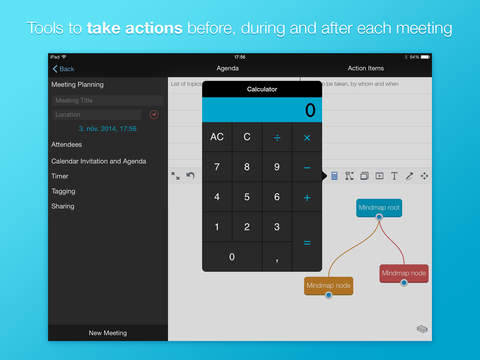 Customer Reviews
Simple and Useful
I got this app and use it to prepare for every meeting I attend. Besides the value of having an agenda, the action items allow me to take down a list of things as folks commit to doing them, which can then be reiterated and emailed after the meeting. When I am not leading the meeting, I add topical content to the agenda area to ensure that questions or concerns I have about the meeting topic are addressed. I do wish the note area wasn't so finicky when it comes to text notes. I have a keyboard for my Ipad, and find text notes easier and it gets to be a drag to have to create a 'text box' in the notes area instead of just dropping a cursor and typing away. I also took a minute to realize that action items disappear from the main screen only after every item from that meeting is complete. (a checkmark appears in the meeting listing to show that you've done all you need to do to follow up with the meeting) Like my action day planner, I find this will be a great tool to keep all the wonderful ideas and follow up that comes from meetings from going away or being forgotten. For a future release, it would be wonderful to have agenda templates for recurring meetings that have repetitive agendas. That would save some time, as many of my periodic meetings have this. Also, for those paper lovers, the ability to import a PDF file into the notes area would help keep my notes organized as well as limit my need to bring documents to the meeting in paper format. It's probably the simplest, most effective meeting planner I've used.
View in iTunes
Free

Category:

Productivity

Updated:

Mar 17, 2015

Version:

2.0

Size:

43.2 MB

Language:

English

Seller:

Action Day
Compatibility: Requires iOS 7.0 or later. Compatible with iPad.