The Quest - Hero of Lukomorye II
By Redshift
Open iTunes to buy and download apps.
Description
1st YEAR ANNIVERSARY SALE: 33% OFF! The Quest - Hero of Lukomorye, Part II: Tainted Blood is an expansion to The Quest, a beautifully hand-drawn, immersive and enchanting world full of exciting challenges. After enabling the expansion, you can continue to play The Quest with your existing character(s) to explore new areas and quests. However, if you don't have The Quest, you can also play the expansion as a standalone game.

Lukomorye is still not free, Hero, so you must face new monsters and foes in order to help your friends, the Tzar and the rest of the royal family. You will encounter exotic scenarios, including steppes, mountains, the Yishkatoli Greenhouse, the Temple of Hideous Phantoms, an underwater abyss and have the opportunity to become a member with Sir Martelius of the Order of the Sword, if you qualify. You may go mad in Argimon's Mad Dwarves' Castle. Agent Kolobok will be at your side from the beginning.

- New monsters (monster levels 25-65)
- 44 new quests
- Highly sophisticated dungeons
- 7 new spells
- New, possibly fatal illness
- New high level items
- Agent Kolobok is back

To access the new areas (not applicable if you are playing the expansion standalone), go to Mithria harbor and talk to captain Hanty, then select "Luko Tainted Blood" as your travel destination. It is recommended to reach at least level 32 before trying to take on the challenges of this new expansion. Please note that after you have traveled to your destination, you'll have no way back for a while (except if you have Marked a spot), so it is also recommended that you keep a save in Mithria.

The Quest - Hero of Lukomorye II has been developed by Zarista Games (www.catacomber.com) and was adapted to iPhone by Redshift. A stunning song from George Bolder (gbol)'s opera "The Hero of Lukomorye" is also available on the game's page at catacomber.com.
What's New in Version 18.7
Fixed rare graphics corruption.
iPhone Screenshots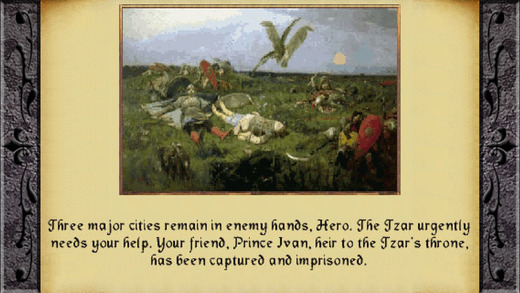 Customer Reviews
Poorly designed
So annoying I quit in frustration. There is no rhyme or reason to any methods of play. Sometimes you tap things. Sometimes you hit them with your weapon. Basically you have to tap and hit everything in this game to cover your bases. It's just lazy developing. Sure they can claim 30 hours of gameplay but that's because of the above. Because you have to navigate annoying maps designed to trap you in with trees or run down endless corridors. Every quest has you running in circles. Talk to her talk to him find and object talk to her again talk to him again. Grrr. You should not have to be running to the internet every single quest to find out what random thing to tap. Lazy. Badly made.
Interesting and fun expansion, but flawed
This one is a bit hard to recommend. Many of the quests give you little to no direction as to where you should go or how to solve it, which requires you to basically cycle through every area of the map tapping every object, door, character, over and over again.

Like HOL 1 Zarista games has shown that they are great at using the quest engine to make interesting areas, but the quest design often requires searching the internet for a solution. There are about 2 towns with a designed layout but most of the towns and villages are just huts and buildings strewn around randomly, as compared the cool, structured cities of the original game and the fire and ice expansion. This lack of design in the towns is an issue in a good number of quests because they require you to talk to someone in a certain town—meaning you literally have to systematically tap every single door to find them, and 90% of the doors have the message, "No answer".

I can't stress enough how obscure this expansion is. Be prepared to look up old forum posts to find the solution to most of the quests.

Despite all of this, like the previous Zarista expansion I played, HOL1, this expansion has a lot of charm and personality and you can tell that the designers put a lot of love into the project. If you are a hard core Quest fan, grab it. If you are a follower of the Lukomorye storyline, grab it. If you, like me, are adamant to use a single character across all expansions, grab it, but just know you are in for a tough time, as this expansion took me a long, long time to come close to finishing, due to the need to constantly revisit old areas to look for some new thing I'm supposed to find or person I need to talk to. If none of these things apply to you, you probably aren't reading this review.
View in iTunes
$1.99

Category:

Games

Updated:

Jul 07, 2015

Version:

18.7

Size:

24.5 MB

Language:

English

Seller:

Vilya, BT.
Compatibility: Requires iOS 5.1.1 or later. Compatible with iPhone, iPad, and iPod touch.